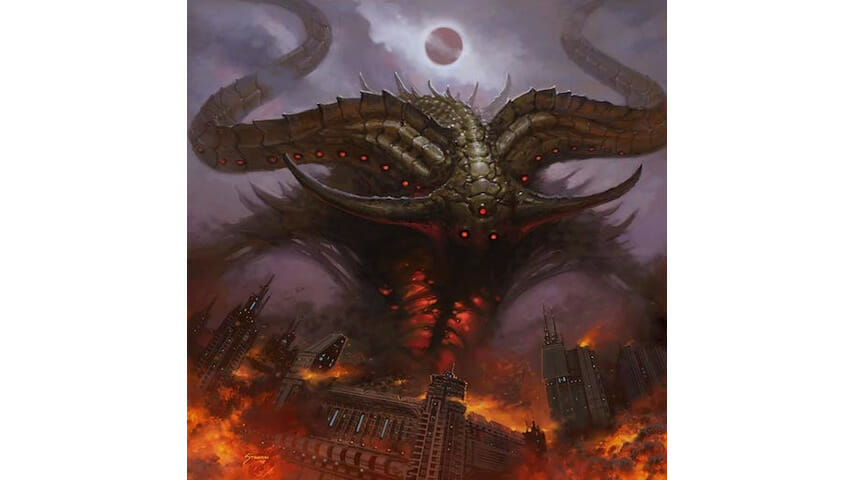 The word smote is the past tense of smite: to hit, to strike, to attack. If there's one thing the latest album from the latest incarnation of John Dwyer's Oh Sees does, it's that—smiting and smoting all over the goddamn place. But while there's always an attack, an aggression, a precision to every second of Smote Reverser, the psych-rock turned every-genre-imaginable outfit explore all kinds of territory over the album's 11 tracks, as variable takes on '70s prog rock and proto-metal morph into Dwyer's own unpredictable brand of acid-rock-free-jazz-fusion.
We begin with "Sentient Oona." Dwyer is singing in an almost-whisper with longtime collaborator Brigid Dawson's cooing harmonies joining him along the way. Not what you would expect from the flame-spewing, horn-donning destruction depicted in the very metal cover art. But it's not long before the song explodes with the force of Dwyer's two drummers and prog horn stabs. Pulling from Swiss prog-rock, '70s Euro-metal, and anything else Dwyer calls "super unhip," "Enrique El Cobrador" has that charging, mythic battle feel—the kind that stems from all those proto-metal guys being obsessed with Lord of the Rings. There are massive drums, battle-ready lyrics, and the distinct feeling that the fate of a fantasy universe in on the line. Dwyer shredding ensues.
If you've been lulled into a restful state by the gentle shuffle of the dual drums and Dwyer's restrained vocals not he opening tracks, the earthshaking hell-fire chaos of "Overthrown" is going to wake you the fuck up. And probably blow your speakers out. The incessant pummel and throat-shred screaming feels like cheap a jump-scare until Dwyer unleashes some of his gnarliest licks of the album. You heart can return to beating at it's normal pace with "Last Peace," a mellow and shambolic cut that hits its in-the-pocket stride at the 3:20 mark before taking off in an instrumental spaceship that rockets around hard-prog heaven for the remaining four minutes.
"Moon Bog" is '70s all down the line, from Dwyer's sexy, bluesey playing to the spacey harmonies and astral projecting it seems to be encouraging you to do. It's the perfect lead up to the centerpiece of the album that follows: the 12 hearty minutes of "Anthemic Aggressor." We enter full swing, the super-speed drumming and weirdly amazing, cat-moan distortion making it difficult to find your bearings until you decide that the whole point is to not find them at all. Drift off for the remainder. It's the only way to get out alive.
"Abysmal Urn" is the crowd-pleasing, power-chord rock and roll that fans of a more vintage Thee Oh Sees sound are going to want to head for, before Dwyer brings the spacecraft in for a landing with "Flies Bump Against The Glass" and "Beat Quest," a smooth, largely instrumental comedown from the epic that came before. But he's got one last organ-fueled jam up his sleeve as the final seconds tick off.
It's cosmic, it's mythic, it's sprawling, it's so acid-jazz-meets prog-rock that the garage-psych label seems like a flaccid insult at this point. John Dwyer doesn't care about how many albums they've made, John Dwyer doesn't care that his band has been blowing people's minds for 20 years, John Dwyer cares about making the damn music. On to the next.
Watch Thee Oh Sees play an entire concert in 2009 via the Paste vault below: