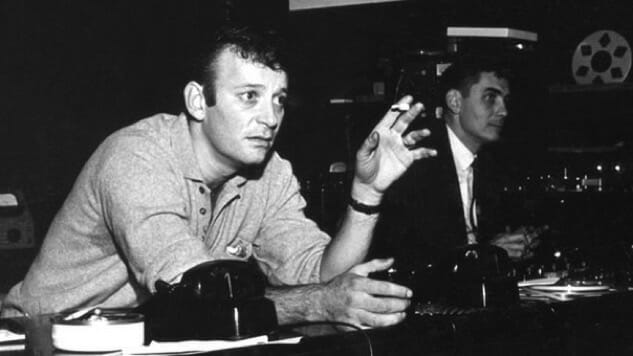 One of the better movies screened at this year's South by Southwest Conference was the music documentary Bang! The Bert Berns Story. Berns is the too-often-forgotten figure who wrote such songs as "Twist and Shout," "Piece of My Heart," "Hang on Sloopy" and "Cry to Me," as well as producing the debut solo albums by Van Morrison and Neil Diamond on Berns' own Bang Records. Like the best documentaries, this was not merely a portrait but also an argument that history should be rewritten to acknowledge an overlooked story.
After the world premiere on March 11, the film's narrator, Steven Van Zandt, joined the co-directors Brett Berns (the son) and Bob Sarles and the screenwriter Joel Selvin (the San Francisco music critic who wrote Berns' biography) on stage for a q-and-a. Van Zandt was the perfect choice as narrator—not only because the E Street Band is rooted in the pre-Beatles rock 'n' roll so indelibly shaped by Berns, but also because Van Zandt starred in The Sopranos, the TV series that depicted a later version of the New York/New Jersey mob that played such a huge role in Berns' career.
Dressed in his trademark pirate scarf, Van Zandt expressed his deep satisfaction that Berns will finally be inducted into the Rock and Roll Hall of Fame this year, 49 years after he died. "I have fought so hard, for so long, to get the great songwriters into the Hall of Fame," he said. "The focus is always on the artists, but they're not the only ones responsible for this music. I'm always talking to people, and we finally got Bert in. Maybe we'll get Jerry Ragovoy in before too long."
Like Berns, Jerry Leiber, Mike Stoller, Doc Pomus, Barry Mann, Cynthia Weil, Jeff Barry, Ellie Greenwich, Gerry Goffin and Carole King, Ragovoy was a New York-based Jewish kid who wrote unforgettable songs and produced enduring records for the young Protestant singers—both black and white. These writers kept rock 'n' roll alive between Elvis and the Beatles. Thanks to the advocacy of Van Zandt and like-minded rock historians, all those songwriters but Ragovoy are now in the Hall of Fame. As they should be.
Berns will be formally inducted into the Hall of Fame at the Barclays Center in Brooklyn this Friday (April 8) along with five performing artists: Cheap Trick, Chicago, Deep Purple, Steve Miller and N.W.A. One could make the argument that the Hall needs a lot more inductees like Berns and lot fewer like Chicago. After all, does the Hall exist to recognize artistic achievement or popularity?
There's no question that Chicago, Deep Purple, Kiss (inducted in 2014) and Rush (2013) sold a lot of records and concert tickets and loom large in the nostalgia of their fans. But is that the same as making the very best rock 'n' roll music of all time? Has there ever been a blander band than Chicago? Or an emptier gimmick than Kiss's make-up? Or more pointless virtuosity than Rush's? Sure, Ritchie Blackmore's guitar figure for Deep Purple's "Smoke on the Water" is one of the greatest rock riffs of all time, but is one riff enough to justify inclusion in the Hall?
To be fair, the Hall of Fame does have a pretty good record of recognizing obscure, behind-the-scenes contributors. Not only are all the songwriters mentioned above in, but so are such instrumentalists as Motown's James Jamerson, Atlantic's King Curtis and Sun Records' Scotty Moore. There are still some glaring omissions—more about that in a minute—but the Hall does seem committed to slowly but surely bringing in such non-singers.
What the Hall isn't very good at is resisting the pressure of fans and publicists to include acts who were very popular but not especially talented or original. When the fans say, "Chicago had 29 top-20 pop singles—how can you keep them out?" the Hall of Fame doesn't have anyone who can articulate a convincing aesthetic counter-argument. Everyone talks about who should be in the Hall but isn't, but maybe there should be more talk about who's in the Hall who shouldn't be. Maybe the Hall needs a de-induction process.
You might ask, "Does the induction of Chicago really hurt anyone?" Well, yes, it dilutes the value of Hall of Fame membership for genuine geniuses like Berns or Dr. Dre. It lowers the bar to allow in more mediocrities in the future. Fans of the Carpenters might well say, "Chicago got in, so why not Karen and Richard?" And it distorts rock 'n' roll history. It says that Chicago was a more important contributor to the music than, say, Hubert Sumlin.
Who's Hubert Sumlin? As Howlin' Wolf's longtime lead guitarist, Sumlin was one of the most innovative electric guitarists of all time, pioneering a blend of percussive chording, slashing single-note runs, rhythmic suspensions, groundbreaking distortion and wild glissandos. He's been acknowledged as a major influence by Jimi Hendrix, Jimmy Page, Robbie Robertson, Buddy Guy, Keith Richards and Eric Clapton.
Go back and listen to those old Howlin' Wolf sides such as "Smokestack Lightnin'," "Spoonful," "Wang Dang Doodle" and "Little Red Rooster," and you realize that those recordings are almost duets between Wolf's dogfight growl and Sumlin's barbed-wire guitar parts.
This story is told in another notable documentary at this year's SXSW: Sidemen—Long Road to Glory, directed by Scott Rosenbaum. There's a heartbreaking moment in the film when Sumlin admits how much it would mean to him to be accepted into the Rock and Roll Hall of Fame, a confession followed by narrator Marc Maron's sober statement that Sumlin died in 2011 without his wish being granted. As of 2016, his family is still denied that satisfaction. The recordings of Sumlin in his early years and the footage of him in his middle years make it clear how unjust that is.
Sidemen is not as skillfully constructed as Bang! Rosenbaum made the decision to focus the movie on Sumlin, pianist Pinetop Perkins and drummer Willie "Big Eyes" Smith to the exclusion of all the other great backing musicians at Chess Records, many of whom aren't even acknowledged. This had less to do with sound musicological reasons than with the fact that this trio was still alive for interviews and all happened to neatly die in the same year.
While the director's argument that Sumlin was essential to Wolf's sound is persuasive, Rosenbaum's contention that Perkins and Smith were similarly essential to Muddy Waters' sound is not. The latter two are fine musicians, but they joined Waters' group well after his sound was already defined by predecessors such as Otis Spann, Fred Below and Willie Dixon. Dixon is in the Hall, and Spann should be.
By contrast, Bang! is full of sound analysis and welcome surprises. The film strips away the mythology of Atlantic Records to suggest that the three owners—Ahmet Ertegun, Nesuhi Ertegun and Jerry Wexler, responsible for some of America's greatest recordings—were as ruthless and as unscrupulous in their business dealings as anyone else in that era. After they squeezed Jerry Leiber and Mike Stoller off the label over money disputes, they brought in Berns to take the duo's place. The new kid immediately had hits with Solomon Burke, the Drifters and Barbara Lewis.
But when Wexler tried to put the same money squeeze on Berns, Berns called on his own friends in the mob to face down Atlantic's mobsters. The filmmakers name names and even interview one of the mob's survivors to reveal just how deep criminal involvement in early rock 'n' roll was. "The thing about the mob," Van Zandt joked in the q-and-a, "was they paid you what they promised."
If they didn't beat you up instead. Morris Levy, the mobster who owned Roulette Records and who plays a key role in the Bang! movie, had a hand in dozens of hit singles—even if that hand was often grabbing an unjustified writing credit. But his records were popular, so does he deserve a place in the Rock and Roll Hall of Fame?