The Best Original Song Nominees that Didn't Win the Oscar
A look back at some legendary tracks that were ultimately snubbed on Oscars night
Photo by Kevin Winter/Getty
Music
Lists
Oscars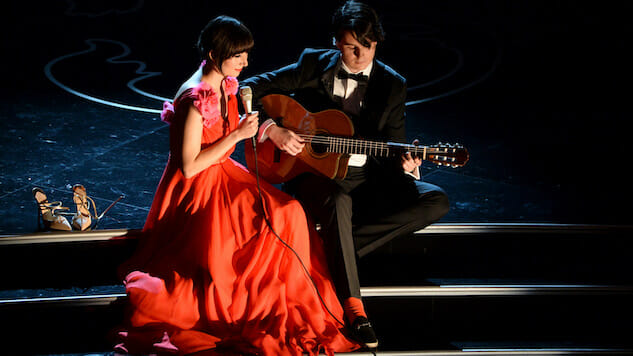 The Oscars always find a way to screw everything up. Whether it's giving Best Picture to Green Book, nominating only white actors and actresses or somehow forgetting that female directors even exist, the Academy frequently make huge mistakes, typically on a year-to-year basis.
Ahead of this weekend's Oscars ceremony, which features a disappointing (at best) group of Best Original Song nominees, we've decided to look back at the best songs not to take home the award throughout nearly a century of its history. Some of these aren't necessarily screw ups—can you fault the academy for going with A Star Is Born's "Shallow" over Kendrick Lamar and SZA's "All the Stars?"—but the Academy's tendency to favor piano ballads and big Broadway-esque numbers means they've occasionally snubbed some of the biggest pop songs of all time, genre-defining tracks and a handful of the funniest tunes to ever grace the silver screen.
We don't really have a dog in the Best Original Song fight this year—though how do you manage to leave out Beyoncé, Thom Yorke or Wild Rose and go with any of this year's crop of nominees?—so let us argue on behalf of our favorite nominated songs throughout Oscar history that unfortunately went home empty-handed. Songs are listed alphabetically.
1. "All the Stars" (Black Panther)
Year: 2018
Lost to: "Shallow" (A Star Is Born)
The Black Panther soundtrack landed on several best-of-2018 lists, so it's unfortunate it didn't receive the same love at awards shows. However, it lost to the gigantic "Shallow" from A Star is Born, so we can't be too surprised. Maybe it doesn't have any trophies, but any time Kendrick and SZA collaborate (especially if it's with a video as visually stunning as this one), it's worth recognizing. This song is a certified radio bop, but it's still no "Doves In The Wind." —Ellen Johnson
2. "Audition" (La La Land)
Year: 2016
Lost to: "City of Stars" (La La Land)
This year was stacked in the Best Original Song category, and not just because the first good original music movie in decades just so happened to hit theaters in 2016. It was also the year of Moana and the powerful, now-immortal Disney number "How Far I'll Go." La La Land rightfully snagged two nominations in this category, for the dainty L.A. loveletter "City of Stars" and story-for-the-ages "Audition." "City of Stars" ultimately took home the statue, but "Audition" is the more dynamic song, and it's much more important to the story at hand. It also accounts for approximately 65% of Emma Stone's Best Actress win—the scene in which she performs "Audition" is absolutely her strongest three minutes, and three of the best minutes in the whole damn movie. Oh well. At least Justin Timberlake's song-that-shall-not-be-named from the Trolls movie didn't win. —Ellen Johnson
3. "Blame Canada" (South Park: Bigger, Louder & Uncut)
Year: 1999
Lost to: "You'll Be In My Heart" (Tarzan)
In Trey Parker and Matt Stone's magnum opus South Park: Bigger, Louder & Uncut, a ton of South Park's moms and dads, led by Sheila Broflovski, gather together to figure out what's corrupting their kids. The answer is obviously Canada, and the town's mom's successfully lobby the government to declare war on our northern neighbors. Since the song itself features so many different characters, there was no way they'd be able to successfully figure out how to bring them all to life onstage at the Oscars. Instead, they hired Robin Williams for likely the best performance to ever grace the Academy's stage. Flanked by anti-Canadian flags and mountee dancers, it was the role Williams was born to play, absolutely crushing lines like "They're not even a real country, anyway" and "Because when Canada is gone, there'll be no more Celine Dion!" (Mind you, this is only two years after "My Heart Will Go On" won Oscar gold). But because the Oscars are no fun, Phil Collins won for his (admittedly great) Tarzan song. That said, Trey Parker and Matt Stone certainly had a great time at the ceremony, wearing dresses and tripping on LSD. —Steven Edelstone
4. "Everything Is Awesome" (The Lego Movie)
Year: 2014
Lost to: "Glory" (Selma)
Over flittering and purposely excessive electronic beats, The Lonely Island, accompanied by Tegan and Sara, wrote perhaps the most fun children's song of the past decade—and yes, that includes "Baby Shark." How could you not love a song that has lyrics like "I feel more awesome than an awesome possum" or "Dip my body in chocolate frostin' / Three years later wash off the frostin' / Smellin' like a blossom, everything is awesome?" It's Andy Samberg & co. at their best and most absurd, and Tegan and Sara's hook will get stuck in your head for weeks at a time. They also managed to pull off one of the zaniest performances in Oscars history, complete with Will Arnett, Questlove, Devo's Mark Allen Mothersbaugh and a whole lot of Lego trophies. Just look at how excited Oprah was! —Steven Edelstone
5. "Footloose" (Footloose)
Year: 1984
Lost to: "I Just Called to Say I Love You" (The Woman in Red)
To say the 1984 Best Original Song category was stacked is still somehow an understatement. Just look at the nominees: Steve Wonder's "I Just Called to Say I Love You," Kenny Loggins' "Footloose," Ray Parker Jr.'s "Ghostbusters," Deniece Williams' "Let's Hear It for the Boy" and Phil Collins' "Against All Odds." All five are classics, the sort of songs that just scream '80s and are (almost) all still wedding staples to this day. But Kenny Loggins' "Footloose" is one of the definitive songs of the mid-'80s, the sort of track that makes you drop everything and dance wherever you are. It's just as infectious now as it was then, and in 2018, it came in as the number 313 highest Billboard charting song of all time (one spot ahead of "Against All Odds"). —Steven Edelstone
6. "I've Seen It All" (Dancer in the Dark)
Year: 2000
Lost to: "Things Have Changed" (Wonder Boys)
Hot off the heels of arguably their respective two best albums, Homogenic and OK Computer, Björk and Radiohead's Thom Yorke were a collaboration made in heaven in 2000. Their Academy Award-nominated song, "I've Seen It All," is flat out gorgeous, featuring a beautiful, swelling string section and percussion meant to sound like a passing train. And Björk's performance at that year's ceremony was spellbinding: She didn't have to do anything other than simply sing to capture your complete attention. Unfortunately it lost to a so-so late-era Bob Dylan track that only his biggest fans even remember. —Steven Edelstone
7. "Kiss The Girl" (The Little Mermaid)
Year: 1989
Lost to: "Under the Sea" (The Little Mermaid)
Don't get me wrong: "Under The Sea," which won the award for Best Original Song at the Oscars in 1990, is one of the best Disney songs ever. But you know what's an even better Disney song? I'll give you a hint: It involves smooching in a canoe with nary a (human) chaperone in sight. "Kiss The Girl," which was also nominated that year, is just a more interesting tune. "Under The Sea" has reggae vibes, but you know what it doesn't have? A cricket string section. "Kiss The Girl" is one of the most romantic (not to mention splashiest) love songs in the entire Disney canon, even if Prince Eric is an absolutely hopeless guesser. —Ellen Johnson
8. "Live and Let Die" (Live And Let Die)
Year: 1979
Lost to: "It Goes Like It Goes" (Norma Rae)
This was one of the few times in the history of this award we've seen two of the biggest stars of their generation go head to head for the Best Original Song category: In this instance, it was Barbra Streisand and Paul McCartney. At the time, it made sense to go with Streisand's gorgeous string-backed ballad—it was the #1 song on the Billboard year-end chart, after all. But come on, this is Paul McCarntey at his solo peak writing a James Bond theme for god's sake! It's one of the coolest songs the Beatle has ever written, complete with a batshit crazy reggae-influenced breakdown, a massive string section and the biggest BWAMMMMM sound until Inception. Macca doesn't play too many solo songs in his live sets, but there's a reason this one with Wings has become such a staple of his setlists: It's flashy and makes you feel like Roger Moore. —Steven Edelstone
9. "Miss Misery" (Good Will Hunting)
Year: 1997
Lost to: "My Heart Will Go On" (Titanic)
Have you ever seen someone as out of place as Elliott Smith when he performed at the Oscars? Sporting a beige suit and greasy unkempt hair, the then-relatively unknown singer/songwriter and now-legend walked out on the Oscars stage brandishing his acoustic guitar and nervously played "Miss Misery." Backed by an orchestra, it's the best version of one of his best songs: It's nearly impossible to watch the performance without getting goosebumps. It introduced Smith on a much bigger scale than ever before, and soon he'd play SNL and festivals across the globe. But here, we see a visibly shaken musician just realizing his newfound star power, singing to the ground, knowing the world was watching. It never stood a chance against Celine Dion's mega-hit "My Heart Will Go On," but this was a major moment for weirdos and shy kids everywhere thinking about picking up an acoustic guitar for the first time. —Steven Edelstone
10. "The Moon Song" (Her)
Year: 2013
Lost to: "Let It Go" (Frozen)
At its core, Her is about a man realizing he has very human feelings for a very not human piece of technology. In one of the film's most touching scenes, Samantha, the operating system played by Scarlett Johansson, sings a heartfelt, simple love song over Joaquin Phoenix's arpeggiated ukulele. The song is simple, yet it conveys very real and unadulterated emotion, the kind of lyrics that no one else could have written other than the person who wrote "Wait, they don't love you like I love you" with all of the unbridled joy and despair in the world. Karen O (along with co-songwriter Spike Jonze) knocks it out of the park here with the most gorgeous and heartwarming song of her storied career with the Yeah Yeah Yeahs. Add Vampire Weekend's Ezra Koenig into the mix for the Oscars performance and you have one of the most beautiful moments in ceremony history. (And while we're at it, Arcade Fire was robbed of Best Score this year as well.) —Steven Edelstone
11. "Mystery of Love" (Call Me By Your Name)
Year: 2017
Lost to: "Remember Me" (Coco)
Coco and its respective soundtrack songs are a delight, but there's no doubt about it: "Mystery of Love" was not only the best song nominated at the Oscars in 2017 (2018 ceremony), but it was also one of the best songs of that year. Crank it up, grab a peach or two and picture yourself sunning on a warm patch of earth in Northern Italy. It's impossible not to feel at ease—and maybe just a little bit angsty. Such is forbidden love! —Ellen Johnson
12. "9 to 5" (9 to 5)
Year: 1980
Lost to: "Fame" (Fame)
If Bruce Springsteen was the gritty, masculine voice of the working class in the '80s, "Nine to Five" was the voice of the other half of the blue collar folks: the women, the ones who woke up at the crack of dawn to shower, guzzle coffee and then go type some Wall Street big-cheese's notes at 75 words per minute all day. Thankfully, we just don't associate this song with women and secretaries anymore. But it remains a magical start to the day, and it's a certified Dolly Parton classic. It absolutely should've won in 1981. Just remember, when in doubt, grab a "cup of ambition." —Ellen Johnson
13. "The Power of Love" (Back to the Future)
Year: 1985
Lost to: "Say You, Say Me" (White Nights)
There's something inherently cheesy about Back to the Future, but it's also an indisputable classic. The same could be said about "The Power of Love" by Huey Lewis and the News—I mean, for god's sake, have synthesizers ever sounded this dated? When these two forces collided, it resulted in perhaps one of the most '80s sequences ever. "The Power of Love" is one of the all-time great guilty pleasures. The wonderfully tacky synthesizers are so bad they're good—but like they say, there's a thin line between love and hatred—and Lewis' slightly rough blue-eyed soul vocals are karaoke gold. In Back to the Future, the song blares while Marty McFly skateboards to school, holding on to the back of cars. McFly exclaims, "I'm late for school!" and the song kicks in as soon as he takes off running in his double denim and classic Nikes. It feels like a parody of the opening credits to a classic '80s teen film, but lucky for us, it's real! The song ultimately lost the Oscar to Lionel Richie's "Say You, Say Me," but we all know Huey Lewis deserved to win this gaudy face-off. —Lizzie Manno
14. "The Rainbow Connection" (The Muppet Movie)
Year: 1979
Lost to: "It Goes Like It Goes" (Norma Rae)
In one of the worst decisions the Academy has ever made, the Oscar went to a nondescript piano ballad over perhaps the best children's song ever written. And it's not like this has become a trendy opinion over time as the beloved song has endured like few others from that era: They even knew it when it happened. "The already forgotten ballad 'It Goes Like It Goes,' from Norma Rae, won the Oscar as best song over competitions that included 'The Rainbow Connection,' sung at the Oscars by the star who made it famous, Kermit the Frog, of The Muppet Movie. He was introduced by a livid Miss Piggy, incensed about being passed over for an Oscar nomination," The Washington Post's Tom Shales wrote in 1980. Who knew a talking frog with a nasal voice was capable of singing one of the best songs of all time, one later covered by virtually everyone, from Kacey Musgraves and Willie Nelson to Weezer and Gwen Stefani? Paul Grien from Billboard recently put it best: "'Rainbow Connection' is a children's song that doesn't talk down to children in the slightest." —Steven Edelstone
15. "You've Got a Friend in Me" (Toy Story)
Year: 1995
Lost to: "Colors of the Wind" (Pocahontas)
For many people, Toy Story was their intro to Randy Newman. While he was an accomplished singer/songwriter in his own right back in the '70s, he's best known for his Pixar film scores, particularly the original Toy Story soundtrack from 1995, which featured "You've Got a Friend in Me." One of the reasons that song took on a life of its own is because there are various versions of it peppered throughout each of the four Toy Story films. It became the de-facto theme song for arguably Pixar's greatest franchise. However, the finest rendition is the 1995 original where Newman's vocals' jazz-tinted vocals pour with benevolence and melancholia over whimsical piano and horns. It has a pep in its step, but for a song with such a sunny veneer, it's also incredibly sad—after all, the idea of being friends with someone till the end can make one dwell more on "the end" part than the friendship itself. The song was nominated for an Oscar alongside two Lion King classics—"Hakuna Matata" and "Circle of Life"—and Junior's "Look What Love Has Done," but somehow Pocahontas's "Colors of the Wind" took the cake. Not only has "You've Got a Friend in Me" stood the test of time, but it runs circles around that showtune-y Pocahontas number. —Lizzie Manno