Listen to Paul McCartney's Greatest Deep-Cut Tour Performances
We scoured our vault of recordings to find the songs Sir Paul has performed the most over 30 years. Listen to those recordings here.
Music
Features
Paul McCartney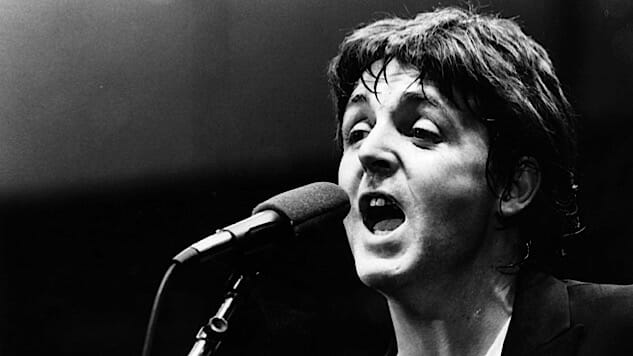 Paul McCartney has been on tour for nearly three straight decades, leading up to his current One on One Tour and its mix of Beatles favorites and solo hits. But it wasn't always that way. In 1989, he hit the road for the first time in 13 years behind his album Flowers in the Dirt, debuting those Beatles classics as a solo artist and, in some cases, in any format, since The Beatles stopped touring in 1966.
So it's fascinating to look back at that tour and see which Beatles songs McCartney chose to include for the first time. To do that, we dug through the voluminous Paste Vault to find a great show from July 4, 1990, recorded at RFK Stadium in Washington D.C., with McCartney and his band in peak form as they neared the end of the massive, nine-leg tour. With Sir Paul having toured so often since, we can figure out which songs he ended up returning to continuously, and which ended up being essentially scrapped.
"Back in the U.S.S.R.," the opening track from The White Album, has special status among The Beatles' non-hits, having appeared now on more than 573 of McCartney's setlists, according to setlist.fm—and that number grows on each stop since it's a current tour staple, too. On The White Album, McCartney ended up playing drums on the song (as well as on "Dear Prudence") when Ringo Starr temporarily quit the band. Here it's complete with sound effects.
"Good Day Sunshine," like "Back in the U.S.S.R.," had never been played live before 1989. The Revolver favorite been an infrequent presence in McCartney's setlists since, with 144 plays, but it's likely to show up at some point this year as McCartney changes up a few songs each night—and he's still got plenty of tour left.
This version of "Sgt. Pepper's Lonely Hearts Club Band" splices together the iconic album opener with the faster "Reprise" that appears later on the album. That's rare. This is one of the songs McCartney said he was both excited and scared to play live for the first time in the interviews announcing the 1989-90 tour. Both the press conference (which you can listen to here) and an interview with famed Beatles chronicler and fan, Scott Muni of New York's once-leading FM rock station, WNEW-FM (listen here), are preserved in the Vault. In the interview, McCartney discusses his process of assembling a setlist. He says he imagines he's seeing an artist he loves (he mentions Bob Dylan) and thinks of the songs he'd want to hear. He embarrassingly admits: It's the hits. There's something charmingly selfless and egoless about this given McCartney is among the greatest artists of modern times. But hey, in the end, the love you take is equal to the love you make.
By 1990, McCartney was clearly all-in on his Beatles catalog, as he remains today. "Things We Said Today," from 1964's A Hard Day's Night, has been played only a handful of times since this tour. The song's bridge is amazing, if relatively unknown even to Beatles fans. The true measure of The Beatles is that despite their mythical status, nothing about them is overrated, and most underrated is their pre-Rubber Soul output. This 1990 version ends with a David Gilmour-esque guitar flourish—not surprising given that McCartney is such a fan of Gilmour's playing. (Gilmour appeared on the album McCartney wrote with Elvis Costello to launch this tour, "Flowers in the Dirt.") It's strangely beautiful, even if it's Robbie McIntosh (previously of The Pretenders) doing the ax work. This classic hasn't been played by McCartney since 2014 (and mostly on that 1989-90 tour).
"Coming Up," the opening track on his 1980 solo album McCartney II, is least likely to emerge on this current tour, as it was last played in 2013 and only five times since 2007. This is more Paul trying to just make people feel good, which, looking back, was more noble than it seemed.
It must have been so challenging for McCartney to get his new band to nail the epic second side of Abbey Road, and he kicks off the medley here with "Golden Slumbers," one of his most soaring melodies. The song has made 293 appearances in McCartney's setlists over the years, and has been featured regularly on the current One to One tour.
"Let 'Em In," from Wings' 1976 album Wings at the Speed of Sound, sounds really nostalgic here for anyone who had a transistor radio in 1976 or who listens today to soft-rock. It actually charted at No. 1 on the Easy Listening charts, which makes some Beatles fans cringe. And it maybe makes McCartney cringe sometimes too, since he's barely played it since. The song did show up a couple of times overseas in 2016 concerts. Played live, the horns are badly missed (they try to make do with a synthesizer), though Paul is in fine voice.
Let's end here with the song that's been featured in just about every McCartney show from 1989 to today, "Hey Jude." Again, McCartney had never played this song live before the 1989-90 tour, so it's amazing to hear it here in that context. In the years since, it's been played just about every night, at 604 and counting, surpassed only by "Let It Be" (613). But we include it here because it was identified in both the aforementioned press conference and interview as the Beatles song his fans finally wanted to hear. The synthesizer might catch you off guard, but it's 1990 so you're bound to get that. The windup to the first scream at about 3:13 is nailed. The backing vocals are lacking, but how could they not be given the magical harmonies The Beatles created on the record? Overall, McCartney shows why he's one of the greatest rock singers ever—even if he was the second-best singer in his own band. "What's the matter? Don't you know the words?," he implores the stadium crowd. McIntosh dominates the last 90 seconds with great power chords, in case anyone forgot that McCartney could rock hard.