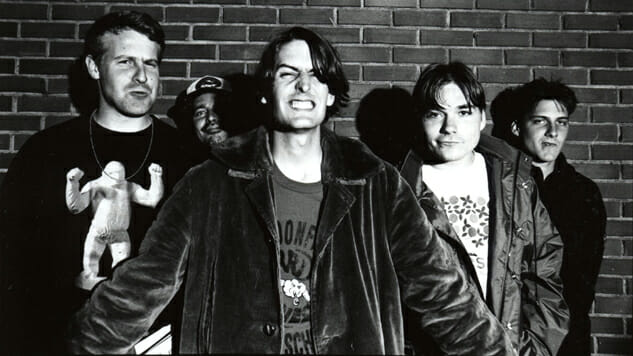 Pavement disbanded before the turn of the millennium. Still, the impact of the Stockton, Calif. band's music still echoes in the 21st century, due to its independent ethos, occasional disregard for melody, and progressive view of art rock and punk. Even setting aside all the bands clearly influenced by Pavement, the group's five-LP output makes them one of the most important alternative rock bands of the '90s. And now the band has announced at least two reunion shows—at Primavera Sound in Barcelona and Porto next year.
Here are the 15 best songs from indie rock legends, Pavement.
15. "Shady Lane"
This list leans heavily toward Pavement's first three albums, which are unimpeachable works of staggering genius. However, the band's fourth album, Brighten the Corners, holds its own with its accessible melodies. "Shady Lane," a bouncy, almost poppy, song from that record, serves as fine example of a fun Pavement song, with some of Malkmus' quintessentially nonsensical lyrics that still somehow work.
14. "Father to a Sister of a Thought"
Wowee Zowee is Pavement's most experimental album. A lot of that is manifested in weird, short songs that sometimes seem to just be jokes (looking at you, "Serpentine Pad"). "Father to a Sister of a Thought" follows in this experimental style, masquerading as an alt-country song. While the band could have followed this road to clear commercial success, fans must instead left to settle for the oddity that is "Father to a Sister of a Thought."
13. "Shoot the Singer (1 Sick Verse)"
"Shoot the Singer" did not appear on any of Pavement's five full-length albums. Instead, it comes from Watery, Domestic, an EP most notable for being Bob Nastanovich and Mark Ibold's first time as recording members of Pavement. The song clearly struck a chord with people, though, because it ended up on the greatest hits album the band put out. That's with good reason. It's a great song that chugs along with purpose.
12. "We Dance"
Pavement is not a band loved primarily for its lyrics, but "We Dance" actually sounds like it is about something. Malkmus sings the lines as if though they have emotion in them. However, he's actually singing things like, "there is no castration fear" and "pick out some Brazilian nuts for your engagement." He has a way with words where he wrings coherence out of verses that should seem like nonsense.
11. "Unfair"
This is one of the angriest sounding Pavement songs. It's one of the band's variations on a theme of "Northern California rules / Southern California drools," which likely exacerbates that ferocious guitar riff. Malkmus first rallies to, "burn the hills of Beverly!" before howling at his state's southern residents, "I'm not your neighbor, you Bakersfield trash!"
10. "Elevate Me Later"
Malkmus is an amazing guitarist, but some songs just stick out above others. On top of that, though, this is also one of Malkmus' best vocal performances. And here on Crooked Rain, Crooked Rain, there's something in the way his voice sounds in "Elevate Me Later" that is perfectly in sync with the tone of the instrumentation.
9. "Here"
"Here" feels out of place on Slanted and Enchanted, Pavement's first album because it's a straight up ballad. It actually has an emotional level to it and seems to have a real narrative structure to the song. It's a very rare thing in Pavement's lengthy oeuvre, simultaneously making it one of their best.
8. "Unseen Power of the Picket Fence"
"Unseen Power of the Picket Fence," a song about R.E.M. (or at least the genre/scene of college rock) that degenerates into Civil War references has got to be one of Pavement's weirder songs. On the positive side, however, the band recorded this song for an AIDS benefit compilation, No Alternative in 1993.
7. "Trigger Cut/Wounded Kite At :17"
From the moment Malkmus sings "eeeeelectrity and lust," you should be hooked to this song. Its construction ranks among Pavement's most interesting the back-and-forth vocals stand out to discerning listeners.
6. "Silence Kid"
"Silence Kid" kicks off Pavement's second (and best) album Crooked Rain, Crooked Rain. The sound of Crooked Rain is more polished and lusher than Slanted and Enchanted, and this is clear right from the start of "Silence Kid." It squeals strangely and slowly during its intro, but kicks into high gear by the time the vocals start. Also, note that cowbell.
5. "Range Life"
"Range Life" doesn't rock as hard as most Pavement songs. Despite this, it still managed to rankle some listeners, as the lyrics seemingly include insults directed at the Stone Temple Pilots and Smashing Pumpkins. Reportedly, Billy Corgan was so irked by this that he threatened to pull out of Lollapalooza in 1994 if Pavement was allowed to play on the tour. Pavement did not end up playing that tour. They would later arguably become the band that fueled the end of Lollapalooza's original run. It involved, in part, Scott Kannberg angrily mooning the crowd.
4. "Frontwards"
Here's another cut from Watery, Domestic that ended up on Quarantine The Past: The Best Of Pavement. "Frontwards" is as cryptic lyrically as any Pavement song, but again, they just sound cool when Malkmus sings them, which shows how much the lo-fi band could get away with in the early-'90s.
3. "Cut Your Hair"
If you only know one Pavement song, it's probably this one. The closest thing Pavement ever got to a hit appeared on 1994's Crooked Rain, Crooked Rain, and was later featured in Beavis & Butthead and one of those campy Brady Bunch movies. The song seems to be about appearance mattering for musicians in terms of being popular and successful, but it's Pavement so we can't be entirely sure.
2. "Summer Babe (Winter Version)"
The first song on the first album, this was many people's introduction to Pavement and it's pretty much the perfect synthesis of the band in its earliest form. "Summer Babe (Winter Version" is grungy and lo-fi, but not inscrutable. Pavement isn't' being too experimental, but the sound still feels fresh, even now.
1. "Gold Soundz"
The second single off Crooked Rain, Crooked Rain tops this list because it's a rocker with a decidedly indie flavor. Although "Cut Your Hair" charted much better than "Gold Soundz," the latter more fully encapsulates the essence of Pavement—messy but melodic, retro, yet still relevant. Plus, the lyrics include the phrase "quarantine the past," which, of course, is the title of Pavement's aforementioned greatest hits compilation. Therefore the song has to be great.
Chris Morgan is not the author of THE book on Mystery Science Theater 3000, but he is the author of A book on Mystery Science Theater 3000. He's also on Twitter.