Watch Petal Recreate the Magic of Her New Album Live at Paste
The singer-songwriter's Magic Gone LP is out this Friday.
Music
Features
Petal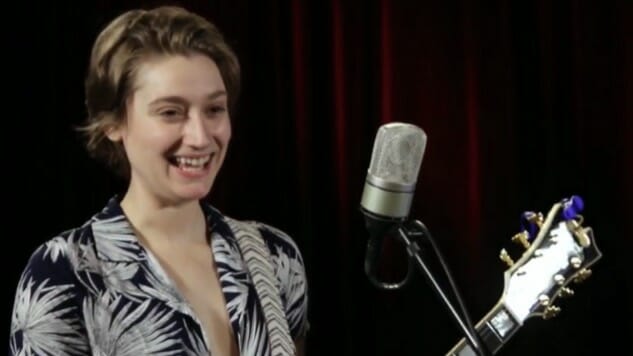 Petal's stunning new album, Magic Gone, isn't just about growing up: it's about the hard, scary truths that come along with discovering who you are.
The Philadelphia-based artist, real name Kiley Lotz, calls these lessons "invaluable." "I'm finally starting to accept the person I am," she told Paste. "Instead of trying to run away from the hard stuff, I'm now seeing the sort of joy and pride you can take in owning your own shit in your life."
Lotz visited the Paste studio last month for an intimate and beautiful performance of four Magic Gone tracks: "Better Than You," "Tightrope," "Comfort," and majestic title track "Magic Gone." She also dove deep into the record's themes; some of which are pretty heavy, but ultimately, offer a hopeful message of "finding comfort and love in yourself and knowing that you're enough, and everything else after that is just this totally wonderful bonus."
The follow-up to 2015 debut Shame, Magic Gone evokes indie rock grandeur, yet Lotz's warm vocals and confessional lyrics give the collection a profoundly close and visceral quality. During her Paste session, Lotz performed a brand new track, "Comfort," with a helpful trigger warning: "It's sad," she laughed.
"It feels like I'm taking the training wheels off my adulthood bike," Lotz revealed. Watch Petal's entire Paste session right here. Magic Gone is out June 15.