Pieta Brown Shares Two New Tracks "Morning Fire" and "Ask for More" From Forthcoming Album
Photo by Cameron Wittig
Music
News
Pieta Brown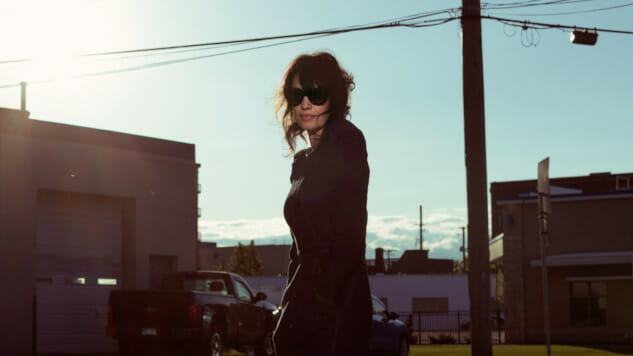 Folk songwriter Pieta Brown announced her new album, Freeway, on Thursday morning. The record is co-produced by Bon Iver's S. Carey, and features members of Andrew Bird's band on guitars and bass. Today she's releasing two glistening new tracks to give listeners a taste of what's to come.
"Morning Fire" is the more uptempo of the bunch, a lovely tune that foregrounds Brown's flickering vocals over effects-driven and pseudo-jazzy instrumentation that sounds like a come-down on a warm summer afternoon. Brown hums lyrics that are equal parts impressionistic and environmental; "In the smog of apocalypse / I reach for you / As the horizon slips / Crooked sky," is a particular highlight.
"Ask For More" is a more traditionally folk-sounding song, stripping the production of "Morning Fire" in favor of cleaner acoustics that ground Brown's songwriting. The track still finds space for atmospheric synths to warble in the distance, and, like "Morning Fire," the mix immerses the listener in Brown's world.
You can listen to both tracks below. Freeway is slated for a Sept. 20 release via Righteous Babe Records. Keep scrolling to find Brown's 2017 Daytrotter Session and upcoming tour dates.
Pieta Brown Tour Dates
August
03 – Decorah, Iowa @ Seed Savers Exchange
06 – Spokane, Wash. @ Bing Crosby Theater (w/ Ani DiFranco)
07 – Missoula, Mont. @ Wilma Theatre (w/ Ani DiFranco)
09 – Calgary, Alta. @ Bella Concert Hall (w/ Ani DiFranco)
10 – Edmonton, Alta. @ Edmonton Folk Music Festival
16 – Cedar Falls, Iowa @ The Octopus
September
17 – Fort Atkinson, Wisc. @ Cafe Carpe
18 – Milwaukee, Wisc. @ Anodyne Coffee
19 – Madison, Wisc. @ Kiki's
20 – Minneapolis, Minn. @ Hook & Ladder
21 – Northfield, Minn. @ Northfield Arts Center
October
18 – Charleston, Ill. @ Dvorak Concert Hall (w/ Iris Dement)
19 – Stoughton, Wisc. @ Stoughton Opera House (w/ Iris Dement)
November
01 – Des Moines, Iowa @ Temple Theater (w/ Iris Dement)
02 – Kansas City, Mo. @ Knuckleheads Saloon (w/ Iris Dement)
03 – Omaha, Neb. @ Waiting Room Lounge (w/ Iris Dement)