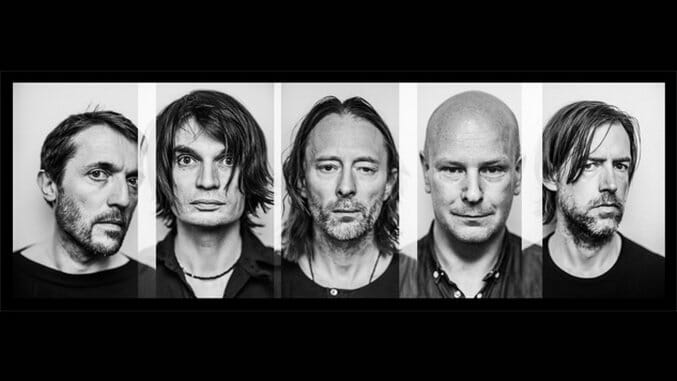 Well, 2016 has been the year of a lot of tough times already, but a new Radiohead album makes every year slightly a bit better. The tunes on A Moon Shaped Pool are great, sure (the album cracked the top 5 of our mid-year review), but the release itself gave us a chance to step back and try and evaluate all of Radiohead's extensive catalogue. So, here are the 10 best Radiohead songs, and who knows, maybe you'll see them performed live this summer if you were one of the lucky ones to snag a ticket to a show.
10. "The Numbers"
It's damn near a crime only to include one song off Radiohead's new breakup album, much of which was inspired by Thom Yorke's parting with longtime partner, Rachel. Collectively, the band does its best work here since the turn of the century, so there are lots good tracks to choose from. Yet, "The Numbers" edges ahead. It's not the most imposing song, the most touching, or even the most epic. But it finds the quintet losing themselves in the looseness that makes them rise above all other modern musicians, while also mixing all of the myriad influences they stake claim to and pouring it in a mystically powerful musical cocktail only these boys can serve up.
9. "Fake Plastic Trees"
Like "Street Spirit (Fade Out)" on the back end of The Bends, this track is the lead member of this gang of emotive and deep-searching rock ballads from a new kind of band playing a new kind of expansive rock exemplified on this banner badge of an album. The depth and creativity shown this early in their career is a preview of the legendary career to come.
8. "Life In A Glass House"
The Kid A/Amnesiac period was scrutinized from all angles, as one of the major lines of questioning was about what in the world the band was listening to that influenced this beautiful musical madness. Each member cited a variety of jazz musicians and seminal albums in the genre as key cogs in turning the creative wheels that led to their output at the turn of the millennium. A super rarity live and about as under the radar a tune from the band can be that made the final cut of an LP, "Life In A Glass House" finds the band truly meshing early urban musicality with swaying rock and roll, even including avant-garde horn play from studio jazz musicians. The most underrated tune in the band's fine catalog, for sure.
7. "Reckoner"
One of the most fun things Radiohead will do with a song is jump out of the gates from the get-go with an exceedingly interesting musical aspect announcing itself for all the world to hear—a lone guitar riff, a spooky vocal or, in this case, an eyeball-rattling percussive pierce. The band often cites being inspired by soul and R&B music, and here on this In Rainbows track, it's evident with a serious drum/groove/harmony mix that could have been ticketed for Motown.
6. "Street Spirit (Fade Out)"
On only their second attempt at a proper album, it became clear that the slightly generic grunge rock of their debut LP, Pablo Honey, would not be the definitive sound for Radiohead going forward. By the end of The Bends, this lofty, yet somber rocker closed the album with a keen emotive punctuation. From here on things would never be the same, and we're grateful for that.
5. "Idioteque"
One of three tracks that are universally revered by even the most casual listener (the others being "Creep" and "Paranoid Android"), this wild rollick through Radiohead's first major electronic foray is an essential part of any list mining the band's catalog. Add to that the fact that this tune spawned the jigged-jagged now patented Thom Yorke live freakout dance on stage and its importance really can't be overstated.
4. "Pyramid Song"
A piano is a powerful thing. Just ask these five rock and roll geniuses. Thom Yorke uses it here to take the listener into the depths of eerie emotion and epic, yet subtle songwriting super powers. The orchestrations, twists and turns—musically and vocally—and overall execution and mastery of sound are near perfect. Here it's proven again and maybe once and for all the greatness that Yorke and the team, including gifted producer Nigel Godrich, can stir up.
3. "Talk Show Host"
What a Radiohead-esque way to start a list of their best songs—putting one on that's not even on a proper LP. But this cold, calculated tune has all kinds of fun elements like searing guitar rock, stop/start jamming and even Thom Yorke cursing. It's always been a live fan favorite, and there's nothing like Radiohead on the front foot, musically.
2. "Exit Music (For A Film)"
If Radiohead had a blueprint for the kind of unique musical architecture they've built over the years, it might be best displayed here. The fragility at the beginning in both Yorke's vocal and the eerily omnipotent musicality cast upon the listener sets the tone for quite a track. The pain and want and anxiety builds over the duration of the song until it climaxes in a seething soup of instrumental immediacy fronted by the frontman's epic lyrical and vocal delivery. "We hope that you choke," he finishes as you try not to after this tour de force performance.
1. "Paranoid Android"
Another of the aforementioned mass appeal songs for the amazing band of former Oxford art students, this one is another saga song epic that even has a cool animated video that was a huge staple in MTV's rotation back when the network actually played music. Each band member is precisely on point, delivering career-highlight acts to this giant affair. It's a tune that is very possibly the best rock song of the millennium, the last few decades and maybe even ever.