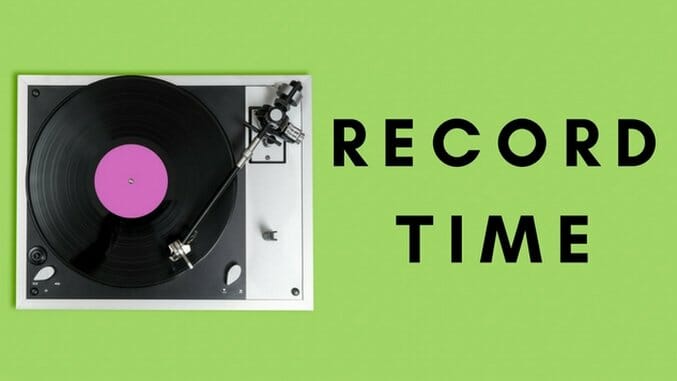 Record Time is Paste's monthly column that takes a glimpse into the wide array of new vinyl releases that are currently flooding record stores around the world. Rather than run down every fresh bit of wax in the marketplace, we'll home in on special editions, reissues and unusual titles that come across our desk with an interest in discussing both the music and how it is pressed and presented. This month that includes reissues of jazz classics, three grunge mainstays, and a collection of '70s soft pop that would usher in the yacht rock generation.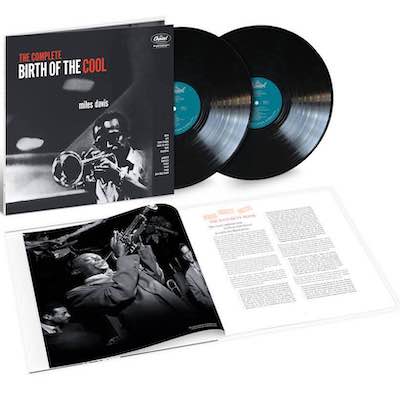 Miles Davis: The Complete Birth of the Cool (Blue Note/UME)
Miles Davis was already a star by the time Birth of the Cool was originally released in 1957. So much so that the creation of this collection was set in motion by Capitol Records as a way of cashing in on the trumpeter's rise through the jazz ranks. And who could fault them for that? The label had in their vaults some of the earliest recordings of Miles Davis and his Orchestra, the name applied to a series of 78s released in 1949 and '50 by a nonet led by the trumpeter and featuring an unusual lineup of instruments including the French horn, baritone sax and tuba. It's not as if these were half-assed demos or rough sketches either. This was top-tier material that was continuing the transition from the hard bop era into something more tempered yet still swinging. This new pressing of this oft-reissued compilation is, without question, the best sounding version yet. Working for the first time with high quality digital transfers of the original analog session reels, producer Maxwell Dartey and mastering engineer Robert Vosgien make the music present and sharp, with drummers Max Roach and Kenny Clarke rising in the mix and each horn sounding clear and distinct. The "Complete" element of this new edition is the arrival of newly discovered live recordings by Davis and a version of his group performing at New York's Royal Roost for a radio broadcast. Those source tapes clearly took a little more elbow grease to bring them back to life as the second LP is much less crisp than the other disc. But that doesn't take away from the thrill of hearing these 71-year-old recordings of a strong, capable ensemble that already had visions of jazz's modal future and were ready to lead their peers toward that musical promised land.
---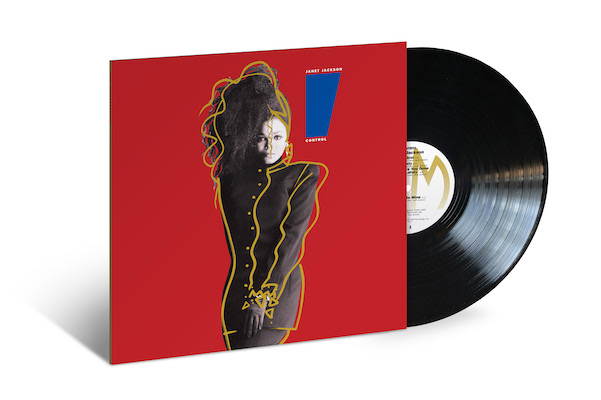 Janet Jackson: Control (A&M/UME)
In the wake of the blockbuster story published in the NY Times about the fire at Universal Studios that apparently decimated hundreds of tape reels and hard drives featuring the master recordings of untold number of artists, seeing the logo for Universal Music Enterprises on any recent reissue now feels a little suspicious. How are we to know the source of the music pressed on to each new copy of Janet Jackson's 1986 album Control? From the flat sound of his already flat-sounding album, my guess would be a digital transfer of some kind. Not that UME was likely to pour a lot of effort into this, as it seems this new bare bones vinyl version (on your choice of red or black wax) was hurried out to coincide with Miss Jackson's Rock & Roll Hall of Fame induction and her Las Vegas residency. It's a simple recreation of the original multi-platinum release and nothing more. So, no surprise that there was no attempt made to beef up any part of this otherwise fantastic pop/R&B classic. The tinny drive of these tunes is certainly of a piece with its time of origin but if there were a way to give the low end of this record some love and a little depth to the midrange, it could have done wonders for the overall experience. Could that have been possible with access to the original master reels? We'll never know.
---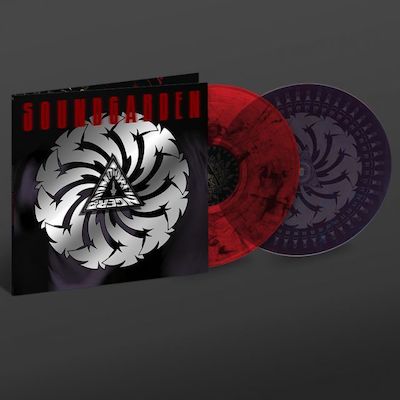 Soundgarden: Badmotorfinger/Superunknown/Down On The Upside (A&M/UME)
Here's another example of an artist whose original master tapes were reduced to ashes by the 2008 Universal fire. Originally recorded for A&M Records, they became the property of Universal after a series of mergers and acquisitions. And in a rather hilarious bit of timing, these reissues, meant to help celebrate Soundgarden's 35th anniversary as a band, come along on the heels of the class action lawsuit that the surviving members joined on to, demanding answers and restitution. Knowing all that offers up more questions about the source of the music on this trio of vinyl repressings. If they weren't the original master tapes, what are we dealing with here? In the case of Superunknown, the quartet's 1994 breakthrough, there was either a nice safety copy of the tapes or a high-resolution digital transfer at their disposal. The two albums that bookend it on the other hand weren't so lucky as both Badmotorfinger and Down On The Upside have a cloudiness to them that only grows as each side of the double LPs move toward the runout groove. With the right amount of volume—and goodness knows, these bludgeoning rock classics should be played loud—that quality can be counteracted a bit. But the magisterial work that Terry Date, Michael Beinhorn and Adam Kasper did to harness Soundgarden's unique power certainly deserves better than what we've been given here.
---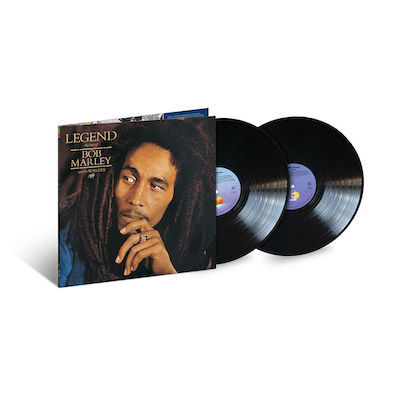 Bob Marley & The Wailers: Legend (Island/Tuff Gong/UME)
Did you know that, as of this writing, there are 339 versions of this Bob Marley best of listed on Discogs? It's one of the most popular greatest hits comps ever put together ever since its first pressing in 1984. 35 years later, Island Records is still finding new ways to repackage and resell this to a new generation of music fans. While a purist like myself would encourage young listeners to seek out Marley's full-length albums rather than Legend, but if you're looking for a quick entry point, there's no finer. And the collection has never sounded as good as it does on this fresh pressing. There are details in songs like "I Shot The Sheriff" and "Jamming" that I've never heard before, even on the best remastered CDs. Which is really what you want to have happen when digging into this material that, if you're my age, you've heard a trillion times. That's not to discount Marley and his unbeatable talent. With so much repeat business, the music starts to become background static that you can easily ignore. This LP puts the music right in your face and reminds you how sparkling clean these melodies feel and how his songs of love and liberation can cut right through in the right context.
---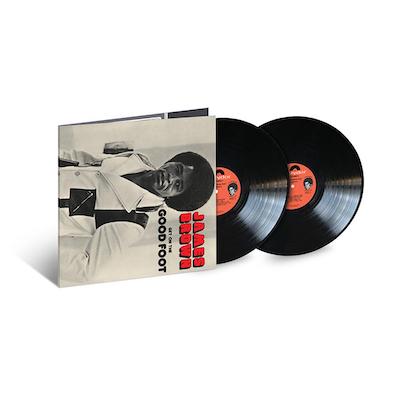 James Brown: Get On The Good Foot (Polydor/UME)
The opening two tracks on this reissue of James Brown's 1972 double album are concerning. Not for the content but for the regular shades of fuzziness that pop into the speakers as the fantastic title track and the fine follow-up "The World Needs Liberation." Looking closely at the vinyl itself reveals…maybe it was a slight hiccup at the pressing plant? But there's also the issue that the pictures on the inner sleeves are of the tape boxes from which this reissue was apparently mastered: a safety copy of the album sessions rather than the original master tapes (likely lost in the 2008 fire). Were the flaws on these tapes? Is this actually mastered from a needle drop of an original vinyl pressing? There's no explanation that would surprise me at this point in the record industry's rush to capitalize on the new vinyl craze and considering what we now know about what happened at Universal Studios 11 years ago. Such treatment doesn't do this album any favors, especially when it muddles the greatness of the best tracks on it. The rest of the double LP is a haphazard mix of re-recordings of old Brown classics and soul balladry that the Godfather of Soul didn't have the pipes for at this time. There's enough good grooves here to keep things interesting, but this is definitely not Brown's finest hour.
---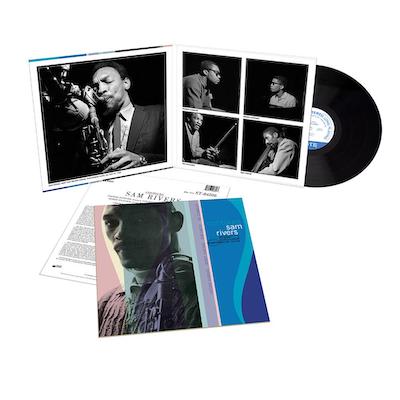 Gil Evans and his Orchestra: New Bottle Old Wine/Sam Rivers: Contours (Blue Note)
Blue Note Records continues diving into their archives this month as part of their 80th birthday celebration with the re-release of two very different sides of the label's history. New Bottle Old Wine comes from Blue Note's acquisition of the catalog of World Pacific Records, an L.A. label that set the template for the cool jazz sound. This 1958 recording, though, is as hot as they come. Led by the arranging skills and piano playing of Evans, a marvelous ensemble runs through eight songs that were, even then, considered part of the standard repertoire. That included W.C. Handy's classic "St. Louis Blues" and the Charlie Parker tune "Bird Feathers." Key to this recording was the inclusion of bona fide masters like drummer Art Blakey, saxophonist Cannonball Adderly, and secret weapon guitarist Chuck Wayne, all of whom toss gasoline on an already roaring fire with their solos. Released seven years later, Sam Rivers' second album Contours is an exemplar of just how far jazz had come in that relatively short time period. With a taut bunch of players at his side, including Herbie Hancock, Freddie Hubbard, and the indefatigable Ron Carter, River shows the door that leads from the land of modal jazz into more avant garde territory. The arrangements and playing are starting to become more open and freeform, with the influence of Eastern melodics and modern classical finding their way into the mix. It's a huge development heard with spectacular clarity on this well-mastered new pressing.
---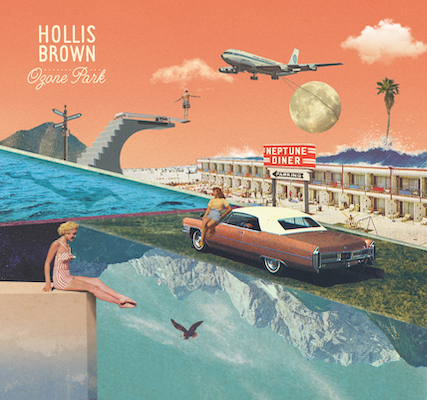 Hollis Brown: Ozone Park (Cool Green)
Queens, NY band Hollis Brown has certainly taken some big swings in their relatively short time together, including daring to record a tribute to The Velvet Underground's Loaded for Record Store Day 2014. That's the feeling that their latest album gives off: an unapologetically bold sound that aims for timelessness. The kind of soul-kissed rock that sounds like it could have been made at any point in the past 40 years and feels just right pumping out of the speakers of a car moving at a steady clip down a sun-drenched road. The product of four guys who probably have a killer record collected stocked with R&B classics, dusty rock standards, and some modern indie for good measure. Naturally, it sounds mighty fine cut into the grooves of a nice slab of black wax. My only advice is to head straight for side two, where Hollis Brown really shows off their collective skills as they move from a moody, tinny drum machine-driven ballad to tumbling country and a closer that solidly updates CCR's tightly wound grooves. He who dares wins.
---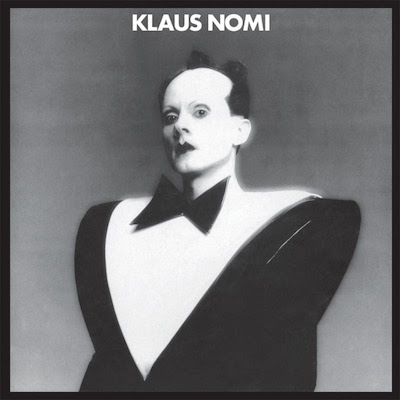 Klaus Nomi (RCA/Sony Music/Real Gone)
Even during a time in the early '80s when major labels were taking chances on dynamic and challenging artists like Devo and Gary Numan, RCA signing Klaus Nomi to a recording contract still feels hard to make sense of. Here was a German expat with an almost cartoony sense of fashion (the front cover of this album shows him in an oversized plastic tuxedo with an upswept do and wearing mime-like makeup) and a singing voice that was, at its highest register, castrato-like. And he was fronting an art-pop group that dabbled in '60s covers and operatic arias. RCA's A&R reps were either snowblind or mad geniuses for this one. Nomi's self-titled debut, available on a lovely vinyl pressing for the first time in nearly four decades, has no modern corollaries, not even his nearest contemporaries like ANOHNI or Jeff Buckley. Even as the music bristles with the slashing tones of the '80s new wave scene, Nomi counters with vocal turns that aims for the heavens and wraps around every synth chord and guitar line like a feather boa or a live wire. Stick around to the very end to hear Nomi lend that unique voice to a rendition of a Saint Saëns aria that will have you clutching your heart with delight and agony.
---
Hank Williams: The Complete Health & Happiness Recordings (BMG)
Radio was good to Hank Williams in his time. He became a national sensation through his appearances on the Louisiana Hayride program, and in 1951, he recorded dozens of songs for the Mother's Best Flour radio show. In between, Williams and his Drifting Cowboys laid down eight 12 minute long recordings to be distributed to stations throughout the U.S., known collectively as the Health & Happiness Shows. Originally collected and released in 1993 on CD and cassette, BMG has committed these programs to wax in this triple LP set, giving folks another chance to hear Williams ramble through a selection of his original tunes and some choice versions of old favorites. These programs are about as loose as Williams would allow himself to get, even within the tightly scripted and constructed confines of a radio show. Though he knew he was aiming for a mass audience, he plays the whole thing with a wry quality that helps the corporate interests involved in the creation of these programs (in this case, the pharmaceutical company Hadacol) a little easier to stomach. Give some of the credit for that to Joy and Michael Graves at Osiris Studio in L.A. who mastered these 70 year old recordings. I'm not clear on whether they were using the same acetates as the CD issue or not but this new edition is crystal clear and present. Put some headphones on and you can imagine being in the studio with Williams and the gang, hollering after every pinpoint performance of "A Mansion On The Hill" or "Lost Highway."
---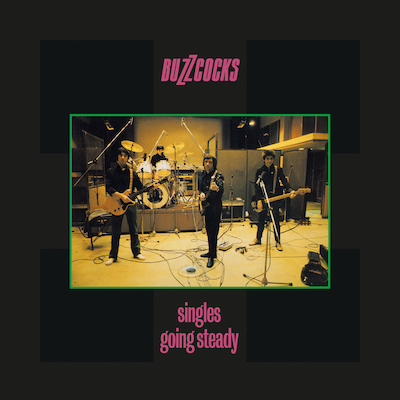 Buzzcocks: Singles Going Steady/A Different Kind Of Tension (Domino)
The reissue campaign that Domino has undergone to once again press new editions of the work of Buzzcocks, the punk-adjacent power pop group, has hit what is likely the end. These two LPs represent the final transmissions from the band before their 1981 breakup: a collection of the 7" singles that the quartet released between 1977 and '79 that was original put together for the U.S. market, and their third LP, released in 1979 (and a year later here in the States). The former remains one of the greatest single artists compilations of all time; 16 tracks of sexual tension, romantic angst, and snot-nosed fury that marked guitarist/vocalist Pete Shelley as one of the best songwriters of the era and the rest of the band as a fierce unit that could explode at any moment. Considering the sheer amount of material they birthed in a short span of time, is it any wonder that the center of this project couldn't hold. Tension isn't quite as perfect, due to Shelley ceding the spotlight to the other guitarist/vocalist Steve Diggle for a few numbers. Diggle gets his licks in ("Sitting Round At Home" is a perfect portrait of suburban ennui) but his lyrical efforts like "Sex is known as a screw/A bloody silly thing to do" are a pale imitation of his bandmate's casual brilliance. Another surprising development is that, even after multiple reissues of both of these records, they've never sounded better. Modern mastering techniques—and access to the original 1/4" tapes—have made these tunes sound alive. Like the needle is about to jump out of the groove and start pogoing around your living room. Better weigh down your tone arm with a quarter just to be on the safe side.
---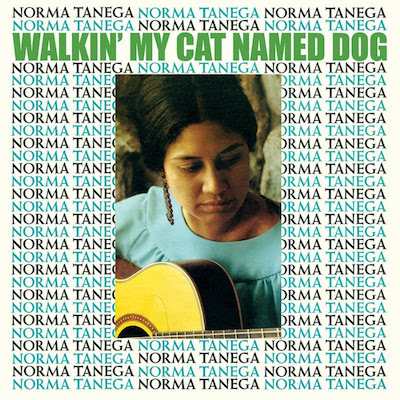 Norma Tanega: Walkin' My Cat Named Dog (New Voice/Real Gone)
If you know the music of Norma Tanega, it may be through Taika Watiti's use of her tune "You're Dead" at the start of What We Do In The Shadows or her idiosyncratic folk-pop hit—the title track to this 1966 album—that hit #22 on the Billboard charts and has been covered by everyone from Art Blakey to They Might Be Giants. Her history in the music industry runs far deeper than that, however, including the years she spent as Dusty Springfield's songwriter and lover and the experimental fare that she trucks in these days. But it all got started with this strangely alluring collection of original material, re-released by the keen-eared folks at Real Gone. The tone of this music sounds, to my ears, as if one member of The Shaggs finally fulfilled her dad's dream and found a proper singing voice and songwriting acumen while still holding on to the child-like wonder of Philosophy of the World. That she can turn a song as brutal as Leadbelly's "In The Pines" into something almost wistful with her rewrite called "Hey Girl" takes some kind of special skill. Much of the album though lands in this unexpected sweet spot between the tart folk of Peter, Paul & Mary and the pseudo-exotica of The Free Design. If you can imagine what that sounds like, you need to find this reissue immediately.
---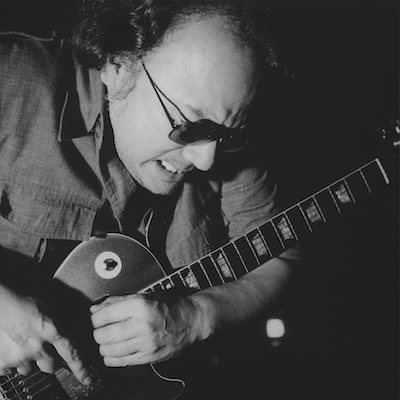 Masayuki Takayanagi New Direction Unit: April is the cruellest month (Blank Forms Editions
Recorded in 1975, the music on this rare masterwork of the Japanese avant-garde was intended for release on ESP-Disk before one of that label's many collapses. While issued on CD in Japan 15 years later, it's not been heard much outside of that nation and never on wax. Bless the good people of Blank Forms Editions for giving this music its proper presentation, complete with a cover photo of Takayanagi in full string torturing rictus that says so much about what you'll hear when you drop the needle on this one. The improvisations by the guitarist with woodwind player Kenji Mori, percussionist Hiroshi Yamazaki and bassist Nobuyoshi Ino would have been a welcome addition to a growing canon of free jazz being made in Europe and the States, sitting alongside the rackets being made on BYG. But it's Takayanagi's guitar playing that truly sets it apart as he uses his chosen instrument for pure evil. The final track—the nearly 20 minute long "My Friend, Blood Shaking My Heart"—presages the agitated riots of Thurston Moore and Brandon Seabrook with fleeting runs of notes and squalls of feedback that are countered by the blasts of Yamazaki's drumming and some nightmarish screams from Mori's alto sax.
---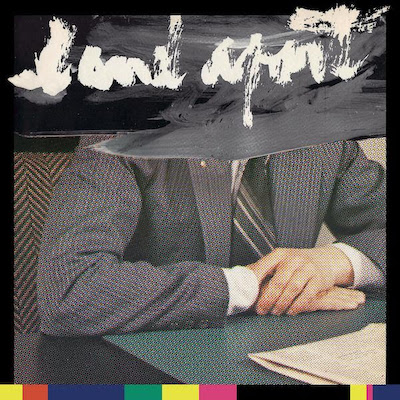 Band Apart: Band Apart (Crammed Discs)
Although the outfit known as Band Apart were connected firmly to the No Wave scene of the late '70s/early '80s, they never had the world-shuddering impact of their peers like DNA or the Contortions. Hopefully the duo of M. Mader and Jayne Bliss will find their way into the greater story of this small musical movement with this collection from Belgian label Crammed Discs. The self-titled release brings together the four tracks that made up the group's 1981 debut EP and a handful of tunes from their sole full-length Marseille (released in 1983). Their sound wasn't nearly as angular or challenging as their friends, closer in spirit to U.K. post-punk sensuality and the synthesized throb of their fellow New Yorkers in Suicide. The group even managed to presage the rise of shoegaze with their track "Les Mont Des Olives," a tune that undulates and buzzes like a swarm of bees. Band Apart's music only got sleeker as they ventured to Paris to record Marseille, as the deeper influences of the European pop world started to infiltrate their collective psyche. They found their way inside those darker chambers by way of Bliss's poetic lyrics and an unassailable cool that some artists are simply born with.
---
Various Artists: Sad About The Times (Kemado/Anthology)
When Lenny Kaye put together the first volume of Nuggets, no one really cared about the fate of regional garage-psych singles that, for a time, filled the shelves of record shops in the '60s. But through his remarkable taste and vision, he helped canonize groups like the Blues Magoos and the Knickerbockers. That same effect might be possible now that Sad About The Times is in the world. This double-LP collection of '70s soft rock also-rans was put together by Total Control member Mikey Young and Anthology Recordings head Keith Abrahamsson, and their collective interest in a sound that is tastefully accessible and lightly psychedelic could help turn the albums and singles by the likes of Randy & the Goats and Perth County Conspiracy from dollar bin afterthoughts to sought after rarities. I have to imagine that their releasing this collection just before the summer was intentional, as every track on it is rendered in that magic hour glow of late July evening when the drinks and the other intoxicants are helping push you painlessly into the chillier nighttime air. What would have been nice is to have a booklet helping contextualize this short-lived movement that gave way to the jazzier sounds we now know as yacht rock. But, friends, that is what Google and Discogs are there for. You'll surely be diving for both to track down more information about some of the lovely, lovely tunes that this collection is chockablock with.
---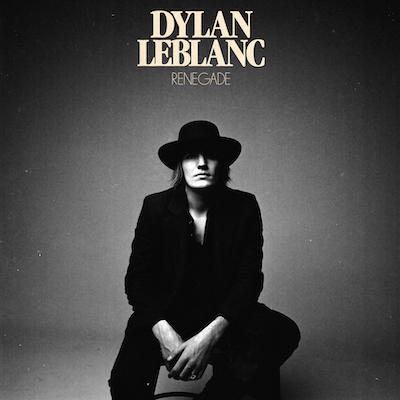 Dylan LeBlanc: Renegade (ATO)
Time to admit a little bit of bias on my part. When I cracked the plastic on Renegade, the fourth album by Louisiana-born singer-songwriter Dylan LeBlanc, I didn't have high hopes for it. From the title of the album to song titles like "Bang Bang Bang and "Lone Rider" to the moody album cover, I was convinced that I was about to suffer through another album of gruff Americana with whiskey and hell raisin' on the brain. What I wasn't expecting was LeBlanc's pealing vocal style that is just to the right of Jimmie Dale Gilmore and a sound that, while owing a lot to the folk and country idioms, dealt in more pop-driven influences and lyrics that plumbs LeBlanc's romantic yearnings, moments of self-reflection, and spiritual yearnings. It has the effect of a warm beverage and warmer conversation in the wee small hours. Those times when we reveal so much to those closest to us and, through it, get even closer to them, physically and emotionally.