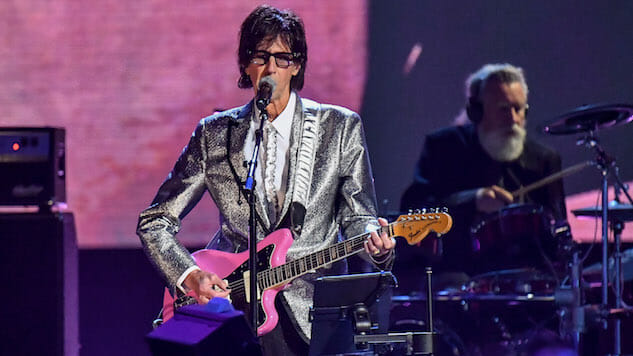 Ric Ocasek, the singer, songwriter, guitarist and producer who fronted the iconic 1970s new-wave outfit The Cars, died Sunday afternoon. He was found unresponsive in his New York City apartment by his wife, Paulina Porizkova, with whom he had separated in 2018, and was pronounced dead by responding medics. According to an NYPD official, his death appeared to be of natural causes. An official cause of death will be announced following confirmation by the city medical examiner. His age is also yet to be confirmed: The NYPD report that he was 75, but public records claim that he was born in 1949.
The Cars were one of the first bands of the late 1970s to blend synthesizers and guitars, pioneering a sound that paved the way for countless others. The band released six albums from 1976 to their breakup in 1988, producing a bevy of hits such as "Drive" and "Just What I Needed." Though Ocasek maintained for years after their dissolution that the band would never reunite—and one of their founding members, bassist Benjamin Orr, had passed away in 2000—they made a brief return with 2011's Move Like This. The Cars joined the ranks of the Rock and Roll Hall of Fame in April of 2018, making a final performance at their induction ceremony.
Apart from his time with The Cars, Ocasek was known as a producer for a number of genre-defying bands, working on Weezer's Blue Album and Green Album, Nada Surf's High/Low, No Doubt's Rock Steady, Le Tigre's This Island and Motion City Soundtrack's Even if it Kills Me, among various others. Ocasek's death has been met with an outpouring of tributes via Twitter from Weezer, who call him a "friend and mentor"; The Killers' Brandon Flowers; AC Newman of The New Pornographers; Red Hot Chili Peppers bassist Flea; Beck, and many more.
The weezer family is devastated by the loss of our friend and mentor Ric Ocasek, who passed away Sunday. We will miss him forever, & will forever cherish the precious times we got to work and hang out with him. Rest in Peace & rock on Ric, we love you. #RIPRicOcasek#karlscornerpic.twitter.com/JcTXevr6V8

— weezer (@Weezer) September 16, 2019
Feeling grateful for Ric. Had the opportunity to send him this email a couple years back. My first king. Thank you, thank you, thank you. pic.twitter.com/h4u8CXDhRg

— The Killers (@thekillers) September 16, 2019
I will never stop imitating the first Cars album. His influence will always stay with me. RIP and Thank You to Ric Ocasek.

— Carl Newman (@ACNewman) September 16, 2019
Ahh man, say it ain't so. I loved Ric Ocasek. What an interesting, smart, kind, funny man who made incredible records. I loved those Cars albums when I was a teenager. Perfect pop songs with those wicked elliot… https://t.co/SjtRU8OaJO

— Flea (@flea333) September 16, 2019
sad news. much respect to the great ric ocasek. pic.twitter.com/FSm3ZmYDvf

— Beck (@beck) September 16, 2019
Below, listen to a 1978 Cars performance and 1983 Ocasek solo performance, both pulled from the Paste archives.