Read Rich Aucoin's Tour Diary as He Bikes Across America: Volume 2
Natural wonders and pop-culture monuments abound.
Photos: Rich Aucoin
Music
Features
Rich Aucoin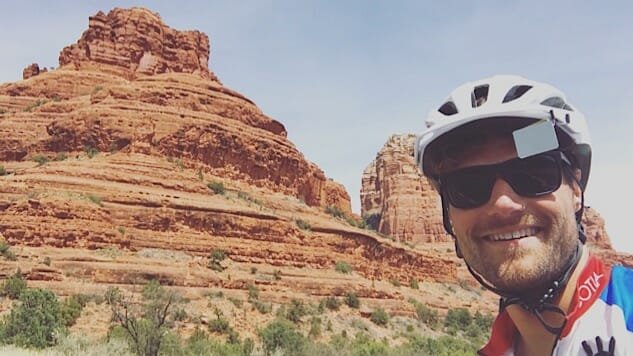 Last month, we started following psych-rocker Rich Aucoin as he began the coast-to-coast U.S. tour for his new EP, 'Hold'—which he's doing on his bicycle. Read Volume 1 here. Aucoin will check in with regular updates from his journey, which is set to wrap up June 29 in Brooklyn.
Arcosanti, the isolated artistic community of around 100 people living in what looks like a 1970s brutalist utopian vision of the future, was a great retreat. Leaving the future and returning to the present, I embarked up into Arizona's Red Rocks and into the lushness of Sedona where one's jaw drops with each head turn.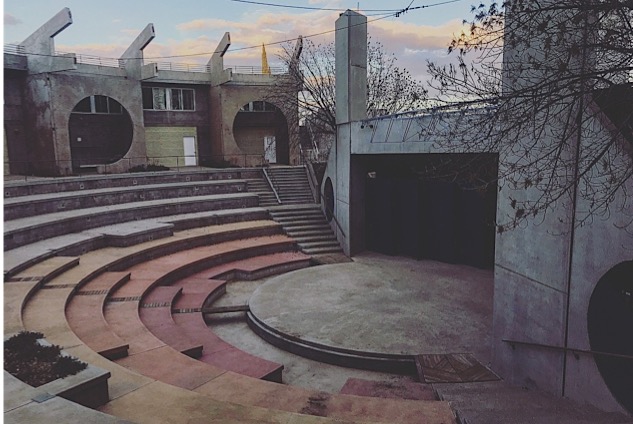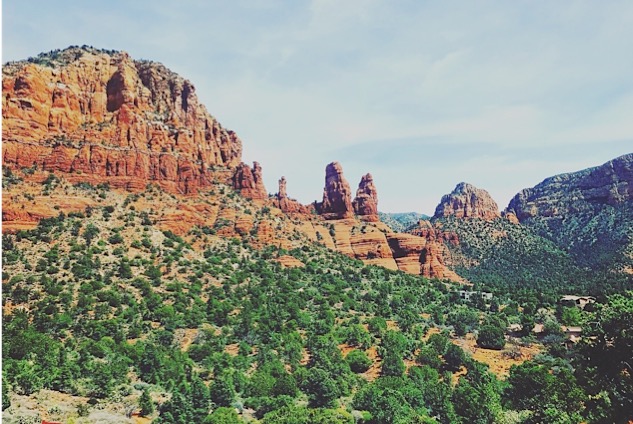 I climbed the 3,000-foot switch-backs up to Flagstaff's 6,906-foot altitude and saw the statue from Easy Rider. Since the film came out in 1968, the statue has undergone so many restorations, it could be used as another ontological example of a Lincoln's Axe philosophical thought experiment as it most likely contains no pieces of the original statue now; is it therefore still the same statue?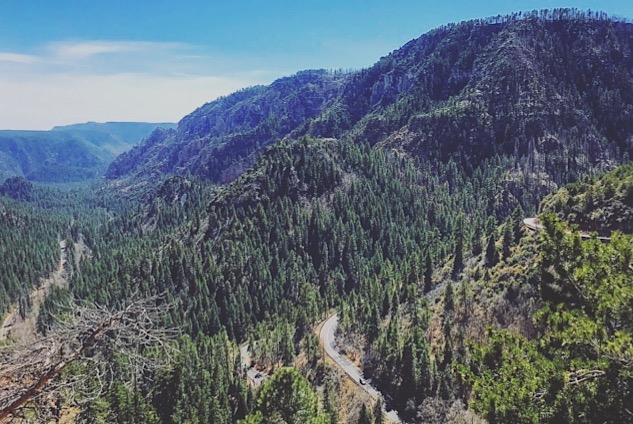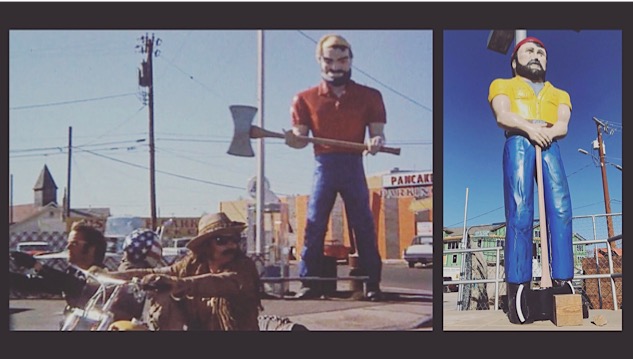 I played a fun show with the phenomenal live band Peelander-Z at a place called the Green Room, and did a double take while walking in as its stage layout and bar positioning are the same as in the amazing 2015 Jeremy Saulnier film of the same name. I then remembered the film was set/shot in Oregon so my excitement subsided. I of course tried to recreate the frame from Flagstaff in the running montage from Forrest Gump.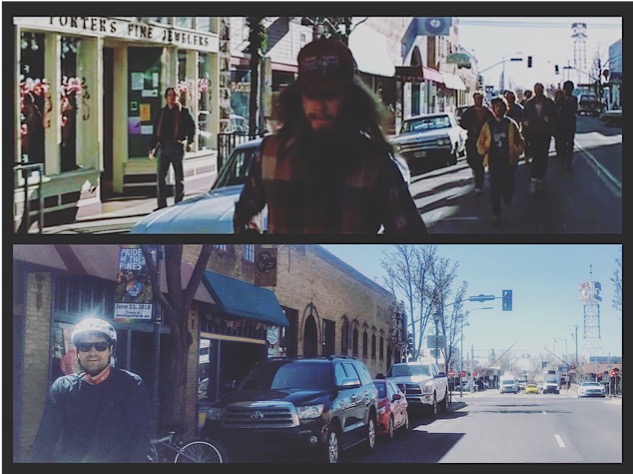 A few years back, we made a video that was a Please Be Kind, Rewind-esque montage of as many movies as we could find from what I had I cut up and sampled in the live show. The director, Noah Pink (who now has an amazing show called Genius on NatGeo, now in Season 2, about Picasso), and I went back and forth about the films to include—mostly me pushing for Raiders of the Lost Ark and Star Wars. We settled on: Forrest Gump, The Princess Bride, Taxi Driver, Night of the Living Dead, It's A Wonderful Life, Die Hard, A Night at the Roxbury, Top Gun, Ghostbusters and E.T. the Extra Terrestrial.
Watch Rich Aucoin's video for 'It':
Heading into Winslow was the first time I've been cold on this trek. It was 45 to 50 degrees with enormous 40 mph winds that prevented me from biking at a normal speed. Was way worse than going up any switch-back and mountains. I saw the world's best preserved meteor crater, appropriately called Meteor Crater. Its size is best imagined as an amphitheater that could have a base of 20 football fields and hold an audience of 2 million.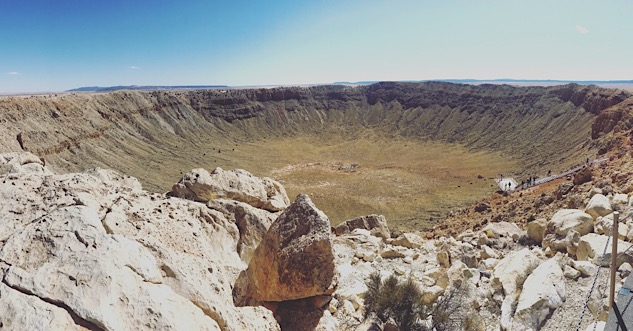 Pop monoculture is over. The viral videos of the late aughts were the last vestiges of ubiquitous shared experience. Even the biggest pop stars of today can be overlooked by large numbers of the population because of our highly specialized subscriber culture. So our water-cooler conversations are no longer a discussion of a shared cultural experience but, instead, a back-and-forth series of recommendations. I think it's helpful for musicians and other culture creators to digest as much as they can as their "research" for their own creations, even if it's at a subconscious level. In the end, it's your subconscious doing the heavy lifting in creative efforts anyways. So, I was looking forward to the hours and hours of of guilt-free musical analysis I'm able to conduct while on this tour. I was deep in one of these sessions when I realized that the road I had been traveling on was steadily declining to be characterized as a road.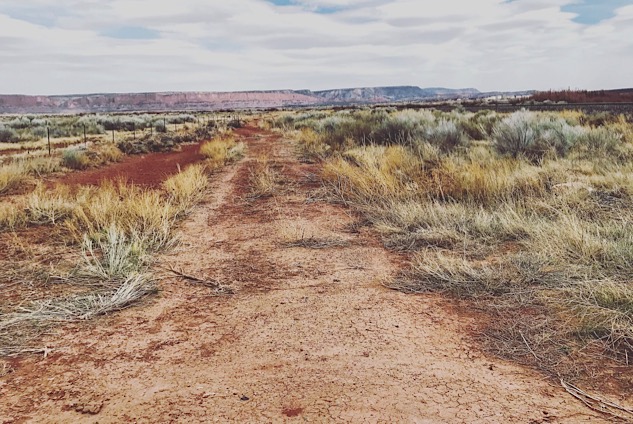 I switched to the comforting podcast of Pete Holmes's delightful You Made It Weird, where they were actually talking about Paste's article about the best moments of the show, as I realized I was in some snake country pushing a bike with 100 pounds of music equipment and camping gear and that I should probably just head back to the safe freeway where 18-wheelers pass you at 80 mph at arm's length.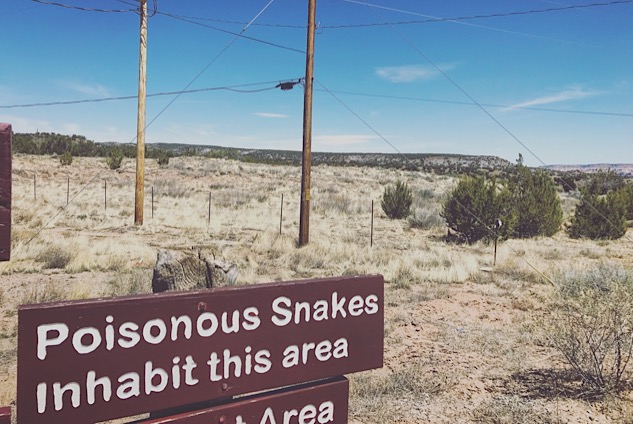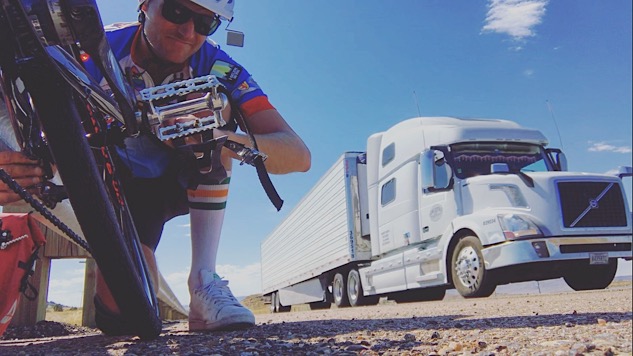 Went through head-on winds and dust bowls and smoke from forrest fires.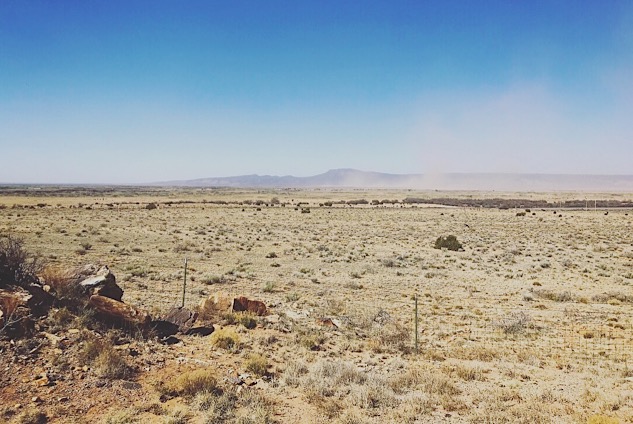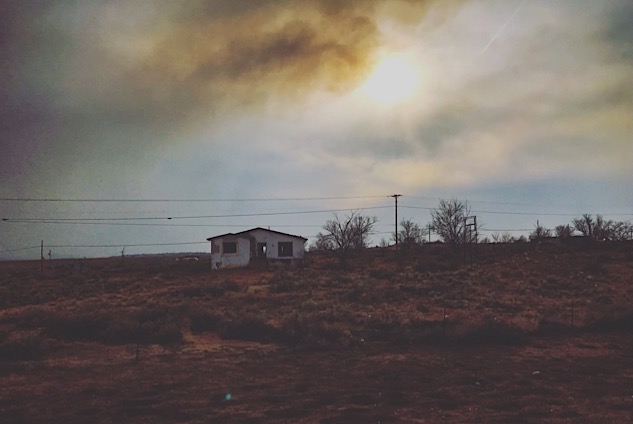 Passed through the last of Arizona's amazing red rocks and found a rare volcanic rock formation as well.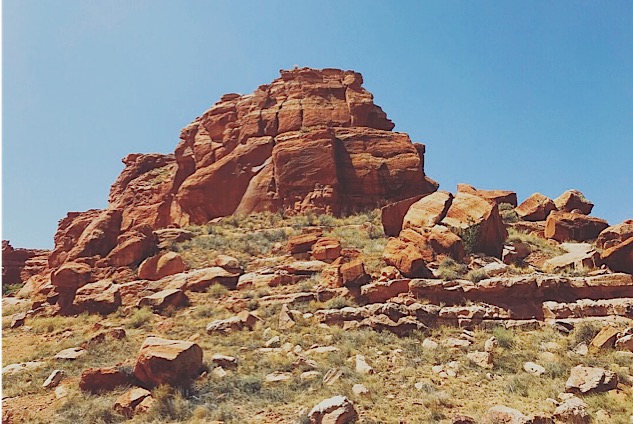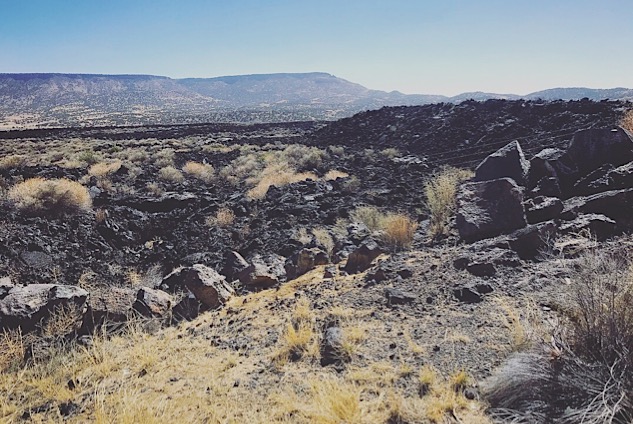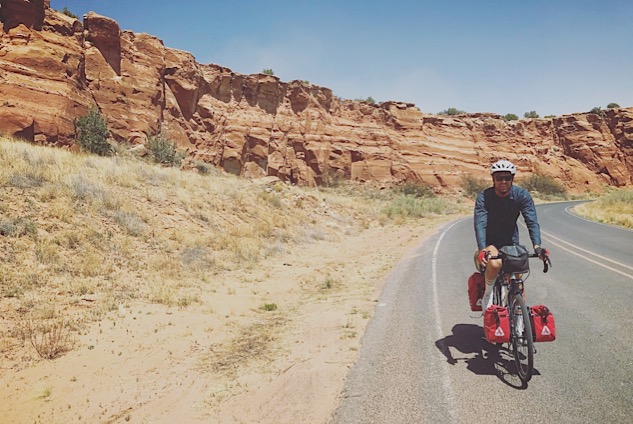 In Albuquerque, I routed passed the Whites' residence from Breaking Bad—which is a great modern pop version of classical Greek Tragedy. Though, as anyone who's seen the show knows, as you watch it, you constantly question yourself: "Am I enjoying this?" because it's an effort to get through empathetically. So, for some reason the Breaking Bad fans visiting this site have either taken little mementos from the property or re-enacted the scene where Walter throws a pizza on the roof. The poor house owners erected an intense-looking fence to thwart these vandals and don't seem that impressed by respectful visitors either. I told one of the owners I was sorry to hear about their troubles, but she shoed me away with her hand and then yelled, "You think this is fun?" She proceeded to sit in the famous driveway, just staring out into the world with this intense frustration. Maybe simply painting the house literally any other color would deter fans more than militarizing the property?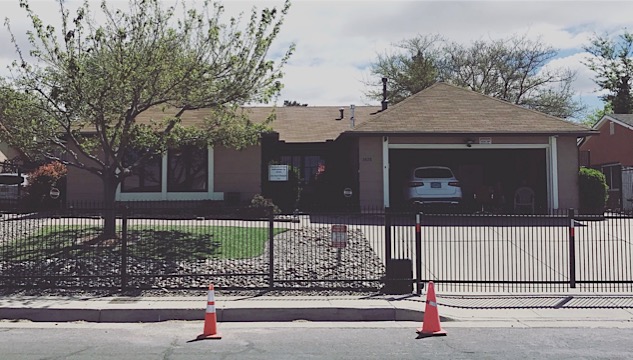 On the Road Kerouacing again, I'm cycling across the U.S. for Mental Health America. You can pledge support and donate directly to them and get a tax-receipt on my fundraiser page here.
You can hear my music:
On Soundcloud here
On Spotify here
And see more photos on Instagram here
And read more thoughts here on Twitter
Playlist for this section:
1. U.S. Girls: "Pearly Gates"
2. Unknown Mortal Orchestra: "Everyone Acts Crazy Nowadays"
3. Nap Eyes: You Like To Joke Around With Me"
4. Born Ruffians: "Working Together"
5. Alvvays: "Dreams Tonite"
6. Rae Sremmurd: "Powerglide"
7. J. Cole: "Motiv8"
8. Amen Dunes: "Blue Rose"
9. Meth Dad: "Bones"
10. Chrome Sparks: "To Eternity"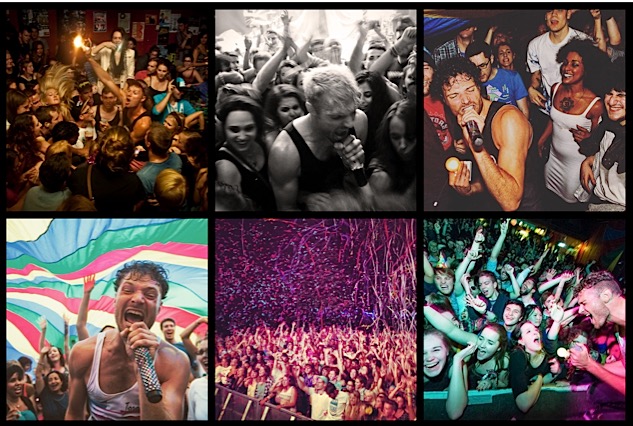 And you can catch me on tour:
5/3: Oklahoma City, OK – The Root
5/4: Norman, OK – Opolis w. ORE, DJ Bifurious
5/11: Little Rock, AK – EJ's w. Pissin' Comets, The Chemtrails
5/16: Memphis, TN – Hi-Tone w. Louise Page, Bearport
5/24: Nashville, TN – The East Room w. Soft Bodies, Black Moon Mother, Brainweight
5/31: Knoxville, TN – The Birdhouse w. Meth Dad, Majesty
6/20: Washington, DC – DC9 w. Terror Pigeon, OG Lullabies, Electric Grandmother
6/23: Baltimore, MD – The Crown w. Terror Pigeon, DYYO, Micah E Wood
6/26: Philadelphia, PA – PhilaMoca w. Terror Pigeon, The Obsessives
6/29: Brooklyn, NY – Knitting Factory w. Terror Pigeon