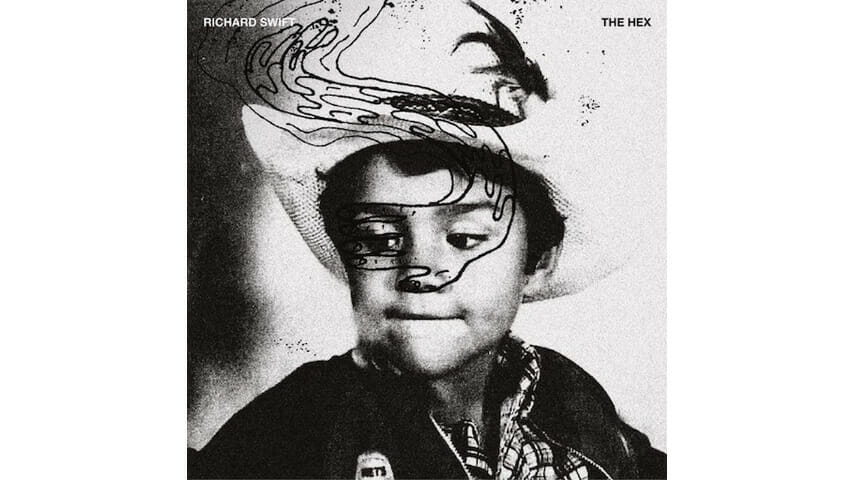 After singer, songwriter, multi-instrumentalist and indie-rock uber-producer Richard Swift died in July, his family announced, among other things, that he had been working on new music, that said new music had been planned for release in November, and that they hoped to share it with the world sooner than that.
Given the typical timeline for getting an album out into the world via an indie label, a planned November release means Swift had almost certainly put the finishing touches on the music he was making before he passed away. Which means The Hex—surprise-released today by Secretly Canadian—may very well be Swift's final fully formed artistic statement.
What a final statement it is. The Hex is tuneful and confident, immaculately arranged and distinctively produced, and reflective of the man's longstanding interests in old soul music, vintage pop, fuzzy rock 'n' roll and beautiful walls of sound.
It is also strikingly honest, which is perhaps no surprise, since it comes from an artist who had, according to that same family statement, been battling the effects of alcohol addiction over the past couple of years. He makes no bones about his situation in "Broken Finger Blues," which sounds like a classic Motown track charmingly recorded at the bottom of a well:
My body's broken
My body is bruised
Try to remember what it's like not to lose
I won't go under
I won't give in
Try to remember what it's like to win
The sonic details that surround those lines — the snappy bass line, the commanding piano chords, the lush backing vocals — belie their harrowing essence. The same could be said for "Wendy," a desperate love song to Swift's deceased mother presented as a buzzy '60s doo-wop song, complete with "da do run run" refrains. And "Dirty Jim" is a highlight of The Hex, precisely because of the contrast between its sound — a jaunty piano-pop song — and its message, which is more or less a farewell to Swift's loved ones.
Elsewhere, "Selfishmath" is swaggering life lesson shot through with a sinister bass line. "Sister Song" and "Nancy" find Swift encouraging the women in his life through the echoes of reverb and time. The latter — with its undulating synths and vocals by Swift's daughters — is particularly affecting. And you can almost hear the man himself giggling at the juxtaposition of "HZLWD" — a gently rolling baroque-pop instrumental — and the grating spoken-word experiment called "Kensington!"
The Hex ends modestly with "Sept20," which finds Swift at the piano, sounding Elliott Smith-ish and singing of health and poison wells and sickness and death. The song ends somewhat abruptly, without some grand final statement or crescendo to tie everything up neatly.
In a way, though, that's exactly the right ending for Richard Swift, a quintessential musician's musician, and a top-shelf man behind the curtain. He was better known for his studio acumen and production work than his own songs, yes, but his solo albums are revered among those lucky enough to have heard them. The Hex will only bolster his legacy.
Watch an entire Richard Swift concert circa 2009 via the Paste vault below: