Exclusive: Roberta Flack, Lauryn Hill and the Legacy of "Killing Me Softly With His Song"
Today in the Vault: The life story of one of the greatest R&B songs of all time.
Music
Features
Roberta Flack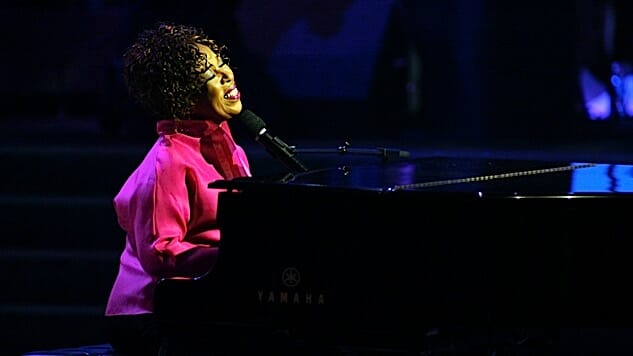 Did you know that Paste owns the world's largest collection of live music recordings? It's true! And what's even crazier, it's all free—hundreds of thousands of exclusive songs, concerts and videos that you can listen to and watch right here at Paste.com, from Louis Armstrong to The Who to U2 to Wilco. Every day, we'll dig through the archive to find the coolest recording we have from that date in history. Search and enjoy!
From its inception, "Killing Me Softly With His Song" was a collaborative effort. Written for singer Lori Lieberman by writing team Charles Fox and Norman Gimble, the song's origin story is something of an urban legend: When Lieberman saw "American Pie" singer-songwriter Don McLean perform his song "Empty Chairs" in a bar, she was so moved that she told Fox and Gimble about it. Inspired by the encounter, "Killing Me Softly" was born in 1971 on a recording by Lieberman. Though Fox and Gimble later refuted this story, Lieberman's version has prevailed and the lore surrounding the song lives on.
Fresh from her Grammy win for "The First Time I Ever Saw Your Face," Roberta Flack was struck by "Killing Me Softly With His Song" when she heard it by chance on an airplane. From there, Flack's relationship with the song took off: After releasing her version as the title track on her 1973 album Killing Me Softly, Flack watched the song soar to #1 on the charts and stay there for five non-consecutive weeks—longer than any other single in 1973. She went on to win the Grammy Award for Album of the Year, along with Best Pop Vocal Performance for "Killing Me Softly With His Song." Check out Flack's rendition from Sept. 6, 1980, at the Holiday Star Theater in Merriville, Ind.
"Killing Me Softly With His Song" was added to the Grammy Hall of Fame in 1999, thanks not only to Flack, but to a trio of young New Jerseyans who had recently made it their own. A generation after Flack's version, the song was reborn when it was picked up by the Fugees on their 1996 smash, The Score. Featuring the inimitable vocals of Lauryn Hill, the group opted for a more stripped-down version of the hit, even shortening the title to "Killing Me Softly." The song thoroughly cemented its place as a veritable cash cow for awards, becoming the most sold single of 1996, earning the Fugees a Grammy for Best R&B Performance by a Duo or Group with Vocals, and leading to an MTV Video Music Award for Best R&B Video. Listen to a stunning 1996 performance of the Fugees playing "Killing Me Softly" below.
More than 40 years since its original release, it's clear that "Killing Me Softly" will never die a quiet death—instead, it waits for the next artist to breathe new life into its words.