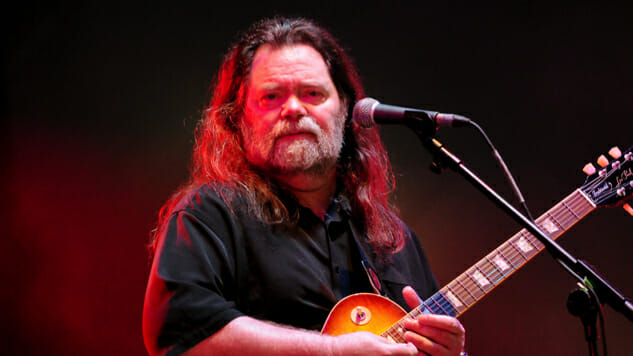 Roky Erickson, a Texas musical legend and psychedelic-rock pioneer best known as the frontman of 13th Floor Elevators, died in his hometown of Austin on Friday, as Austin360 first reported. Erickson, whose cause of death has not been disclosed, was 71 years old.
One of Roky's brothers, Mikel Erickson, confirmed his death in a public Facebook post, writing, "My brother Roky passed away peaceably today. Please allow us time. Music and laughter forever."
Another brother, Sumner Erickson, told Austin360, "The world lost a huge light and an incredible soul. It wasn't the easiest life, but he's free of all that now."
Mikel also confirmed Roky's death to Bill Bentley, producer of 1990 tribute album Where the Pyramid Meets the Eye, who told Variety, "Roky lived in so many worlds, you couldn't keep up with him. He lived so much, and not always on this planet."
Erickson's management spoke to his legacy in a statement issued to Austin360:
Erickson had a visionary zeal rarely seen in 1965 when he co-founded the 13th Floor Elevators. The band's original songs, many written with lyricist Tommy Hall, coupled with Erickson's super-charged vocals and guitar, sparked the psychedelic music revolution in the mid-1960s, and led to a new role of what rock could be. Erickson never wavered from that path, and while he faced incredible challenges at different points in his life, his courage always led him on to new musical adventures, one he continued without compromise his entire life.
The statement also quotes Billy Gibbons of ZZ Top, a friend and collaborator of Erickson's who wrote:
Roky came to mean many things to many admirers and will continue to resonate with a legacy of remarkable style, talent, and poetic and artistic tales from beyond. As a long-standing friend and follower of Roky's amazing performing abilities and as a guitarist and singer, I can only relate the far-reaching impact he and his mates in the 13th Floor Elevators brought to the fore with their eerily magnetic psychedelic sounds.
It's almost unfathomable to contemplate a world without Roky Erickson. He created his own musical galaxy and early on was a true inspiration. Even now, Roky is a source of creative energy of the first order. It's really a circumstance where he continues to provide the requisite "Reverberation." Something he predicted when he sang "You're Gonna Miss Me"—we certainly do know now that he's at one with the universe.
Born Roger Kynard Erickson on July 15, 1947, Erickson took up the guitar at a young age, dropping out of high school in 1965 and forming his first band, The Spades, shortly thereafter. The band notched a regional hit with "We Sell Soul," and recorded the original version of "You're Gonna Miss Me," which would soon become a hit for 13th Floor Elevators, whom Erickson co-founded later that same year. Hailed as the first true psych-rock band, they released their debut album The Psychedelic Sounds of the 13th Floor Elevators in 1966, when Erickson was only 19 years old. Its opening track, the aforementioned "You're Gonna Miss Me," a raw, garage-rock break-up track, remains one of Erickson's foremost accomplishments as a songwriter.
13th Floor Elevators released Easter Everywhere in 1967, which was followed by outtakes album Live in 1968 and Bull of the Woods—the last LP they worked on as a band—in 1969. It was during these years that Erickson began what would be a lifelong struggle with drugs and mental illness: He was diagnosed with schizophrenia in 1968 and spent the next few years in and out of psychiatric hospitals, including a marijuana possession arrest that landed him in Rusk State Hospital, where he was subjected to involuntary electroshock therapy. This had a lasting effect on his mental state: As Andrea Ball wrote for the American-Statesman in 2003, "Roky spent the next three decades drifting between reality and insanity. During the good times, he married, had children and produced music. The bad times left him paralyzed by auditory hallucinations and paranoia."
Erickson started numerous new bands after his release from the state hospital, including Bleib alien (German for "remain alone"), Roky Erickson and The Aliens (working alongside producer Stu Cook, the former Creedence Clearwater Revival bassist), and Roky Erickson and The Explosives (whom you can hear via the Paste archival audio player below), and putting out a couple of new albums.
Erickson's struggles with mental health took a new form in the '80s, as he began to obsess over mail, a fixation that culminated in his 1989 arrest on mail theft charges (which were later dropped). His stature as a musician continued to grow, however: 1990 saw the release of the aforementioned tribute album Where the Pyramid Meets the Eye, featuring the likes of R.E.M., ZZ Top, T-Bone Burnett, The Jesus and Mary Chain, Primal Scream, Butthole Surfers and John Wesley Harding covering Erickson's songs. This heralded a renewed interest in Erickson's work, one that would see him return to the spotlight over the next decade.
Erickson's '90s resurgence began with a new album, All That May Do My Rhyme, and the publication of Openers II, a complete collection of his lyrics. Roky's younger brother Sumner was granted legal custody of his brother in 2001, establishing a trust to help Roky sort out the many overcomplicated royalty contracts of his career, and to manage his schizophrenia with medication. "When I became guardian, the goal was to get him to a place where he didn't need that anymore," Sumner recalled to Austin360. 2005 documentary You're Gonna Miss Me, directed by Keven McAlester, documented Erickson's rise and fall, earning an Independent Spirit Award nomination for best documentary. That same year, Erickson performed live for the first time in two decades, taking the stage at Austin City Limits Music Festival alongside The Explosives and Gibbons of ZZ Top.
Erickson would go on to collaborate with Mogwai, Okkervil River and The Black Angels in the 2000s and 2010s—his 2010 album with Okkervil River, True Love Cast Out All Evil, was Erickson's first new LP in 15 years.
In 2015, Erickson reunited with the surviving members of 13th Floor Elevators to headline Austin's Levitation—a festival named for one of the band's songs—rejoining Tommy Hall, John Ike Walton and Ronnie Leatherman for the band's first performance in nearly 50 years.
Erickson is survived by his brothers, Mikel and Sumner, and his son, Jegar.
Watch Erickson and The Explosives perform at the Great American Music Hall circa 2007 below.