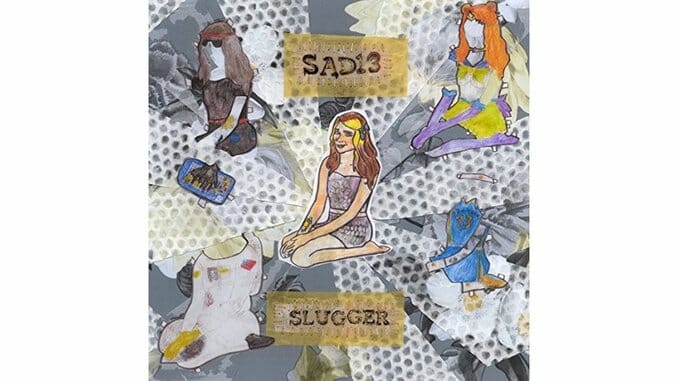 In the three years since Speedy Ortiz's debut appeared, frontwoman Sadie Dupuis has become one of indie's most charismatic vocalists and sharpest lyricists. A solo release was inevitable. Question was, what form: An ascetic acoustic set would risk ignoring Speedy's strengths, though a noisy and bombastic rock record might be indistinguishable from Foil Deer.
Slugger, Dupuis's new album as Sad13, doesn't fit neatly into any such category. It's bedroom-pop, but only in the most literal sense: Dupuis recorded these songs in a friend's bedroom she was subletting over the course of two weeks in early 2016. The songs, she has said, reflect a sense of optimism and community felt at that particular moment, which might seem quaint now, or maybe it's exactly what we need: Slugger bristles with unapologetic self-empowerment and self-affirmation. The hooks hit hard and personal, though the emphasis on synth-pop instrumentation makes for a surprising and occasionally awkward pairing with the guitar-driven songwriting.
Slugger is full of songs about love, not to be confused with love songs. It's the rituals and deceptions and false appearances of love that command attention. On "Tell U What," Dupuis stands up to an abusive relationship with strength and fury: "You throw me 'round like trash / When I'm worth every dime you have," she sings over a cluttered mix of rumbling piano and distorted guitar, then declares: "Tell u what / I'm not worth your violence." Much of Slugger is a retort to that violence, physical or otherwise. "Get a Yes" is one of pop's most explicit and affirmative consent anthems to date, set to a sparkling synth-pop melody. "You don't know how I'd like to say yes," the singer reaffirms on "The Sting," which reveals a hidden knack for power-pop. And then "Just a Friend" pushes back against the relentless sexualization of platonic friendship, calling out the jerks who "treat me like some grand deceiver / Cuz you never just believe."
As a stage name, Sad13 feels like a nod to the lost art of AIM screen names and LiveJournal usernames. From the lyrical vignettes to the fan art-styled cover image, Slugger reflects that same sense of homespun confessionalism. ("I feel like I'm in a relationship with the Internet," Dupuis told a recent interviewer.) There are stylistic nods to hip hop (rapper Sammus spits a verse on "Coming Into Powers") and jittery electronica ("Krampus") along the way, some more successful than others. But nothing fits as gloriously as fuzzed-out garage rock. Surely "Hype," which claws at the sexism of the music industry, is the catchiest song ever to feature the chorus "They still wanna lick my asshole!"
For more from Sadie Dupuis, check out Speedy Ortiz's Daytrotter session in the player below.