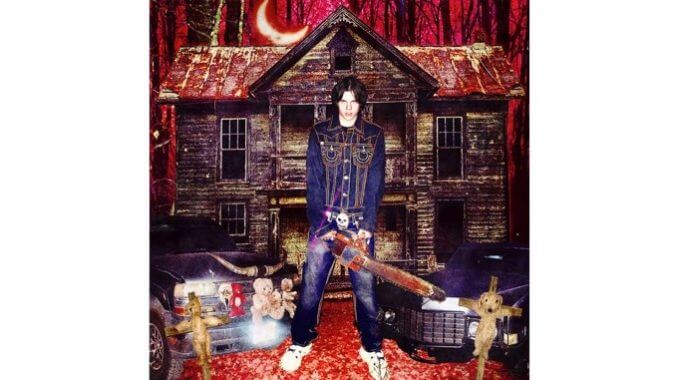 Sematary and his collective Haunted Mound occupy a strange niche in the rap game. While the man will list Chief Keef and Black Kray among his influences, his music is far more hellish than one would first imagine. Sematary's take on horrorcore essentially asks the question "What would happen if the production was as hellish as the lyrics?" The answer is a ton of distortion combined with some samples that make listeners feel like they are going through the layers of the underworld. It makes for an exhilarating if not abrasive listen the first few times. Still, the combination of his slurred voice, the trap-style drum hits, and production that takes some of the best elements of witch house and black metal somehow meld into something brilliant. It's the sonic equivalent to the "deep-fried" style of memes and it just works.
On Butcher House Sematary doesn't reinvent the wheel with his sound. Compared to his earlier releases, Sematary leans more into drill-style production. But Sematary and by extension Haunted Mound's unique blend of sounds is still fresh enough that it manages to stick out in the current landscape. It's not the easiest listen, and will no doubt turn off genre purists, but Butcher House is easily the hardest-hitting rap record of the year right now. The abrasive mixing combined with the lyrics ranging from terrifying to hilarious give the entire project this unique DIY feel.
The album opens with the brutally oppressive "Haunted Mound Reapers" which begins with the signature "HAUNTAHOLICS. REAL HAUNTED MOUND" producer tag before going into an instrumental with synths that wouldn't sound out of place in a horror movie. Sematary and fellow Haunted Mound member Hackle then go on to trade bars about murder, butcher houses and the "screams of hell" over incredibly blown-out production in a perfect introduction to what Haunted Mound is all about.
"Babayaga" is another highlight track that opens with a desolate-sounding instrumental opening up the first 15 seconds, before immediately following into Sematary's signature drawl layered in a substantial amount of autotune as he spends much of the track talking about voices in his head and his cutter. Other highlights include "Hate and Gasoline" which features an incredible guitar riff combined with the existing overblown trap production.
Generally, you'll get the record's tone from the opening two tracks. It's loud, it's abrasive, and its lyrics vary from creepy to ridiculous all wrapped up in a nice little package. This could also be considered to be a general weakness of the project for new listeners as all the songs on the project generally have the same vibe, so if one vehemently dislikes the Haunted Mound collective's take on trap, they won't leave Butcher House particularly amazed by any means. The record can blend together at times due to the overarching musical style of Haunted Mound being front and center, but at 35 minutes it doesn't overstay its welcome.
While Sematary's music will never be for everyone due to his unique take on the genre,Butcher House is a good introduction point for new fans.