Solange Wins Artist of the Year at Webbys
Photos by Jason Kempin/Getty, Bennett Raglin/Getty
Music
News
Solange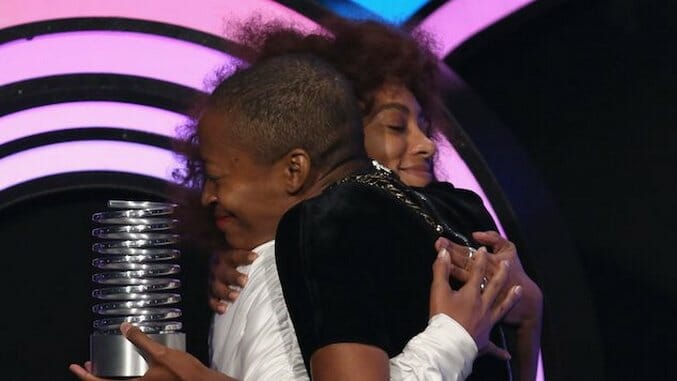 Grammy-winning songstress and all-around goddess Solange has won a Webby Award for Artist of the Year for her "digital prowess" and "use of the Internet as a force for promoting community and diversity."
Solange, who made our 2016 lists of 50 Best Songs, 50 Best Albums and 20 Best Music Videos, has been an innovative force in the changing landscape of contemporary R&B. Her music videos and performances, an exceptional blend of fashion and simplistic choreography, are works of art within themselves.
One of her most noteworthy waves of Internet impact is Saint Heron, a website that allows R&B artists to collaborate online without the politics of a label. Solange also uses her platform to speak about injustice. Earlier this year, she famously spoke out against the Grammy's on Twitter after her sister was snubbed for Album of the Year. One tweet read, "There have only been two black winners in the last 20 years for Album of the Year. There have been over 200 black artists who have performed."
Although those tweets have since been deleted, her outspokenness is applause-worthy. In a climate where musicians are inclined to make vague statements about social issues to avoid isolating potential fans, Solange's public efforts to credit black artists for the art they create are commendable, and there is no one more deserving of the AOTY Webby.
In typical fashion, Solange made the best of her five-word acceptance speech limit with a Luniz reference, uttering the most iconic five-word phrase in hip-hop, "I got five on it."
Watch Solange accept her award below.