EXCLUSIVE: Stuck Premiere New Single "Time Out"
The Chicago post-punk band's sophomore LP Freak Frequency arrives May 26 via Born Yesterday
Photo by Alexa Viscius
Music
News
Stuck
When post-punk quartet Stuck arrived through the wind of Chicago in 2020—after the dissolutions of Yeesh and Clearance—their debut record Change Is Bad was a powerful, anxious fit of introspective, intense guitar work and frontman Greg Obis' marauding, alienated vocals. A year later, they stormed back with the great, underrated EP Content That Makes You Feel Good, critiquing our sociopathic, digital, capitalist world with a vengeance. It wasn't a manifesto so much as it was a band documenting how they were capsized by the chaos of being plugged-in and glued to our phones. Fast-forward two years, and Stuck is releasing their best record yet: Freak Frequency.
With reverberations of early Devo and Light Up Gold-era Parquet Courts afoot, the first single from Freak Frequency—"The Punisher"—is punchy, bold and rattles under the weight of Obis' licks and David Algrim's machine gun basslines. Now, Stuck have brought another offering to the post-punk feast they've been cooking. "Time Out" follows the thesis of Content That Makes You Feel Good to a T, taking direct and vivid aim at the addictive nature of social media. Ruminating on how our brains get swept up in the instant gratification of online interactions and validations, Stuck bring a cinematic, horror glean to the songwriting. "Somebody's following me! / And the worst part of it all / Somebody profits off my scrawl / My fifteen seconds of shame / I think I need a / Time out!" Obis shouts.
"This song is about the compulsion to post, share, like and subscribe. It highlights how social media inherently preys on our deepest insecurities and most negative emotions for profit. I thought I knew how far I could push [drummer] Tim [Green]'s tempos, but Tim kept insisting we do it 20 bpm faster when we were working on this one. He is an absolute monster for playing that fast," Obis explains.
Watch the music video for "Time Out," check out the album artwork and tracklist for Freak Frequency and take a look at Stuck's upcoming tour itinerary below.
Freak Frequency artwork: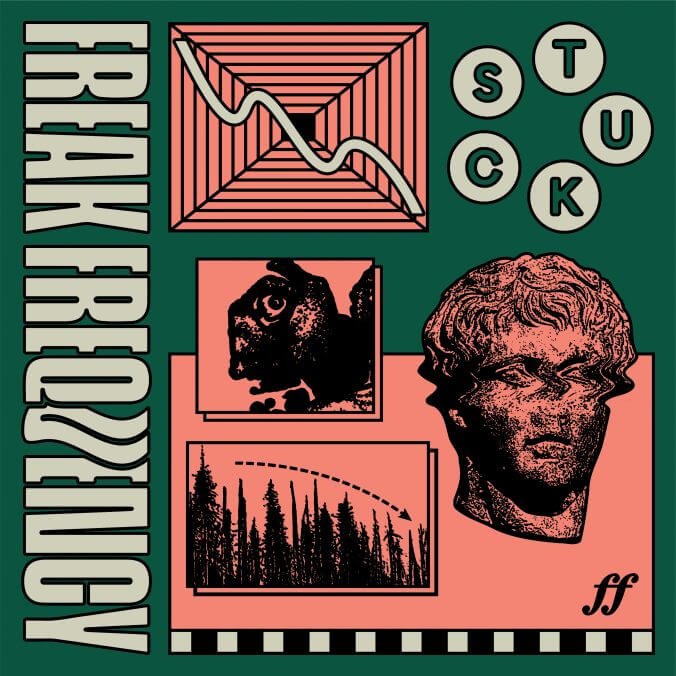 Freak Frequency tracklist:
The Punisher
Lose Your Cool
Time Out
Plant Money
Freak Frequency
Fools Idol
Make It Up
Plank III
Break The Arc
Scared
Do Not Reply
Stuck's Upcoming Tour Dates:
6/1: Columbus, OH @ Ace of Cups
6/2: Cincinnati, OH @ Lambda Research
6/3: Chicago, IL @ Sleeping Village (Record Release)
6/6: Indianapolis, IN @ Lé Court
6/7: Nashville, TN @ DRKMTTR
6/8: Atlanta, GA @ 529
6/9: Orlando, FL @ Framework Coffee
6/10: Tampa, FL @ Hooch and Hive
6/12: Savannah, GA @ El Rocko
6/13: Asheville, NC @ Static Age
6/14: Raleigh, NC @ Neptunes
6/15: Washington, DC @ Pie Shop
6/16: Philadelphia, PA @ Johnny Brendas
6/17: New York, NY @ Alphaville
6/18: New Haven, CT @ TBA
6/20: Boston, MA @ O'Briens
6/21: Portland, ME @ New Systems
6/22: Montreal, QB @ L'Esco
6/23: Toronto, ON @ Baby G
6/24: Detroit, MI @ PJ's Lager House