Subsonic Eye Finds Beauty in the Day-to-Day Struggle on All Around You
The Singaporean indie rock band's evolution continues on its fourth album
Music
Reviews
Subsonic Eye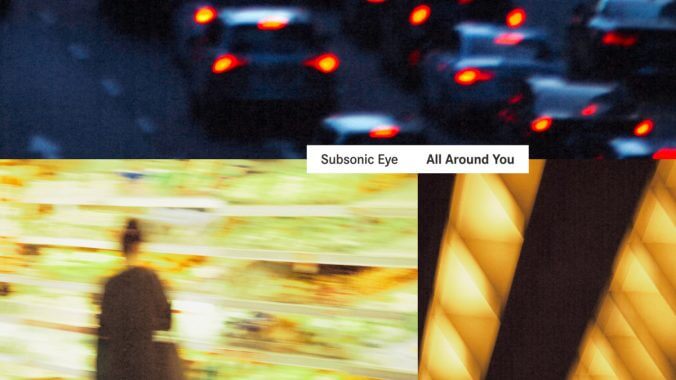 When Subsonic Eye released their first couple of albums—2017's Strawberry Feels and 2018's Dive Into—they sounded like a band that arrived, as the saying goes, "fully formed." Powered by a preternatural talent for dream-pop's electrified jangle and the reverberant atmosphere of shoegaze, the young Singaporean group showed up on the scene already slinging Alvvays-meets-DIIV vibes. From the jump, it was clear they had cool guitar pedals and Cocteau Twins records, and they knew how to use 'em.
"Fully formed," however, implies that a band has reached its final state—and Subsonic Eye is not done evolving. On their third album–2021's The Nature of Things–they stripped away a fair amount of the fuzz in favor of a leaner sound more reminiscent of '90s indie rock and, in places, a sort of raw, environmental folk music. As a byproduct of this shift, their songs felt tighter, their hooks sharper and their vision brighter.
The evolution continues on All Around You, the band's new full-length via the great Topshelf Records label. Across 10 tracks, Subsonic Eye beef up their sound a bit, pushing further toward a sound that splits the difference between, say, Sonic Youth's propulsive noise and the center of the Snail Mail + Soccer Mommy Downcast Pop-Rock Universe. Singer Nur Wahidah's vocal melodies are her strongest yet, sturdy enough to stand up against the guitar jangle and crunch swirling around her—and her lyrics in "Yearning" encapsulate the recurring themes of the record, with this first verse:
I'm having a bad day
Tell me look inward
It's dark, I'm down
And then, later, a realization that things on the outside are better than they are on the inside:
Still yearning for your embrace
Feel it grow within me
Take root, I'm learning
Feels real renewing
I feel it move around me
Don't you feel it too?
The bad days of late capitalism and the renewing power of nature and relationships come up over and over again on All Around You. "Hands outstretched," Wahidah sings on "Performative," the album's droning, post-punk opener. "Now I don't even know if I'm working / Dying for who and what." And then, in the aggressively buzzy "Circle," she evokes a feeling familiar to most modern worker bees: "Stuck in this labyrinth / Dead end again / Waiting for my number." Later, the song collapses into a full-blown Sisyphean crisis tinged with worries about corporate surveillance.
One track later, however, Wahidah is feeling the wind, catching insects in her hand, finding hope and trusting that things will be O.K. in "Bugs in Spring"—a song that brings to light some of Subsonic Eye's more twinkly, emo-ish influences. "Sunny beaches / Make me alright," Wahidah sings in "J-O-B," 50 seconds after declaring "I am tired of this / Want my time, not waste it."
Like "Bugs in Spring," "J-O-B" finds Subsonic Eye exploring a chunkier guitar sound, as they do on "What I Meant" and "Machine," too—two songs built on foundations that could serve as a guidepost for where this already accomplished band is going next. Then again, "Pick Up the Phone" is a gentle and breezy song about longing and lost connection that seems to just disintegrate into the ether at the halfway mark, while "Tender" is a sparkling indie-pop song with an effervescence that recalls Pinback. "Everything around me is moving," Wahidah sings at the latter's midpoint. "They're greeting me, 'Hello, whatcha doing?'" The answer is: Also moving. Subsonic Eye are an excellent band, but they are not yet fully formed. They are moving, as they should be.
---
Ben Salmon is a committed night owl with an undying devotion to discovering new music. He lives in the great state of Oregon, where he hosts a killer radio show and obsesses about Kentucky basketball from afar. Ben has been writing about music for more than two decades, sometimes for websites you've heard of but more often for alt-weekly papers in cities across the country. Follow him on Twitter at @bcsalmon.