Through the Ashes of the Sidekicks Arises superviolet, Steve Ciolek's Greatest Turn Yet
Photos by Matt Mitchell
Music
Features
superviolet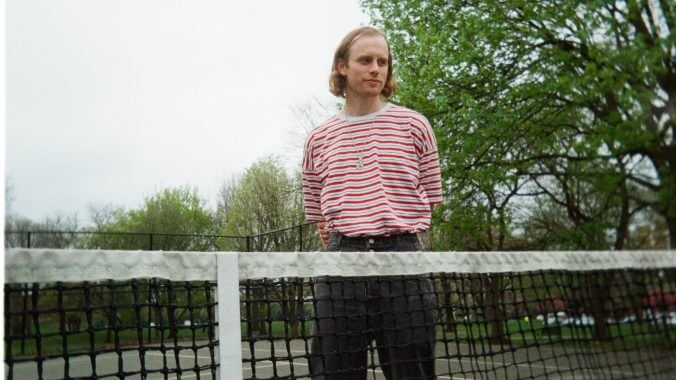 Steve Ciolek has seen America many times over, but he's content with staying in Ohio for as long as the state will hold both him and his buds. When he was fronting the Sidekicks—the Buckeye State's beloved coterie of emo, power-pop sharks—hubs like Chicago, Brooklyn and Philadelphia were always destinations, but never fantasies of a possible forever. Touring for over a decade and visiting every city scratched that itch, and he and the band were more than comfortable coming from a place where rent was dirt cheap and the DIY scenes were plentiful. It was a financial saving grace that allowed the Sidekicks to record and practice infinitely and play with the bands they felt drawn to, not the bands that could snag them big paydays on the road; playing house shows and dives across Northeast and Middle Ohio put them in the same company as local legends, like Runaway Brother, Ulysses and Meridian.
Now, Ciolek is a graduate student studying physiotherapy at Ohio State University, with the hopes of possibly becoming a physical therapist down the road. It's an occupation that runs in his family, and it makes sense that the guy who has spent almost two decades chronicling pain through existentialism and young heartbreak can also deduce the source of someone's bodily pain on a dime. In his spare time away from school, Ciolek walks the streets of Victorian Village with his wife Kosoma and sings Coldplay songs with her, digs for soul vinyls at Used Kids Records on Summit Avenue, has grown to not be all that impressed with the local grub on nearby High Street and volunteers with golfers impacted by chronic pain. Oh, and he's also about to put out his debut solo record, Infinite Spring, under the moniker superviolet.
In the wake of COVID-19 and remote work, I rarely get to do an interview with someone in-person. Being that Ciolek and I live in the same place—beautiful Columbus—it felt like a no-brainer to do something in the city that spawned Infinite Spring. So, we meet up with each other at Goodale Park, a 172-year-old oasis in the heart of Victorian Village. It's also where Ciolek landed his first-ever kickflip. The week leading up to our conversation, Columbus had opened up. Without a hitch, the cold-trodden weather tumbled into a string of 75-degree days. To be from Ohio is to understand—and believe in—the mythological spirit of a "fool's spring," where the onslaught of snow suddenly snaps into uncomfortable warmth, and all of us are sure—convinced—that spring and summer are here to stay. But then it leaves us just as quick as it came. Ciolek buys into all of that, too, and it's a big reason why the new album is called Infinite Spring.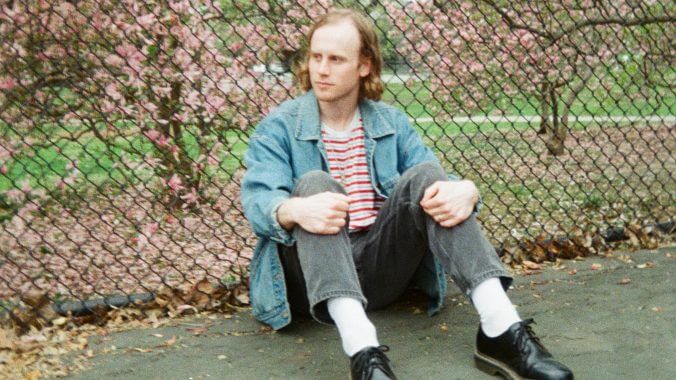 Ciolek's work has always been in a close proximity to warm weather. On Twitter last week, an account I follow—but have no recollection of ever consciously following—posted a screenshot of the Sidekicks song "Twin's Twist" and proclaimed that spring in the Midwest doesn't start until that track is on repeat. Ciolek's former band's reach remains infinite, because albums like Runners in Nerved World and Happiness Hours were emblematic of being young, in love and mesmerized by the summer solstice's immeasurable and beautiful tempest.
"For me, it was always like, in the winter, you think you would get all of this work done and you think that's the time when artists are able to be very productive—because there's not as much social things going on," he says. "But, it's hard, because [the winter] affects you in such a way. Then you have that amazing one day in Ohio, and it's almost like your New Year's resolutions really start then. You're like, 'I'm gonna do this. I can do all of these things.' For as long as I can remember, the majority of the songs I'd write would be around the spring, for that reason."
The line of where the Sidekicks ended and superviolet began is rather blurred. A handful of the songs that are on Infinite Spring were written while the Sidekicks were still touring together, and the album even makes a nod to the band in the lead single, "Overrater": "So call Felicia, call up Matt / Tell them to craft the plan / Surprise release sixth album as / The greatest rock 'n' roll band." But longtime fans of Ciolek's work were quick to read a little too far into those lines. "There were some people online who took that as 'Maybe there's a Sidekicks album that's going to come out, that the line was like an Easter egg,' and I was like, 'No, that just would have been a Sidekicks song. It was a self-referential thing,'" he says.
The official announcement of the band's dissolution came in December 2022, but the decision to call it a day dates back as far as early 2020. The reason for the delay in telling everyone about it got canned when the pandemic hit, and, after a few people kept checking in with them, they took to the internet to make it official by way of a photo of some of their merch throughout the years. Though Ciolek and Matt Climer had formed the Sidekicks in high school, playing Rancid covers and doing house shows on weekends, it was never going to be a forever thing. Yet, ex-Ohio emos who are now dads and work in offices and stick to the outer banks of mosh pits couldn't help but feel like a part of them had fallen away.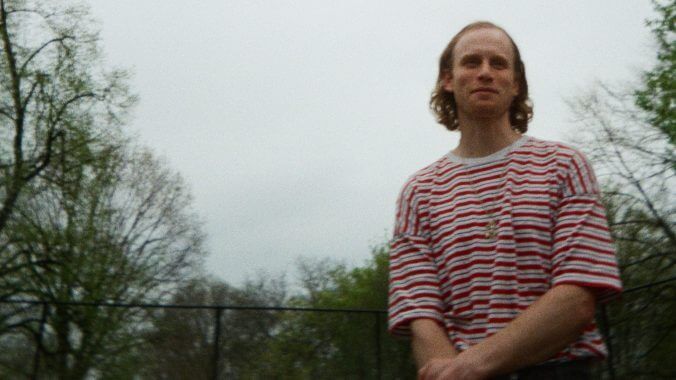 But, the "breakup," if you can even call it that, wasn't some grand exit for the band. The Sidekicks' quota for success had been met, and everyone in it didn't see the benefits of taking more from the project than what it could give. Members came and went, they put out five great LPs and, until the very end, the name—and Ciolek's songwriting—endured, against all odds. "It almost felt insane that it was still the same name and still the same band after all those years," he adds. "We did everything that we ever wanted to do with that band and more. It was an amicable thing where it just felt like a good time to just call it, move on and do different things."
Despite fronting the Sidekicks for 15 years, Infinite Spring is Ciolek's greatest gift to all of us. It's been a long while since there's been a more thoughtful, golden and clever rock 'n' roll record. The cherry on top? It's got the blood and hope of Ohio roaring through its veins. Ciolek's best pal and longtime collaborator Zac Little—the frontman of fellow-Buckeye folk-rock legends Saintseneca—played bass, theremin, wind harp, solo freak and "digital goober" on the album, while his Sidekicks co-CEO Climer took to the drums, shaker and tambourine. Ciolek's wife Kosoma Jensen provided harmonies and clarinet, and her cat Fry—which Ciolek has become the father of by adoptive proxy—meows and chews on "Good Ghost."
Ciolek has been playing with Saintseneca since 2011 (even taking brief stints as a member at times), and he and Little worked on the rough mixes of almost every Sidekicks albums together—bouncing ideas off of each other for their respective projects constantly. When Ciolek got the urge to put out a solo record, having Little make it with him was a no-brainer. "Whenever the Sidekicks would make a record, we'd always sit down and listen to them and be like, 'All right, what else should I track on this?'" Ciolek says. "So, I always had that. We were going to talk about [Infinite Spring] either way. But this one, it was different. I wanted to explicitly ask him [to work on the record], because I didn't have a band. I was just sitting there, like, 'I don't know which songs to pick,' and Zac's definitely someone that I trust.'"
Together, under the tutelage of engineers Andy Cook and Glenn Davis, Ciolek and Little recorded Infinite Spring in their homes and the rehearsal space in town—near an arts community—that the Sidekicks and Saintseneca shared for years. When Ciolek found himself working through one of the 15 songs he had in his pocket for the project, he didn't have to travel far to ask Little to get some eyes on the song. "When the pandemic happened in March [2020], [Jensen] and I and Zac and his wife shared a balcony and lived in a duplex next to each other," he says. "I texted him, like, 'Hey, do you want to produce this batch of songs?' And he was like, 'Hell yeah.' When we were doing vocals, he'd just come across the balcony and bring his preamp and two mics. It was super comfortable."
What sets Infinite Spring apart from anything Ciolek did with the Sidekicks is the depth of the arrangements. Because he didn't build this record around a touring atmosphere, he was able to explore other avenues, like fingerpicking and soft vocal cues where a Sidekicks composition might call for a guitar riff and high-octaves. A song like "Wave Back" likely wouldn't be able to exist in a Sidekicks set, and Ciolek is in love with that distinction. "[Infinite Spring] is a lot more dynamic than any of the Sidekicks stuff, just because we were a more live-focused band," he says. "We tried to make the records really interesting, but also found it was most fun to have as many songs that felt really fun to play live. So we would just lean that way."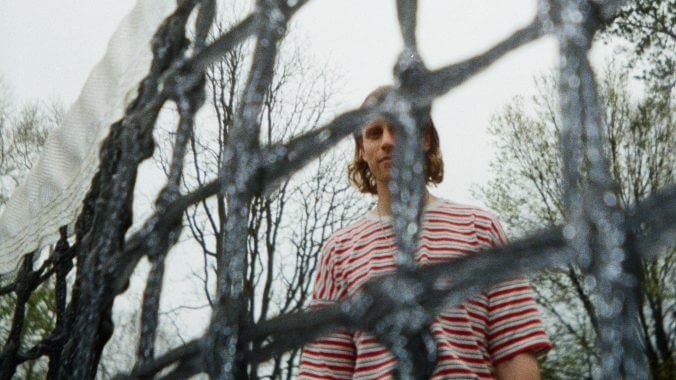 Ciolek isn't releasing Infinite Spring under his own name not just because "it's hard to spell," but because he likes the idea of getting to separate himself from the personal parts of his songs through anonymity—to have the art exist and not be tied so closely to him as a person. Back in March 2019, I drove up to Lakewood, Ohio with my roommate and their girlfriend to see (Ciolek's future Lame-O labelmate) Slaughter Beach, Dog play a gig at Mahall's 20 Lanes. Modern Baseball's breakup in 2017 was still fresh in my heart, and I'd hoped that seeing Jake Ewald play a solo set would suture any still-open wounds. Local band Sure, Machine opened, but it was the Sidekicks who stole the show as the second act. Only, it was just Ciolek, done up in his white jumpsuit, on the stage.
What was just a solo set before the release of Happiness Hours was, perhaps, a foreshadowing of what was to come of the Sidekicks a year later. He played "Good Ghost" and "Big Songbirds Don't Cry," and it was his first real foray into solo shows outside of the random gigs he'd play around Columbus from time-to-time. That tour with Slaughter Beach, Dog, though maybe not as obvious to Ciolek at the time, is a focal part of why superviolet exists today. "I don't think I ever thought I could pull it off, so it was really very affirming, because I was playing some of the quieter songs on Infinite Spring on that tour," he says. "And, to me, those came across the best, partially because I was trying to write songs that would cater better to a solo set. I made sure I liked the lyrics and I felt like they were going to be interesting to me and then, hopefully, catch people's attention."
Infinite Spring is, from my perspective, a second coming-of-age for Ciolek. On an album like Happiness Hours, he chronicled the perfect, fleeting ecstasies of youth in palpable ways. Lines like "Kissing other people and trying not to fall in love / Dancing in the darkness, but in the daytime it's just a shrug / The lemon rind can reek in the summer heat / But then seems so sweet later on" feel like pieces of my own past I can't get back.
The same goes for Ciolek, who's no longer writing tunes about being in high school and has turned his gaze towards the present. Now that he's married, being in love in his early-30s and waking up every morning in a city he's made a home in is just as rewarding as drinking shitty cocktails with friends past curfew. On "Dream Dating," Ciolek sings: "For every oddity I ever grasped / For every audience I ever had / For every obelisk I photographed / You illuminate all of their pretense"; on "Angels on the Ground" comes his sweetest affirmation (and his cheekiest dig at the best song from Pixar's Cars): "But life isn't a highway / It's a pattern where, if I stare long enough / There's your love / I wanna wear it on me / So in reflections I'm reminded I'm enough."
Let me call a spade a spade: Ciolek is one of the best songwriters we've got, and him having a relentless curiosity is what makes Infinite Spring so refreshingly brilliant and poetic. When he was making the album, he was tapping into the obvious reference points that also influenced him when the Sidekicks were around: The Beatles, Elvis Costello and Joni Mitchell. ("Big Songbirds Don't Cry" is a pop-punk "Dear Prudence," after all.)
Yet, there was a period of time during the songwriting process where Ciolek was going to Used Kids often and buying almost any soul record from the late 1960s to early '70s that he could find. Having an album that is the perfect blend of '70s singer/songwriter, Midwest emo and indie-folk is one thing. But for a dude who spent most of his 20s opening up for acts like Jeff Rosenstock, Say Anything and Against Me!—or befriending future post-hardcore hall-of-famers like Tigers Jaw before they even made a record—to make a project so deeply influenced, technically, by the production on records from Eddie Kendricks, Al Green, Isaac Hayes, Curtis Mayfield and Gladys Knight is special.
"I was trying to figure out a way to work some of that vibe into the sonics of Infinite Spring," Ciolek adds. "There's elements of the record where there are horns or woodwinds or synth strings—and there's strings all over those soul records and vintage-y reverb sounds I was very into. Some of the really hard panning that they do, where backup vocals are just on the left side. It's a cool production way to catch someone's attention in the same way as trying to use humor to catch people's attention. 'Yeah, I'm singing this song about love or a connection, but how can I snap you out of the haze of just hearing this person singing this song that you feel like you've heard a bunch of times?'"
Most of Infinite Spring was assembled through, as Ciolek calls it, "weird stereo equipment." He and Little took a minimalist approach, using a DI Box, quarter-inch tape machines for delay and a spring reverb stereo. This is also the first time Ciolek ever took a stab at mixing a record on his own outside of tinkering with other people's projects on GarageBand. "There was a lot of taking things out of the digital, clean realm and trying to make them sound interesting. And then I spent a year learning how to mix, because I've never done that before," he says. "This was the first time I sat down and was figuring out how to mix drums. Things like that. You make a lot of mistakes before you get to something that's halfway decent."
The result is a home-brewed, cost-effective record made with unshakable passion in service to the craft, which Ciolek empathetically places at the forefront of every double-entendre, delicious melody and romantic lullaby. "Zac and I tried to just be as respectful to what the songs were and what was going to make us feel something while we were making it, even though we don't have the highest technical resume," he adds.
Everything circles back to the false feeling of possibility that a fool's spring evokes. "It goes along with the idea of, 'Oh, I'm different now,' or you're talking yourself into being motivated to do all of the things you were dreaming about doing when it was not that nice out," he says. Ciolek's dream has always been to amplify humor and millennial colloquialisms into his songwriting, something he's picked up from literary troubadours crafting their own generation's language—like Warren Zevon, Jackson Browne and Joni Mitchell. He wouldn't call Infinite Spring or superviolet a fresh start—not a conscious one, at least—but the idea of starting over isn't off his radar. "Having a clean slate, as far as a musical catalog where [Infinite Spring] is just the first part of this musical project, I like the idea of superviolet being able to be whatever artistic whims I have," Ciolek adds. Does this mean he's got more stories to tell under the guise of superviolet? All signs point to yes.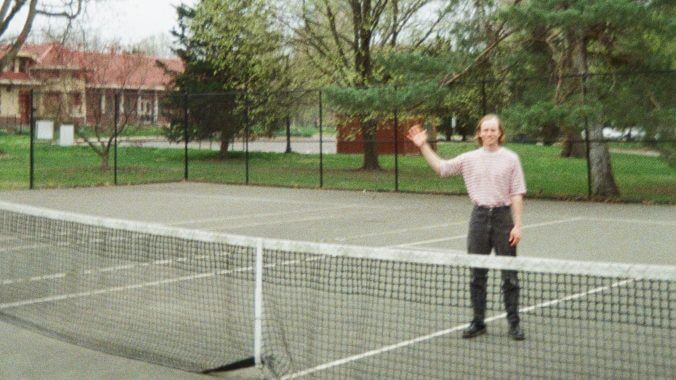 As we walk across the grass at Goodale Park, we're both stopped in our tracks by a pair of older men dressed head-to-toe in fishing gear. Just over the hill before us, a dozen other men line the edge of the pond that the park is known for. They cast their reels into the shallow water, hovering their bodies just a smidge atop the seat of their lawn chairs, crouching ever so slightly, mystifying their gazes at the hope of going home with a trophy that's invisible to the casual eye.
Ciolek and I debate about what's beneath the surface—trout or catfish or something else. He walks up to someone closer to our age—who looks like a former emo band member himself—and asks: "Did they refill it?" "Yup," the man replies. "Trout." Ciolek gives a wordless nod. We survey the pond—studying the beauty of Goodale's fountain like the Ohioans we both are—and Ciolek asks me if I've ever seen the sandals that are shaped like rainbow trout. I haven't. "I'll have to show you those," he replies, before posting up on a bench and marveling at the off-leash dogs passing by.
I think about that Mahall's show back in 2019, how Slaughter Beach, Dog played a song with a lyric that goes: "Gotta get out of Ohio / Feelin' short on time." That same night, Ciolek closed his set with "Happiness Hours," in which he sings the lines: "If happiness comes in hours / Well, it looks like it's that time again for me" and "Lovers deserve flowers / Love is just a phrase / That I invented somewhere around Summit Avenue / I'm in love with the idea of you."
There will always be a dissonance between the people who travel through Ohio and the people who were born and raised here. Emo kids have no choice but to grow older, and Ciolek has in many ways. The idea is you must always be leaving Ohio but, on Infinite Spring, he rejects the notion and dares to stick around and follow the path set out for him here, in a zip-code everyone else is too scared to claim allegiance to. Whether that means becoming a physical therapist, starting a family or releasing the greatest rock 'n' roll record of all-time, it'll be just a few steps away from where we are standing.
Infinite Spring works through the existential crisis that comes through falling in love, outgrowing your own band and living with your own mortality—all while trying to figure out who you are in a post-pandemic world. "Good Ghost" ponders how you're supposed to react after your partner dies; "Overrater" chronicles using self-confidence to outmuscle the exhaustion of selling merch and doing small shows just to survive; "Wave Back" transports us to a beach vacation, where the narrator beams over the sight of his partner smiling at him from the ocean. "I want to notice where you are in every wave / And then I'll wave back," Ciolek sings.
You can plug much of Infinite Spring into a life anyplace. That is the power of Ciolek's songwriting, that it is so vivid yet so accessible. The title track signals it best, when he professes: "Living the dream, or just living in one / Calling the shots, or just calling shotgun / Fighting the machine, but isn't everyone trying / To go a day without the reminder we're dying / My sweet, I'm trying / Doing it different now." But for everyone who resides just east of the Hell is Real sign near the Ohio-Indiana border, this record is for us. When Ciolek sings "Big songbirds don't cry / They just get the blues / Besides in sports bars, the adage holds true / It's blues with red and silver telecasted sound / Pentatonic poetry as a higher ground," he is chronicling the comings and goings of any dive bar near Ohio State's campus.
The day after our interview, the Buckeyes will play their spring game, and thousands of 20-year-olds draped in the school's insignia and war colors will feel alive and hopeful again; beer pong tables on the front lawns of campus housing shall become engulfed in seas of scarlet; the noise pollution will stretch for miles, and the whole city will accept it as a small victory, because any roar is sweeter than the nearby train whistles. Etch superviolet's brilliance into the stone of local goodness with All Dogs, Good Luck, Delay, Saintseneca and Tin Armor. Ciolek—our beloved purveyor of heartfelt, matrimony benediction and eruptive power-pop hooks—has given us a piece of his life, and we should be grateful to share even the smallest space with such a reflective, open-armed album. As long as we have his words, all of our fears will continue to shrink.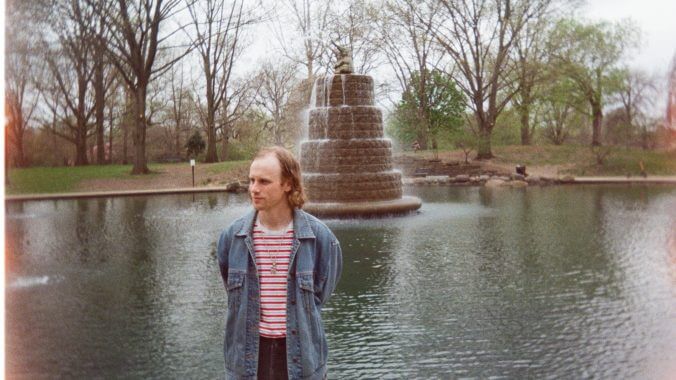 Ciolek and I leave the fishermen behind and walk back down Buttles Avenue together, only to find a big, obnoxiously lifted, orange diesel truck parked across two spots on the street. Both of us, thoroughly chuffed by some stranger's massive rig, gaze in awe at its spread. "Get one of me in front of that," he says to me, before jogging across the street and standing in front of the driver's side door with a thumb up. I snap a pic of him with my 35mm Kodak.
Near Dennison, we part ways. The violets are climbing through the soil near the tennis courts, and it looks like this edition of spring might just stay for good. The warm, looming rain gives way to its own temptation and starts to fall as I walk back to my car. Ohio seasons are touchy like that. One moment it's sunny and 80-degrees; in a blink of an eye it's 50-degrees and wet. But we love all of it regardless and, perhaps, that speaks to a greater metaphor: Much like the weather, we are bendable. We are capable of loving others, our homes and ourselves so immensely. I look back, and Ciolek has seemingly disappeared into the architecture of Victorian Village. Soon, the city dwellers will decamp to Used Kids and pick up a copy of Infinite Spring on cool-colored wax. I get home and find a text from Ciolek: It's a screenshot of the trout sandals he mentioned earlier.
Matt Mitchell is Paste's assistant music editor. He lives in Columbus, Ohio, and you can find him online @yogurttowne.