Shut It Down, Lizzo Just Won SXSW
"I am announcing my official candidacy for president!"
Photos by Ian Young
Music
Features
SXSW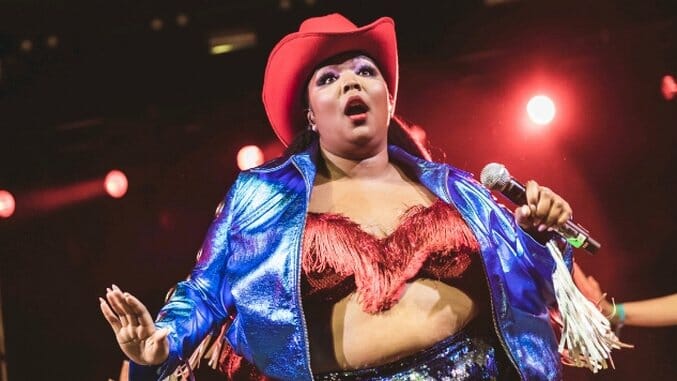 Back in 2016, an upstart Anderson .Paak was taking SXSW by storm and you didn't have to think too hard about the week's acts to recognize that this was no doubt the industry's next big star. We dubbed him the week's "clear-cut winner" and he went on to claim the SXSW Grulke Prize. If you know, you know, as Pusha T would say, and last night at Stubb's, Lizzo delivered hands down the most impassioned and downright incredible performance of the week, from a furiously bubbling artist who's primed to emerge from SXSW as the next full-blown star.
Lizzo delivered nothing short of a sermon at Ticketmaster Music's Thursday night showcase. She came out wearing a red cowgirl hat and a blue rhinestone cowgirl jacket, lined with silver tassels and "TEXAS" emblazoned on the back. "I'm a Texas girl!" she shouted, embracing her Houston roots. Her layers slowly came off as the night went on in a "reverse-Bjork" move as far as onstage costumes go, and she gradually showed more and more skin in her visual and always-vocal call for self-confidence and body positivity. This, alone, renders her as one of the most important artists making music right now, because we sorely need hip-hop and pop stars that don't fit the "thin and perfect" mythos. We all look different, we're all imperfect, and Lizzo verbalizes this in her music and stage banter in necessary ways.
But while Lizzo's performance was notable for her underlying message, it was even more so for the sheer diversity of sound, style and stimuli she gave the crowd. She was on some disco diva shit at one point, and then singing and krumping over a beat that sounded like it came out of the Basement Jaxx catalog at another turn. Her Big Grrrls dancers flanked her for most of the set, and handed her a fucking flute for two songs (this will never get old with Lizzo).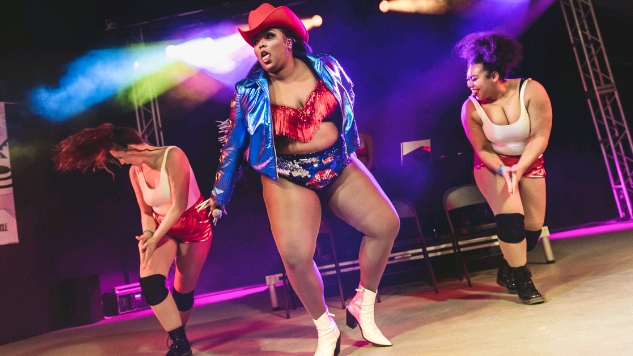 "Im in love with myself!" she yelled to the crowd, pleading with them to feel the same way. She rapped like her life depended on it, she sang her heart out, she moved like the devil, she took a hard eight-count pull of a bottle of fancy tequila before announcing her candidacy for president and then settled for being a particular Texan's running mate: "Lizzo/Beto 2020, y'all!"
The crowd ate it all up. In my six years at SXSW, this was the most rambunctious, energetic crowd I've ever seen in Austin. Stubb's was rocking and this is the sign of an artist truly connecting with an audience: No half-hearted sways in the crowd, these people were clutching their hearts with joy, singing every word and dancing their asses off (actual dancing at a concert in 2019! Hooray!). The biggest roar came when Lizzo, in all her plus-size glory, turned her back to the crowd and said, "I want everyone to make some noise for my backfat!" while shaking every part of her body to show the crowd what true beauty is. Nobody else does this. Bless you, Queen Lizzo.
And even though she's experienced a good amount of early success, this felt like the ultimate coming-out party for something huge from Lizzo. She said so herself: "I know it right now! Right here on this stage at Stubb's!" while shouting out her new album, Cuz I Love You, out April 19 via Nice Life/Atlantic.
The icing on the cake was an encore, a rarity at SXSW or any music festival for that matter, as she delivered her marvelous latest single, "Juice," and chiseled her way into our hearts and surely into the SXSW annals:
"Ain't my fault that I'm out here gettin' loose
Gotta blame it on the Goose
Gotta blame it on my juice, baby
Ain't my fault that I'm out here makin' news
I'm the pudding in the proof
Gotta blame it on my juice
Ya-ya-ee, ya-ya-ee, ya-ya-ee, ya-ya-ee"
Check out Lizzo's 2016 Daytrotter Session below.