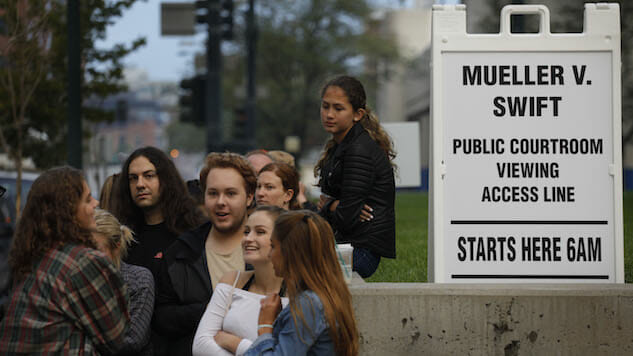 Taylor Swift has taken the stand in the sexual assault suit against David Mueller, a Colorado DJ who allegedly groped the singer during their 2013 meet-and-greet. Mueller was 51 at the time of the incident, while Swift was 23.
"He latched onto my bare ass cheek, and I lurched away uncomfortably," Swift testified, per the N.Y. Daily News. "The first few milliseconds I thought it was a mistake, but his hand would not let go of my ass cheek. What Mr. Mueller did was very intentional."
A photo of Swift and Mueller's meeting has surfaced via TMZ, which does show the DJ's hand behind the singer's back at a lower part of her body, though it is impossible to make a determination of Mueller's guilt or innocence from said photo.
Mueller had originally sued Swift for his loss of a job that resulted from her allegations, but was hit with a countersuit in which Swift accused him of the assault. Mueller sought to recuperate his lost income, and Swift is seeking only $1 in damages in the countersuit.
"It's a humiliating experience to be accused of something that despicable," testified Mueller. Swift's mother, Andrea Swift, also gave testimony, during which she said the incident made her want to "vomit and cry at the same time."
The trial is expected to last nine days and is open to the public on a first-come, first-serve basis.