Stream Tenacious D's New Album, Accompanying Web Series Now
The album and web series are both titled Post-Apocalypto
Images via Frazer Harrison/Getty, Columbia Records
Music
News
Tenacious D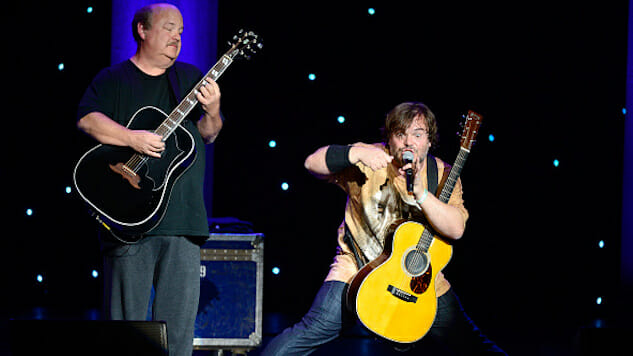 Tenacious D have released the final episode of their Post-Apocalypto web series to coincide with the release of their album of the same name today, Nov. 2. You can watch the entire series down below, with the album available on streaming platforms and CD through Columbia.
Post-Apocalypto the show is a six-part animated video series created by Jack Black and Kyle Gass, with Black hand-drawing and animating, and he and Gass providing voiceover. The series, which premiered back in September, features "unimaginable twists and turns, an insane visit to the White House, a time machine, a space adventure, and … some tried and true daddy issues," according to a press release. Today's finale, titled "Home," follows the guys after their adventures at the KKK-infested White House in last week's episode, "Donald."
"Home" marks the final episode in the series, which coincides with the release of the Post-Apocalypto album, which collects songs from the series and features Dave Grohl on drums. In addition to streaming and CD copies, Post-Apocalypto will be available on both translucent green vinyl and a limited-edition vinyl picture disc.
The band will be taking Post-Apocalypto on tour, starting this Saturday and continuing through the remainder of the year. Find a full list of dates down below.
Watch Post-Apocalypto in its entirety below, and check out the band performing "Colors" on Jimmy Kimmel Live! further down. You can stream Post-Apocalypto the album here.
Tenacious D Tour Dates:
November
03 – Brooklyn, N.Y. @ Kings Theatre
04 – Brooklyn, N.Y. @ Kings Theatre
05 – Boston, Mass. @ House of Blues
07 – Washington, D.C. @ The Anthem
08 – Philadelphia, Pa. @ The Fillmore
09 – Pittsburgh, Pa. @ Stage AE
10 – Columbus, Ohio @ Express Live! Indoor Pavilion
12 – Detroit, Mich. @ The Fillmore
13 – Chicago, Ill. @ Riviera Theatre
14 – Chicago, Ill. @ Riviera Theatre
December
09 – Calgary, Canada @ Grey Eagle Resort and Casino
10 – Calgary, Canada @ Grey Eagle Resort and Casino
11 – Edmonton, Canada @ Shaw Conference Centre
13 – Vancouver, Canada @ Queen Elizabeth Theatre
14 – Seattle, Wash. @ Moore Theatre
15 – Portland, Ore. @ McMenamins Crystal Ballroom
17 – Oakland, Calif. @ Fox Theater
18 – Oakland, Calif. @ Fox Theater
21 – Los Angeles, Calif. @ Palladium
30 – Las Vegas, Nev. @ The Joint
31 – Las Vegas, Nev. @ The Joint