The 1975 Release Politically Charged Opening Track from Notes on a Conditional Form
Photos by Ross Gilmore/Getty, Mark Metcalfe/Getty
Music
News
The 1975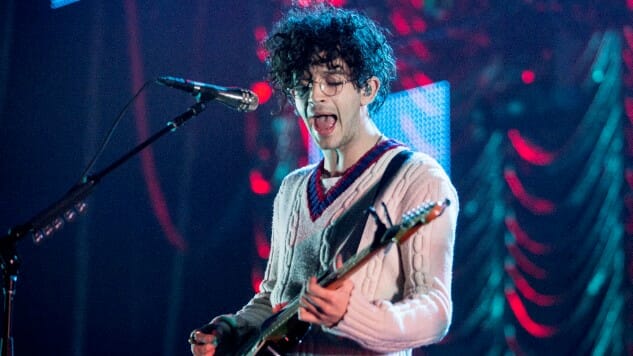 After much anticipation from fans and a social media blackout, The 1975 have released the first taste of music from their forthcoming album Notes on a Conditional Form.
The track is the fourth iteration of the band's eponymous opening tracks and instead of frontman Matty Healy's "Go down / soft sound / Midnight / car lights" and so on, the band opted to use their platform for a political message to the masses.
Featuring zero vocals from Healy, the track is fitted with narration from 16-year-old activist Greta Thunberg, and is a plea to recognize climate change and act on it before it's too late. Over synth- and key-heavy background music, Thunberg begins, "We are right now in the beginning of a climate and ecological crisis, and we need to call it what it is—an emergency."
Over the five-minute track, Thunberg touches on the fact that humanity is currently failing, but we still have time to fix our mistakes. According to Thunberg, stopping emissions of greenhouse gases is the number one thing humanity needs to do to prevent further damage to the world. "You say that nothing in life is black or white, but that is a lie—a very dangerous lie—either we prevent a 1.5 degree of warming or we don't; either we avoid setting off that irreversible chain reaction beyond human control, or we don't; either we choose to go on as a civilization, or we don't—that is as black and white as it gets; because there are no gray areas when it comes to survival," Thunberg says in the climax of the track.
Thunberg gained international notoriety when she played hooky and skipped school to go protest outside the Swedish parliament. From there she was invited to give a speech at the World Economic Forum in January 2018, and much of her address from there is featured in "The 1975."
The track isn't The 1975's first politically charged or provocative song, to say the least. In "Love It If We Made It," from last year's A Brief Inquiry Into Online Relationships, the band call out many of society's faults, including the heroin epidemic, racism and police brutality, and Trump's cruel immigration policy, among other things. Similarly, in A Brief Inquiry's "I Like America & America Likes Me," the band take a stand on gun control and violence in America. During their latest late-night stint, the band performed "I Like America & America Likes Me" on The Late Late Show with James Corden.
"The 1975" is the first taste of music from the band's forthcoming Notes on a Conditional Form, from their Music For Cars era. Though the album doesn't have a release date, The 1975 will likely continue releasing more music, perhaps into the beginning of 2020.
Listen to The 1975's "The 1975" with Greta Thunberg below. You can also revisit The 1975's 2013 performance from the Paste archives further down.