2015 saw some highly anticipated returns by some of our favorite artists—Sleater-Kinney, Wilco, Kendrick Lamar, Father John Misty, Sufjan Stevens—but what perhaps what was most notable about this year in music was the amount of remarkable debut albums from new artists. Leon Bridges, Tobias Jesso Jr, Beach Slang, Palehound and Natalie Prass all wowed us with their very first full-length efforts—a reason to celebrate this year's work but also look ahead to the great music that they might produce in 2016 and beyond. For this year's list, we polled Paste editors, writers and interns and wound up with votes for over 200 albums. Whittling that down to 50 was no easy task, but without further ado, we present the Best Albums of 2015.
50. Calexico – Edge of the Sun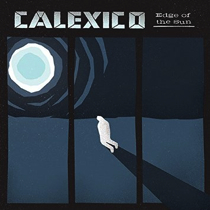 Especially in a year when political rhetoric surrounding immigrants and refugees has veered toward rabidly xenophobic, Calexico are sadly more timely than ever on their ninth album. Frontman Joey Burns writes songs out of immense empathy, wondering about the lives and dreams and fears and desires of the kinds of people most often viewed as statistics in the United States. Songs like "Beneath the City of Dreams" and "Cumbia Donde" are about real people loose in the world, finding power and identity in their own rootlessness—an idea echoed in the music itself. Edge of the Sun brings together artists from all over the world, including Mexican songwriters (Carla Morrison, Gaby Moreno), Spanish vocalists (Amparo Sánchez), a Greek band (Tikam), and North American indie artists (Ben Bridwell, Neko Case). It's a sturdy vision of world music, lively and passionate and thoughtful and—especially at the beginning of closer "Follow the River"—very often beautiful. —Stephen M. Deusner
49. Julien Baker – Sprained Ankle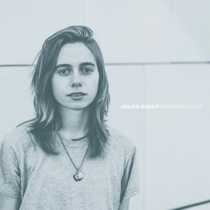 She may be uncomfortable talking about her drug and alcohol abuse, a near-death experience and failed relationships, but Memphis singer-songwriter Julien Baker sees her music as safe space to examine past troubles. Baker's skill lies in her narrative songwriting, which pierces her experiences to the bone. Now, completely sober, having quit even cigarettes, Baker works out her troubles on Sprained Ankle, collection of beautifully arranged folk songs using mostly her voice, a guitar and reverb. After playing in a post-rock band in high school, she began to rein in her demons and write on her own. Out came lyrics about wrapping a car around a streetlamp, having more whiskey than blood in her veins, time spent in ambulances, of an unbearable break-up with her girlfriend, and facing mortality. The new songs were more personal than her earlier efforts, and rather than take a poetic look at her misgivings, Baker is brutally honest about the ugliness she faced. Her lyrical battles are not only with herself, but also with God; like Jacob wrestling the angel. The result is a thing of beauty.—Roman Gokhman
48. Dilly Dally – Sore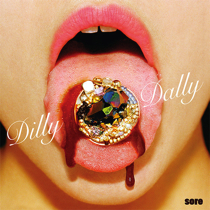 The '90s influence on Dilly Dally's debut album, Sore, is undeniable, but to simply describe them in terms of Hole and the Pixies does a disservice to frontwoman Katie Monks, who somehow manages to blend together all those influences and come out with something unique and relevant to modern times. On "Snake Heads," she's Medusa, shrugging "Man, this bitch has gone crazy/she'll make you turn to stone," and on "Desire," her gritty howl unapologetically leads an anthem to female wants "coming at you from against the world," with the titular emotion "calling all my ladies." Sure, you'll love Sore if you're a fan of Courtney Love or Frank Black, but ultimately it's a skillful product of its time—an essential listen in 2015.—Bonnie Stiernberg
47. Pops Staples – Don't Lose This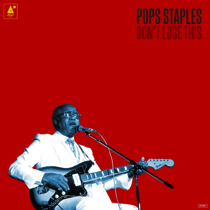 The posthumous release of Pops Staples' Don't Lose This is a reminder of the undeniable charisma of Pops, the patriarch of one of music's great family acts, The Staples Singers. Recording on the album began in 1999, originally intended to be the last Staples Singers album, but was never finished after Pops passed away. In its completed state, it features both original vocal recordings from Pops and Mavis Staples, as well as bass and drums from Spencer and Jeff Tweedy, who handled the newer production. It doesn't reveal its piecemeal construction in the slightest—rather, it sounds like a perfectly organic, relaxed blues/gospel session, capturing some masters simply enjoying each others' companies on tracks such as "Somebody Was Watching" and "No News is Good News." It feels like a family gathering that could have happened on the porch of a country house somewhere, rather than a recording studio—full of heart and love and earnest appreciation for the music.—Jim Vorel
46. Beirut – No No No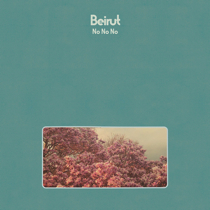 Beirut may have begun as the solo project of singer/songwriter Zach Condon, but the musical globetrotter credits the rest of his now-five-piece band for helping turn all the fragments of songs he'd written during the tumultuous period since 2011's The Rip Tide into a cohesive album. Few bands operate in musical territory all their own, but the way horns weave through these tender ballads remains unique and gives the music a distinct bittersweetness as teasingly joyous melodies belie Condon's snippets of loneliness and heartache. Every time a song like "Perth," offers a cheery groove, Condon undercuts it with lyrics like "You saw me at my worst / Ragged tires burning for miles / I ran until it hurt." Condon lost and found love while writing these songs, but rather than write songs about either, each song on the record seems to carry bits of both, a beautiful jumble of emotions that hit you all at once.—Josh Jackson
45. Desaparecidos – Payola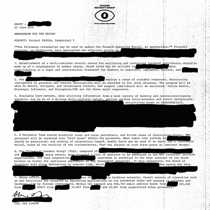 After the success of Oberst's Bright Eyes, the punk-leaning Desaparecidos seemed inked in the Nebraska indie history books as a one-and-done project after releasing the Read Music / Speak Spanish LP in 2002. But after Bright Eyes waned in the public spotlight, the band regrouped in 2010 for Nebraska's Concert for Equality, an event that aimed to aide the repeal of anti-immigrant legislation in Fremont, Nebraska. A mini-tour in 2012 followed, and the ball started rolling on new material from the five-piece outfit. The inevitable LP doesn't play out like an old band finding its footing. With an election just around the corner, Oberst and Co. seem anxious not only to churn out some great punk tunes, but to also turn that high-gain energy toward the political landscape. That energy is Payola's best asset. Though its 14 tracks were recorded sporadically across something like three years with co-producer Mike Mogis, you'd be hard-pressed to hear a lack of momentum or consistency. The tracks cover a wide-range topically but with Oberst cutting any and all metaphorical fat, his points rise above the glorious racket of gliding synths and feedback. Rebellion hasn't sounded this awesome—or honest—in a long time.—Tyler R. Kane
44. Purity Ring – Another Eternity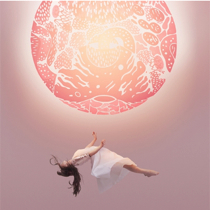 Purity Ring have held stake to the claim of "most copied indie band of the last two years." Like TV on the Radio and Animal Collective who came before them, having this title puts pressure on an artist to do something different yet still impactful the next time around. And this is where we find Purity Ring, on their sophomore album, Another Eternity, with producer Corin Roddick embracing a deeper influence in hip-hop and trap beats to pair with Megan James' smooth, atmospheric and anatomical lyrics. The album's crowning moment, and perhaps the most brilliant production from anyone in 2015, comes on "Flood on The Floor." The intense trap keys that open the song build into a progressive composition that's big, poppy and meant to resonate in everything from dance floors to headphones to cars with tricked-out stereo systems. It's the kind of track you want to rewind and blast again on every listen. Another Eternity represents the confluence of hard trap beats with the formula for electro that gave rise to prevailing styles in indie music. It's enough of a creative leap to perhaps usher in more copycats, but Purity Ring again checks in first.—Adrian Spinelli
43. Majical Cloudz – Are You Alone?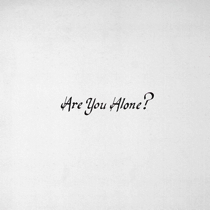 For singer Devon Welsh, the question posed by the title of his album is always rhetorical: Of course I'm alone—aren't you? We're each just selfish, isolated vessels: trapped by ourselves inside ourselves. So, throughout this, Majical Cloudz's third full-length, Welsh and partner Matthew Otto inspect that loneliness as it manifests physically, Welsh pushing his voice to its uncomfortable fringes, and Otto rubbing out the already spare soundscapes of 2013's Impersonator until they're nothing but notions, ghosts of instruments and melodies. Between gauzy synths and the static-laced, leathery hint of a drum beat, Welsh describes one attempt at physical intimacy after another, from dancing in another's shoes ("Control"), to sharing a Cronenberg-ian death with a lover mid-car-crash ("Silver Car Crash"), to straight-up ripping off Radiohead ("Are You Alone?") to just trying to literally put on a happy face so as not to bum anyone out ("So Blue"). In "If You're Lonely," he belts, "I was lonely, but I felt afraid / Of being loved / I thought I didn't need the pain / I thought that in my heart I had to be alone." And then he quickly learns better: "So if you're lonely, you don't have to be…" Can it be so simple? With music this elemental, for a passing moment, it sure feels like it could be. —Dom Sinacola
42. My Morning Jacket – The Waterfall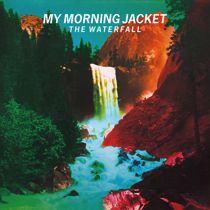 My Morning Jacket's seventh album is musically their most ambitious and emotionally their thorniest. The Waterfall was reportedly inspired by a bad break-up, and Jim James waxes philosophical about the experience, using the trauma to ponder the nature of love and existence. It's a tough-minded album, arguably James' best work as a lyric writer, and he neither retreats from harsh sentiments nor acts like he's anything other than compromised and blameworthy. That dire quality, however, is offset by the generosity of the music, which skips around from '80s power balladry to splintered krautrock to distressed Philly soul to fragmented reggae. Rarely have they sounded quite so dark or quite so human.—Stephen M. Deusner
41. Beach Slang – The Things We Do to Find People Who Feel Like Us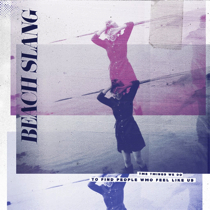 The opening seconds of Beach Slang's debut record sound like the release of years of bottled-up energy, an inextricable surge of frustration and determination. The cranked rhythm, loud, distorted guitars and gruff vocals of James Alex are the touchstones of Beach Slang's melodic, meat-and-potatoes punk rock, but the beating heart of the band's music is Alex's earnest, forthcoming songwriting. A perpetual unease frames these songs, and the antidote, the lifeline that Alex hangs onto, comes from the music itself, mined from the same portion of the soul where Beach Slang heroes like The Replacements and Jawbreaker toiled. The Things We Do is a record for anyone who's ever felt, even for a moment, that music is what matters the most. For any hard-luck kid or nowhere bum who needs it, that escape is heaven.—Eric Swedlund
40. Ryan Adams – 1989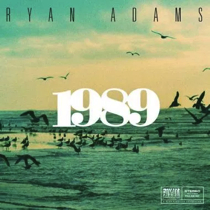 For the year's highest-profile covers record, Ryan Adams took pop princess Taylor Swift's record-breaking 1989 and transformed it from made-for-Top 40 hits into something less radio-friendly, but far more complex. The lyrics are almost unchanged but the layers behind Swift's songwriting have been peeled back, revealing something raw and vulnerable, completely changing what the song conveyed in many cases. In "All You Had To Do Was Stay," Swift's sassy confidence is replaced by Adams' pleading heartbreak. Adams' gravelly, monotone delivery in "Shake It Off" contrasts with Swift's peppy horn-filled melody, making the song much less happy-go-lucky than Swift intended. It's simple to manipulate a song into evoking a new emotion by changing major keys to minor, but it's not easy to give completely different interpretations to the lyrics by adjusting arrangements. Swift has a knack for catchy lyrics relatable to millennials, but Adams makes it clear that her skill set goes beyond that. The former Whiskeytown frontman challenged himself to take conventional pop music and make it his own using his 20-plus years of musical experience. This unlikely pairing of talents created one of the most surprisingly moving albums of the year, and for that we have both artists to thank.—Annie Black
39. The Decemberists – What a Terrible World, What a Beautiful World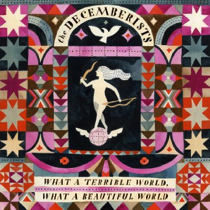 It was a welcome return after a four-year hiatus for The Decemberists, especially on a raucous live tour in support of the new album, but the source material also holds up quite well. What a Terrible World, What a Beautiful World seems to draw its influences from the beginning to the present of the band's catalog—less twangy and Americana-infused than The King is Dead but certainly more grounded in reality than the hyper-literate days of Picaresque. It's not the concept album of The Hazards of Love, but 14 bounding, stand-alone folk-pop numbers that can still dazzle with their imagery just as easy as they can relax into foot-stompers. The Decemberists as both a live and studio act have little left to prove, and What a Terrible World, What a Beautiful World is another fine entry in an impressive catalog.— Jim Vorel
38. Alabama Shakes – Sound & Color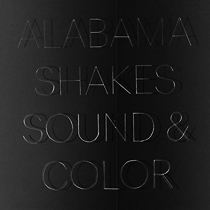 There are no more limits for Alabama Shakes—not even the sky. Staring down the dreaded slump that so often accompanies second albums, the band defied all Boys & Girls-based expectations, kicked "the box" to pieces and put together a 12-song set that is, in badass lead singer Brittany Howard's words, "beautiful and strange" above all else. Tracks like "Shoegaze" and "Miss You" are reminiscent of the soulful yet straightforward retro blues-rock that defined the band's Grammy-nominated first outing, but beyond that, Sound & Color sees the Shakes growing in a far deeper and more dynamic direction. Howard and company have never been funkier than they are on the irresistible "Don't Wanna Fight" and "Future People," while "Gemini" and the dreamy title track demonstrate that the Shakes are just as comfortable floating through space as they are on solid ground. —Scott Russell
37. Ashley Monroe – The Blade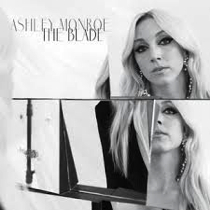 Ashley Monroe has, for the most part, been relegated to something of a support role in her career, working with Jack White, Miranda Lambert and Blake Shelton. On her own, Monroe has garnered some critical accolades and the respect of her peers, but little movement commercially. On The Blade, Monroe and her collaborators' work have the perfect earworm hooks and dynamics that would sound great nestled in between Shelton's ode to "Sangria" or Joe Nichols' lustful tailgate party, but these songs aren't bombastic enough to break through the easily distracted mindset of the modern country radio programmer. The hooks are there—and they stick in deep—but there's no EDM bluster or rock histrionics cooked into the stew. Monroe and her producers Vince Gill and Justin Niebank have created something a lot more even-keeled. That puts a heck of a lot of pressure on Monroe to take charge throughout, but she rises to the challenge, belting out "I'm Good At Leavin'" like she was aiming for the cheap seats at the Grand Ole Opry, gently purring through "Mayflowers," and throwing a little Loretta Lynn sass down on the rave-up "Winning Streak." She knows she's the star of this show, and she burns brightly throughout.—Robert Ham
36. Battles – La Di Da Di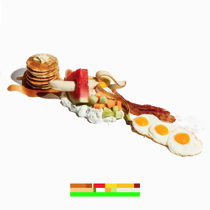 From the opening moments of "The Yabba," the first track from Battles' third studio LP La Di Da Di, a kind of tribal bemusement rears its digital maw. Bedazzled by a crescendo of reversed, looped blips, sleigh bells and the persistence of some unknown looming catharsis, "The Yabba" unfolds like a hard-drive nightmare and blooms suddenly into a pixelated psychedelic wonderland. It's a sign of things to come on the tech-themed La Di Da Di, and a highly listenable mishmash of weirdness that only Battles could have dreamed up. The group now functions without a vocalist, and in compositions readymade for bumper music, video games, commercials for shiny tech things, the soundtrack to a motherboard's biopic and other flexible uses, La Di Da Di is a unique listen, giving large responsibility to the listener to determine or interpret the parameters of its far-reaching sonic liberties. However you decipher the 1s and 0s, the songs comprising La Di Da Di are timeless vestiges of sound, and by that virtue alone are going to be around for a long time. The fact that they just so happen to be timeless vestiges of sound that are exceedingly pleasing to listen to is icing on the cake for all of mankind, and probably some of robotkind, too.—Ryan J. Prado
35. Palehound – Dry Food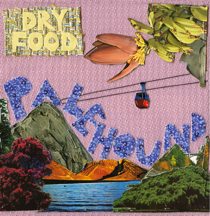 Twenty-one-year-old Ellen Kempner's guitar prowess is Palehound's staff of light, a six-stringed burning ember that guides you through her fractured song structures and doleful take on coming-of-age, the basis of Dry Food, an eight-song exploration of Kempner's mental inner space during the period of 2013 and '14. Complex dynamics keep the album's tracks from blending together into a giant collage, like the colorful travel magazine cutouts that create the cover art. The only constants are Kempner's guitar and whispering vocals, which draw you into her dark world on tracks like "Molly," where her counter-melody guitar riff gets attacked by fuzzed-out power chords. Kempner's soft vocals puncture the heart with earnestness on tracks like "Dry Food" and create distance with the reverb-soaked "Cinnamon," where her voice interweaves masterfully with gently strummed guitar chords. Dry Food bleeds with emotional truth through a thorny lineage to Kurt Cobain-esque dissociation and mental anguish—which is why it was written in isolation, with Kempner playing all the parts except for drums. Dry Food seems possessed by the ghost of Elliott Smith. There are painful reminders all over this record of what it feels like to be tortured, lonely, abused and directionless—which can be exhausting through eight sugar-free songs. Most of Kempner's lyrics aren't easy to decipher, either, but combined with nuanced minor key changes, and juxtaposed with her childlike falsetto, they remind you of the dark-twinkle in the eyes of Sylvia Plath, where nothing is as it seems—like daydreaming over magazine cutouts of paradise, beyond reach.—Art Tavana
34. JD McPherson – Let the Good Times Roll

JD McPherson passed the follow-up album test with flying colors, dropping Let the Good Times Roll in February like a bomb of good old-fashioned retro rock 'n roll. The swagger and charisma of the entire band oozes through the speakers in tracks like "Head Over Heels," with syncopated handclaps that make you want to jump up and pretend you're dancing in the audience of his live show. Together, they're a group that has achieved a wonderful degree of comfortableness and understanding of their characters—like time-traveling, hair-slicked vagabonds, they arrive with a certain irreverence and nostalgia for sweaty, burger joint-appropriate rock, like something from the soundtrack of American Graffiti. Songs like "Mother of Lies" and "You Must Have Met Little Caroline?" are electrified master classes in the seemingly simple synthesis between fuzzy guitars and pounding piano keys. — Jim Vorel
33. Twerps – Range Anxiety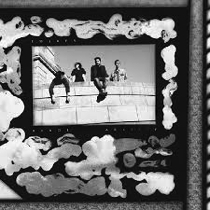 Melbourne, Australia's Twerps don't deviate far from the formula on Range Anxiety, their second album. Their songs are made of simple hooks with intricate guitar lines and picking on top of jangling chords. There's often a hint of sadness, but they rarely sound dejected or resigned. Tempos don't stray far from a steady lilt, and the rhythms remain straightforward. It's simple and direct, and anybody who's ever picked up a guitar or tried to write a song knows how hard it is to sound this easy. But even at their most technically complex, Twerps still maintain a low-key, laidback, indie-rock appeal. They pull off charming pop that sounds tender and thrilling at the same time. On "Back to You" Frawley sings "somebody out there is doing better than me," but when it comes to this kind of pop music, nobody right now is doing it better than Twerps. —Garrett Martin
32. Royal Headache – High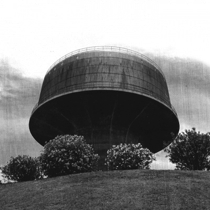 Pop-punk, as a term, might be irretrievably soiled, killed by malls and Hot Topic and every late '90s teen comedy soundtrack. In the past, though, it was the entirely accurate description of all-timers like the Buzzcocks, the Jam and the Undertones, bands who united punk's volume and energy with the hooks of pop music. Royal Headache's second album masterfully taps into that original strain of pop-punk, blitzing through 10 primordially catchy songs in a half-hour. High slots easily into any number of rock 'n' roll sub-genres—garage, punk, indie-rock—and even diehard '60's nostalgists could support Shogun's blue-eyed soul vocals, which owe as much to Rod Stewart and Steve Marriott as any punk singer. Like the band's first album, High is a new classic that sounds both fresh and out-of-time at once, and unlike anything you'd hear from the many other bands working in similar territory today.—Garrett Martin
31. Wilco – Star Wars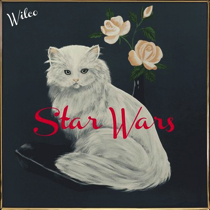 From its first discordant chords, Star Wars reintroduces a band that is toying with its own legacy. "EKG" is one minute, 15 seconds of jagged guitar notes, and on top of that it's called "EKG." It plays like a pretty withering parody of the migraine-soundtracking guitar spazz-outs that all but defined their 2004 album a ghost is born. Once the actual songs kick in, Wilco sound spryer, looser, livelier, wittier, and more fun than they have in years. And when was the last time anyone used "fun" to describe this serious band? As Jeff Tweedy's songwriting has grown less linear and more impressionistic, the former alt-country band's sound has expanded to encompass sounds and styles once relegated to the avant-garde margins: drone, motorik beats, distortion, dissonance, musique concrète. Star Wars incorporates all of that into its 10 songs, yet the results are somehow much different. They make "tossed-off" and "slight" sound like the utmost virtues, and most of these songs sound like they were recorded in real time, a handful musicians gathered in a circle at Pieholden Suite in Chicago. Star Wars might sound too clever by half if Jeff Tweedy didn't take such obvious joy in the act of creation, and he hadn't been couching his songs in domestic and professional life for years now, even decades. And yet, Wilco always withhold much more than they divulge, with lyrics hanging in the air, never quite settled or specific. That sense of life being just beyond his control lends the album an unexpected emotional heft, which keeps you listening over and over, trying to unlock the essential mysteries of this curious little album.—Stephen M. Deusner
30. Nathaniel Rateliff & The Night Sweats – Nathaniel Rateliff & The Night Sweats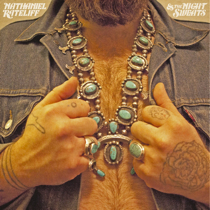 Before Nathaniel Rateliff put together his new soul band the Night Sweats, the Denver musician was regarded as a latter-day folk singer on the fringes of Mumford & Sons' neo-roots revival. Given his music, the designation was understandable, but it was also incomplete. There's always been more than a little soul coursing through his songs, too. The Night Sweats, then, isn't a new direction for Rateliff so much as a reconnection to music he's been singing at least since it helped him pass the hours when he worked on a Denver loading dock before becoming a full-time musician. It's a natural sound for Rateliff, so much so that this 11-song collection found a home on Stax, the revived Memphis label that was such a big part of soul music in the 1960s and '70s. Indeed, these tunes have a vintage air about them in the trebly guitar riffs, bright sprays of brass and punchy basslines, circling tightly around rock-solid drums. Atop such a powerful engine, Rateliff glories in his role as soul shouter. And while the singer and his band are drawing on a classic form, their interpretation makes for an exciting and contemporary sound.—Eric R. Danton
29. Florence + Machine – How Big, How Blue, How Beautiful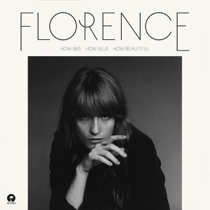 On her followup to 2011's one-dimensional Ceremonials, Florence Welch finds clever ways to enrich her bewitching blend of alt-pop, soul and art-rock. How Big, How Blue, How Beautiful shows the British singer wringing out her usual quota of widescreen melodrama, but without the overwrought theatricality that dragged down much of her previous work. The 11 songs on Beautiful resonate in a deeper way by varying the sonic palette and focusing her words inward. Veering from soulful shouters ("Delilah") to measured electro-pop ballads ("St. Jude"), Welch sounds liberated in Beautiful's sprawl. —Ryan Reed
28. Guantanamo Baywatch – Darling, It's Too Late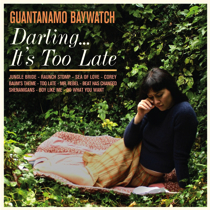 If there's a single word that comes to mind when it comes to Guantanamo Baywatch's latest endeavor Darling… It's Too Late, it's "fun." The Portland rockers' third LP was released via Suicide Squeeze Records this past May (peaches-and-cream vinyl notably available), and encompasses youthful mayhem, golden summers and good, ol' fashioned rock 'n' roll. From instrumental tracks and sound effects paying homage to yesterday's surf rock to dance-inducing lyricism and DIY undertones, the album is as debaucherous as ever, but also represents a new vision for the band—one that's fully developed, pulling Guantanamo Baywatch away from their pun, and into a category all their own. Just don't forget your sunscreen.—Brittany Joyce
27. Kacey Musgraves – Pageant Material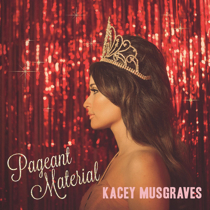 Same Trailer, Different Park made Kacey Musgraves the darling outsider's voice in today's modern Nashville. The toast of the press, a sweet-voiced champion of where individualism meets alternative lifestyles, and truth-teller for the hypocrisy settles into a fuller, lusher sound on Pageant Material that draws on Glen Campbell, Bobbie Gentry, Ronnie Milsap, mid-career Haggard, '60s pop and a bit of Laurel Canyon. Musgraves' gospel of just getting along fleshes out with wit and a wink. Co-produced with Luke Laird and Shane McAnally, the album features a range of influences. There's the high-plains, almost Mexican country that returns to one's roots on "High Time," the satin-smooth pop of the romantic languisher on "Late for the Party," and the retro-waltz a la John Prine at his most poignant on "Fine." At 26, Musgraves has kept her wonder, honed her focus and remained true to her core.—Holly Gleason
26. Vince Staples – Summertime '06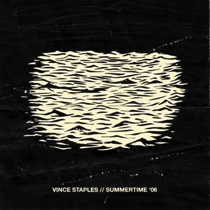 Though Vince Staples' proof was already in Stolen Youth, the 2013 mixtape he spit out with Mac Miller (Larry Fisherman), his major label debut—and first official full length—Summertime '06 acts as an all-consuming testament to a talent far beyond its years. Not to sell Youth short, but Miller's loosely saccharine production fit a Staples who's cooled quite a bit since then. Today the rapper is all ice-cold edge, inside and out: refined, honed, sharp enough to cut subcutaneously. And so, on Summertime '06, an older, wiser Staples digs in with Clams Casino, No I.D. and DJ Dahi, producers who represent the best of most generations of hip-hop, to help him carve out a sonic space better fit for his aging worldview. In turn, the album is more than an ambitious kind of coming-of-age chronicle, it's a blithely sad thing, one in which institutional racism ("Lift Me Up"), addiction ("Jump Off the Roof"), and even loneliness ("Summertime") feel impossible to overcome. Staples hasn't gotten harder, just smarter—and his producers, balancing industrial clank with cloudy dope-scapes, have allowed him a sturdy vulnerability off which he can bounce his feelings. Though Staples hails from Long Beach—sharing a year of assured hip-hop releases with Boogie, another brilliant rapper from the area who's finally getting his due—his tracks rarely feel exclusive. He's ready to mine deeper bedrock. And rarely has the sound of an artist scraping bottom been this assured. —Dom Sinacola
25. The Lone Bellow – Then Came The Morning

When I heard the gospel-like harmonies at the end of the "Then Came The Morning" back in late December, I knew that The Lone Bellow's sophomore album would be a stunner. Teaming up with The National's Aaron Dessner for production duties, Then Came The Morning certainly shows off a slicker side to the folksy Southern trio from Brooklyn. Some experiments on work better than others here, like the particularly stark "Watch Over Us" in which lead guitarist Brian Elmquist sings lead and the brief, and the interlude-like "To The Woods" with its high-strung guitar arpeggios. But the most remarkable thing that this record proves is that when Zach Williams, Kanene Pipkin and Elmquist sing their hearts out together, this band is unstoppable. —Hilary Saunders
24. Grimes – Art Angels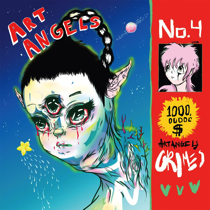 Grimes closes out Art Angels with a song called "Butterfly." There couldn't be a more apt summation of the metamorphosis happening on Claire Boucher's fourth album. (It's also worth noting that her hero Mariah Carey released an album called Butterfly 18 years ago.) All of Art Angels feels like Boucher emerging from a cocoon to make a type of music that more people would find beautiful. She has traded in the sadder more mysterious material that defined her first few releases for diss tracks and bouncy dance numbers that go straight for the hooks. This poppier Grimes is not a compromise or a sell-out though, she just has something more concrete to say, so she rocks out with a guitar and puts her voice up front. And a lot of what she has to say is really pissed off. "Everybody dies, we cut out their eyes and dance like angels do/Breaking our name in a world that feigns some knowledge of you," she sings in "Belly of the Beat." This is far from your standard teenybopper lyric. Art Angels is the sound of an artist finding the confidence to indulge both her artsy and poppy sides, and exercising the wisdom to choose which to use when.—Pat Healy
23. Jessica Pratt – On Your Own Love Again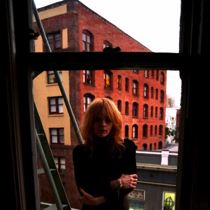 Pratt was a terminally unknown singer/songwriter from Northern California whose notoriety came only after her initial batch of home-recorded songs were some five or six years old, and she'd played only a handful of shows. All that interference, however, ought to be ignored when listening to Pratt's second full-length record?and first for Drag City?On Your Own Love Again. At its core, this follow-up to 2012's JP is as whimsically experimental as it is steeped and reveling in its own revivalism. Armed with little more than a guitar, some rudimentary tape-tracking recording materials and a a treasure trove of inventive vocal harmonies, Pratt's darkly ambitious compositions are fleshed out into alcoves of aural mischief, served mystical and with a kind of dark magic, vacillating as they do between optimism and pessimism.—Ryan J. Prado
22. Tobias Jesso Jr. – Goon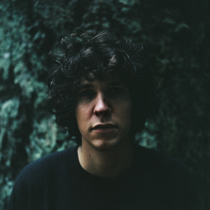 What Tobias Jesso Jr. has delivered is a record that needs no context, that can exist outside of time and place. Jesso, in short, has crafted a masterpiece, with the only connection of real significance being between him and his audience. While the comparisons to Harry Nilsson and John Lennon hold up over the course of the debut, what may be the most surprising is the range that Jesso shows throughout. Goon isn't all piano ballads; hell, it isn't all ballads, period. "Crocodile Tears" is a mid-tempo, psych-tinted strut that finds Jesso boo-hoo-hooing his way into unexpected territory. "Leaving L.A." is something totally different, lounge-y in its instrumental breaks, allowing Jesso freedom to veer from straight-ahead singer/songwriter territory. Throw in the guitar backbones of "The Wait" and "Tell the Truth," and Goon contains plenty of variety in both tone and arrangement, carefully placed gaps in the ultimate strengths of the album.—Philip Cosores
21. Holly Herndon – Platform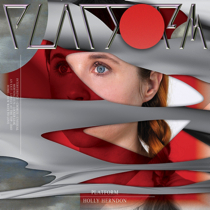 The San Francisco-based cyber sociologist with a degree in composition, dissects the nuances, paranoia and stark reality of our ever-increasing digital lives on the Kraftwerk-cum-neo-electronica Platform, and it's nothing like we've ever experienced. Platform could be seen as a contemporary art project. Where on a track like "Home," Herndon addresses the freaky possibility that the National Security Agency could be getting pinged when I type the harmless acronym on a Google doc. Maybe they are, maybe they aren't, but hers is the voice from which we look over our shoulder towards the window in an empty room. Herndon's socio-digital commentary is one that has never been packaged with this kind of accessibility before, and on the legendary 4AD label no less. Herndon's most successful endeavor is carving a niche for her work to be heard by indie blogs and mainstream music media alike, without resorting to a watered-down pop formula to get her message across. Platform is still avant-garde enough to only be appreciated by some, but those who break through the surface, will understand this album for being the important, temporal work that it is.—Adrian Spinelli
20. Jamie xx – In Colour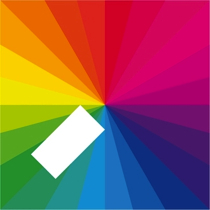 Jamie xx isn't doing anything new—he pulls from dub reggae and West Coast rap; he cribs minimal house as willfully as he dips into shoegaze; he uses steel drums without irony—and yet In Colour feels as refreshing as the work of someone who knows he's touched upon territory net yet plied. With his official debut (a full-album remix of Gil Scott-Heron's last LP that, while an endlessly blissful team-up, served as a partnership nonetheless), Jamie Smith has no apparent goals, no clear concept. But, there is the Burial-esque thwomp-n-creak caterwaul of "Gosh" and the smoky "Loud Places," a song The xx should've penned. There's "I Know There's Gonna Be (Good Times)," which is somehow ebullient even with the terrible idea of bringing in Young Thug, and the rhythm and blues of "The Rest Is Noise" in which each is given its effortlessly ecstatic due. In total, In Colour isn't anything in particular, just an irrefutable example that Jamie xx is more than a producer—he's a composer and curator, a musician with an ear for optimism, a guy with boundless, Technicolor love to give. —Dom Sinacola
19. Beach House – Depression Cherry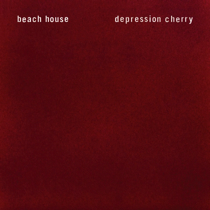 It's only been three years since Beach House last released an album, but music changes so quickly that it seems like the Baltimore duo had been gone for ages. At any rate, Victoria Legrand and Alex Scally are back now with their fifth full-length album, a collection of nine songs that are more intimate than the music on their past few records. That's not coincidence: as Beach House grew into bigger stages and played for larger crowds, the duo's sound expanded, too, and the somewhat more streamlined aesthetic of Depression Cherry is their reaction. The songs are still plenty lush, wrapping Legrand's sleepy voice in gauzy synthesizer drifts adorned here and there with languorous stabs of guitar. What's different here is the relative simplicity: instead of layer upon layer of instrumentation, Legrand and Scally leave more space in their arrangements. The difference is mostly subtle, but clearing away some of the sonic underbrush helps emphasize the essential elements of their songs and the elegance of their music.—Eric R. Danton
18. Jason Isbell – Something More Than Free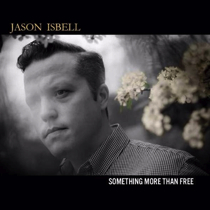 Though Jason Isbell has been releasing albums since he was part of the Drive-By Truckers lineup that made 2003's Decoration Day, his 2013 release Southeastern was his first consistently great record, full of powerful lyrics on songs that lingered long after the last notes fell quiet. He matches it on his latest, a collection of 11 new tunes by turns mournful, pungent and quietly devastating. Isbell has over the years become a more patient lyricist, carefully honing his words into needle-sharp points that penetrate without making a visible mark. Isbell's increasing skill as a storyteller, and the natural affinity he has for melody, combine to make Something More Than Free a masterful piece of work. Among Isbell's considerable talents is the artfully plainspoken way he captures the dreams and disappointments of everyday folks. Even if he's found meaning lately in sobriety, marriage and fatherhood, he's more than willing to hold the light steady while the rest of us keep looking. The ability to make that connection is a rare gift in the first place, and Isbell is only getting better at it on every album he makes.—Eric R. Danton
17. Kamasi Washington – The Epic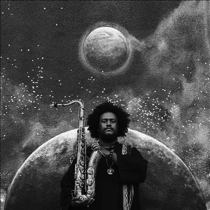 With apologies to Titus Andronicus, Kamasi Washington made the best triple album of 2015, a three-hour jazz fantasia full of skronky jazz solos, pounding funk grooves, disembodied choirs, skronky sax solos, roller-rink organ interludes, pillowy string arrangements that suggest a strong undertow tugging these compositions ineluctably forward, and an unruly rhythm section that fights that pull by deconstructing turntable breakbeats into time-stopping exhultations. Washington's orchestra is an amoeba that absorbs every style and tradition and seemingly every musician in Southern California; it sounds like all of Los Angeles singing and playing together at once, a powerful idea at a time when displays of African American community are popularly dismissed as riots or worse. How could such an act of extreme jazz maximalism be called anything other than The Epic?—Stephen M. Deusner
16. CHVRCHES – Every Open Eye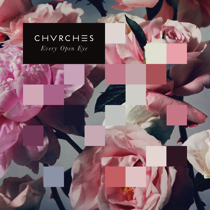 When Every Open Eye kicks off with "Never Ending Circles," it sounds as if the song started on its own before you even hit play. It's proof CHVRCHES know one of the most important rules of writing great pop music: it's better to sprint than train for a marathon. It's not to say these songs are really going to pump adrenaline into your veins, but their objective certainly seems to be giving strength and inspiration to the listener. The band has an ability to create very "human" music out of largely mechanical sound. This is one of the easiest albums to dance to in 2015, but it's also one of the easiest to cry during. The subject matter of Lauren Mayberry's lyrics touches on elements of heartbreak, betrayal and loss relatable to anyone who has lived 15 or more years on this planet. Every Open Eye is another album you can throw on at a party to get everyone dancing just as easily as you could pensively listen to it alone in your bedroom. They translate so well because they know what they want to say, and one can only hope they keep saying it for some time.—Mack Hayden
15. Torres – Sprinter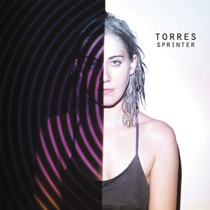 On Sprinter, you can hear singer/songwriter Mackenzie Scott breathe. Literally, at times. "The Exchange," the last and lengthiest cut on the phenomenal sophomore release from Scott, whose recording moniker is Torres, is a study in aural intimacy. Scott's refrain is a taut, tortured plea: "Mother, father / I'm underwater." Her voice trembles and cracks the way voices sometimes do when they are conceding something shameful. And between the words, you can just about hear the creaks of the studio chair, the fumbling swipe when someone's hand brushes the vocal mic. On Sprinter, everything—family, desperation, the songs themselves—is laid bare. Which is not to say it's all sweet and pretty. Sprinter crackles and explodes, with a dynamic range that'd make Steve Albini blush. It already feels like these songs have been around for a long time, which is reasonable indication that they will be with us for a while. The title track, which most explicitly references Scott's Baptist origins, winds down from catharsis with another well-worn and memorable refrain: "There's freedom to / And freedom from / And freedom to run from everyone." It's never quite clear what she's running from, or where to. But on Sprinter, she gets there.—Zach Schonfeld
14. Car Seat Headrest – Teens of Style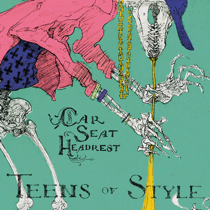 Car Seat Headrest's Matador debut, Teens of Style, is remarkable in its ability to both sound fresh and youthful, tinged with the emotional rawness of someone barely in his 20s, and like a well-oiled machine, put together by someone who definitely can't be just 22. Will Toledo's got the songwriting chops of someone far beyond his years, and while his music may call to mind bands like Animal Collective or Guided By Voices, there's a purer pop sensibility that sneaks in on tracks like "The Drum" and reveals that Toledo knows how to pen his share of catchy hooks. His lyrics sound like a scratchy stream of consciousness, perfect for that "not a kid anymore, not quite an adult" time in your life, and yet they—along with all of Teens of Style—reveal a great talent, one we can't wait to follow into adulthood.—Bonnie Stiernberg
13. Kurt Vile – B'lieve I'm goin down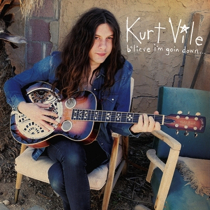 Philadelphian songwriter Kurt Vile has crafted such a definitive identity for himself that it's easy to forget he used to be a part of The War On Drugs. Over the course of his past six studio albums, Vile continued to grow out his hair, as well as his slacker-rock style. On b'lieve i'm goin down…, Vile set out to return to his earlier, bedroom sad songs. He's turned down the reverb a little from Wakin on a Pretty Daze and emerged through the haze of Smoke Ring For My Halo. And Vile, who actually had a banjo before a guitar, goes back to that first instrument and other acoustic tools for much of the LP. In fact, much of b'lieve remains mellower and more cognizant than Vile's previous works, blending organic and inorganic sounds. But even with his musical evolution historical homages, Vile still puns on teenage mantras like, "young, dumb, and full of / come on over to my house" in songs like "Life Like This." And that is what makes him the lord of the lo-fi loafers.—Hilary Saunders
12. Protomartyr – The Agent Intellect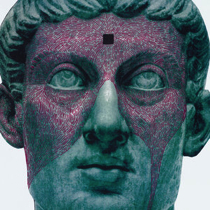 Protomartyr's 2012 debut, No Passion All Technique, was savage. Such congruity between a title like "Feral Cats" and the song itself is rare. It was also a sleeper, one that critics caught on to so slowly that the coronation of Protomartyr's 2014 follow-up, Under Color of Official Right, seemed compensatory, even if the album was excessively polished; Casey strove for conventional vocal melodies and hooks with perceptible difficulty. Fortunately, The Agent Intellect rectifies that, expanding on No Passion All Technique's sinuous rock with Casey's lowbrow poetics at a properly dejected cadence and inflection. Essentially, it's an album of spindly bass, needling guitar and economical drums. And yet, with Protomartyr's inventive ensemble flare, it sounds like much more. On The Agent Intellect, Casey finds himself as more of a vocal stylist than a singer, shifting his tone to reflect his emotionally textured writing.—Sam Lefebvre
11. The Mountain Goats – Beat the Champ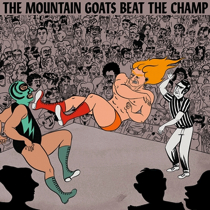 John Darnielle—the songwriter, singer, bandleader and driving force of The Mountain Goats—has a number of somewhat surprising passions. One is death metal, to which he's paid homage in several songs, notably the classic "The Best Ever Death Metal Band Out of Denton." Another is pro wrestling, and it's into this arena (!) that he brings us in his new record, Beat the Champ. That's right, every single song here is about pro wrestling (albeit usually of the decidedly minor-league variety). As could be expected, he approaches the subject with uncommon sensitivity and insight, gifting some of his tenderest moments of recognition to the perpetual villains of the melodrama ("Throw my better self overboard / Shoot at him when he comes up for air"). But in an album full of rip-your-heart out moments, for the heels as well as the faces, Darnielle saves the most powder for his ode to a real-life childhood hero of his, Chavo Guerrero. Anyone in the least familiar with Darnielle's childhood (or too many of our own) can't help but thrill to the sounds of "I need justice in my life, and here it comes / Look high / It's my last hope / Chavo Guerrero / Coming off the top rope." Fly high, Chavo. —Michael Dunaway
10. Deerhunter – Fading Frontier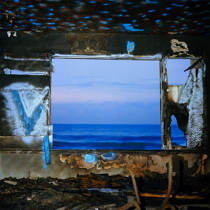 You could be the kind of person who complains about Bradford Cox making a comfortable-sounding record, but ask why you'd want to be first. Yes, Fading Frontier is a far cry from the garage rock restructuring he brought to Deerhunter with Monomania. Instead, it's back to the dreamy textures of Microcastle and Halcyon Digest, but this time around, the dreams are even more pleasant than before. That's no crime at all. Cox's songs here aren't really griping with or trying to tear down "conventional" approaches to indie rock or even rock in general. Fading Frontier is less Pavement and more Peter Gabriel, a record drawn to creating the kind of watery sounds and atmosphere you can float atop without ever feeling like you're at risk of drowning. Instead of trying to make an experimental oddity for music nerds, he made an indie pop album for music fans. He went for our hearts rather than our heads, and, for a band as cerebral as Deerhunter can be, that's its own kind of artistic evolution.—Mack Hayden
9. Leon Bridges – Coming Home

Fort Worth, Texas' Leon Bridges has brought us back to an era of soul that few have been able to revive with such style and grace. Bridges evokes shades of the great Sam Cooke at just about every turn on Coming Home and the result is simply beautiful music. The album was co-written by Bridges and a team highlighted by Austin Jenkins and Josh Block of psych-rock band White Denim, who've captured a classic, lo-fi feel with production from Niles City Sound. From the dashing romanticism of the title track to the gospel of the magnificent "River" closing out the album, Bridges re-introduces us to American soul music forged alongside the essence of rock 'n roll. And even decades after this special music peaked, Coming Home still manages to be a sign of the times.—Adrian Spinelli
8. Tame Impala – Currents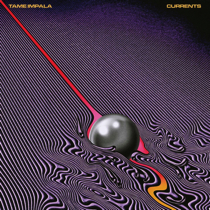 Tame Impala isn't exactly an underdog band: Kevin Parker has enjoyed the steadily increasing accolades of the music press, "Elephant" was a huge single, they're a bigger-font festival band, and their name is almost certainly known to anyone who has bought any overpriced flannel from Urban Outfitters. But Currents is where the internal debate about Tame Impala's hyped-up legitimacy ends. This is a near-perfect album. It's a superb progression from their last efforts, a study in internal consistency and just chock full with nearly an hour of great songs. From opener "Let It Happen" to closer "New Person, Same Old Mistakes," Parker manages to never shy away from the spotlight while somehow making you view him as a mere messenger given this incredible album by the muses. There's a lushness to every instrumental and vocal decision here of a tone smacking of eternality. It's psychedelic music less as a genre distinction and more as a legitimate description for how much your mind seems to expand when you listen to it. There are rewards aplenty to anyone who'll give this record many listens, but they're the kind which will shirk away if they're sought out. Instead, you've just gotta sit back and let them come.—Mack Hayden
7. Natalie Prass – Natalie Prass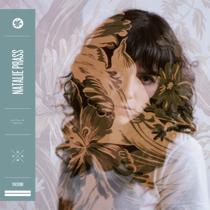 It's hard to not fall for Natalie Prass. With an undeniable charm and an inclination towards storytelling that can soothe the most broken heart, the singer/songwriter's self-titled album, released this past January via Spacebomb, is a striking, smart showcase of Prass' talent—so much so that it's almost hard to believe it's her debut. From the intimate opening track "My Baby Don't Understand Me" to "It Is You," the album's nostalgic closing track, Natalie Prass is a timeless time machine, taking listeners through a well-rounded, refreshing journey into love and loss. —Brittany Joyce
6. Sufjan Stevens – Carrie & Lowell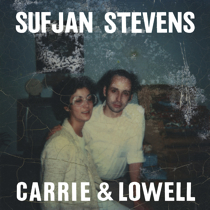 Carrie & Lowell was in no way what I wanted or expected from the next Sufjan Stevens album. I wanted something daring and sweeping—a musical progression from Age of Adz in some way. Instead, what we got was a quiet, moody set of songs not unlike something you'd find on a Sufjan Stevens album from the early 2000s at first blush. But there is also something fundamentally different about this album. It's urgent and spontaneous—the kinds of songs that are written in a rush of cathartic emotion on whatever instrument happened to be laying around. No three-minute orchestral intros to be written or historical facts to be researched. It's more Elliott Smith's XO than Illinois—and like XO, it has its eyes focused squarely on death. It stares straight into the hospital rooms, regrets, cloudy memories, and empty bedrooms—and dares to sing a quiet song about it all. Perhaps that ended up being more ambitious than another "State Project" album could have ever been. —Luke Larsen
5. Hop Along – Painted Shut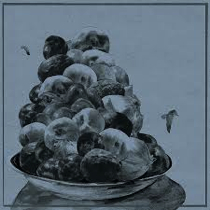 Painted Shut is Hop Along's first release since signing with Saddle Creek Records in 2014, a fitting label for Philadelphian four-piece's sensitive indie rock. Drawing inspiration from punk, freak-folk and emo, Painted Shut is reminiscent of iconic late '90s albums from bands like Built to Spill, Saves the Day and Sleater-Kinney. Although Hop Along's lyrical content can be heavy at times, Painted Shut's tracks are well-balanced between catchy indie pop with an edge and more discordant fare. It's a more cohesive statement than 2012's Get Disowned, and a thorough introduction for new listeners. —Liz Galvao
4. Sleater-Kinney – No Cities to Love

Of course Sleater-Kinney was going to reunite—everybody reunites these days—but Carrie Brownstein, Corin Tucker and Janet Weiss were stealthy about it: the trio didn't let slip that they had been working on their first album in 10 years until it was already finished. And what an album! The interplay between Brownstein and Tucker has rarely been tighter or more ferocious, their voices and guitars twisting, turning and intertwining over explosive drumming from Weiss on songs that are as tuneful as they are hard-hitting. Sleater-Kinney had built an enviable catalog before dissolving in 2006; No Cities to Love is a staggering return that ranks among their best work. —Eric R. Danton
3. Courtney Barnett – Sometimes I Sit and Think and Sometimes I Just Sit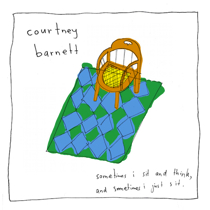 Following up the double EP that garnered her acclaim far beyond her Australian home, Courtney Barnett recorded 11 tracks matching her ear for melody to an eye for detail. She's a coffeehouse storyteller with an impish streak of dark wit fronting an honest-to-God rock 'n' roll band, begging you to both dig into her lyrics and get up and dance. And the range here is impressive, from the meditative "Depreston" about house-hunting to the thrashing kiss-off "Pedestrian at Best." It's filled with singles if there was still a radio station who played music like this. —Josh Jackson
2. Kendrick Lamar – To Pimp A Butterfly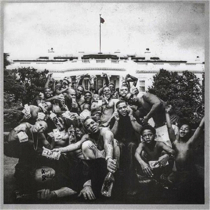 This is what thoughtful hip hop is supposed to sound like. This is the product of a rapper who quickly rose to the upper echelon of hip hop and took a long hard look at the scope of the scene and more importantly, himself, before letting out a visceral, imaginative and musically ambitious production that demands your attention. TPAB further develops jazz fusion in hip hop with seasoned collaborators in Flying Lotus, Kamasi Washington, Thundercat, Robert Glasper, et al., producing a live sound that's compositionally rich, instrumentally complex and flat-out interesting. Yet, the sceptre for all of TPAB's energy is Lamar, who brings himself to his knees on deeply reflective jams like "King Kunta" and "How Much A Dollar Cost." TPAB is a call-out of the hip-hop establishment, by perhaps it's most self-aware figure, who has no trouble exploring his own vulnerability in order to paint an accurate picture of the harsh, dynamic and inspiring times we're living in today. —Adrian Spinelli
1. Father John Misty – I Love You Honeybear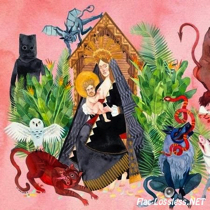 Tillman's creative persona feels like a natural extension of his sprawling and strange backstory: He's part cultural provocateur, part hippie-rock satirist, part soulful balladeer. What's most surprising about I Love You, Honeybear is how it balances that cartoonish character with the real-life Tillman—who married his current wife, Emma, in 2013. Honeybear thrives on the knife's edge of that enigmatic split personality, as he attempts to reconcile the love-swept optimist with the world-weary wise-ass. Fittingly, the LP's most striking moments meditate on the sublime and deeply complicated art of sharing life with a single partner. The title track is an apocalyptic love song submerged in waltzing, Spector-styled orchestrations—with Tillman embracing his wife, at peace as they drown. Sonically, Honeybear finds Tillman in a ruminative mood, favoring lavish strings, sweeping layers of voices and acoustic guitars. But he still has a knack for unexpected flourishes, like the psychedelic guitar solo on "Strange Encounter." With I Love You, Honeybear, Tillman wrestles with a lot of heady subject matter: modern narcissism ("Bored in the USA"), his own tendency to doom personal relationships ("The Ideal Husband"), the general downfall of mankind ("Holy Shit"). But the less he strains, the more his songs resonate. On threadbare closer "I Went to the Store One Day," his voice skirts into falsetto over hushed fingerpicking and strings, as he croons about buying a plantation with his wife and letting the yard grow wild—and how that dream originated from a chance parking lot hello. Tillman will probably always write with a wink—but he's learning to infuse that approach with genuine heart.—Ryan Reed
Listen to songs from all 50 of the Best Albums of 2015 on Spotify and follow Paste here.