The 50 Best Albums of 2017
In a year of upheaval and distraction, these were the artists we needed to hear.
Music
Lists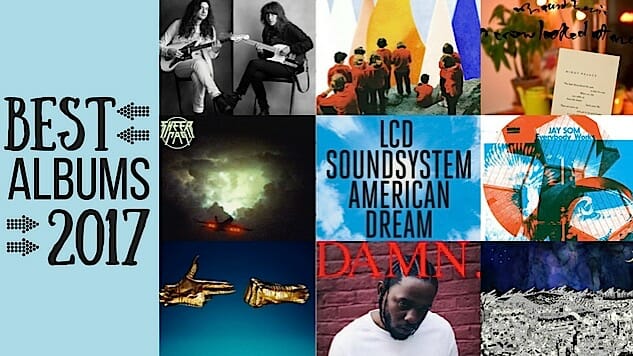 By anyone's account, 2017 has been an exhausting year—a stretch of time that, thanks to unending upheaval and the barrage of often bad news, has felt about three times as long as normal. The effects of that are bleeding into every aspect of our lives, including our interest in pop culture. So much has been thrown at us over the past 12 months that it's harder than ever for music fans to point to one artist or album that stands above all others or dominates the discourse. Even all the chatter and buzz that accompanied big-ticket releases like Taylor Swift's Reputation and Jay Z's 4:44 sparked and disappeared with the intensity of a meteor burning up in the atmosphere.
That was certainly reflected in the ballots our music writers submitted for this year's list of the 50 Best Albums. After all the votes were counted, we took a step back and realized how our listening habits had dovetailed with the social conversations happening around us. It's a list dominated by an array of female voices, from the agit-punk of Sheer Mag and Melkbelly to the R&B visions of SZA and the late Sharon Jones, to the wonderfully unclassifiable sounds of Kaitlyn Aurelia Smith and Nai Palm. And some of the strongest statements this year came from people of color—not just stars like Kendrick Lamar and Killer Mike, but newcomers like British crooner Sampha and Jasmyn Burke of Weaves—with frankness and intimacy to expose the strains being felt by the people in their communities. At a time when we may feel worn down by the reactionary reversal of social and cultural progress, when we wince at every news alert that blinks on to our smartphone screens, these are the artists we need to hear, the ones who urge us to keep moving forward and inspire our minds and bodies with the simple art of a song.
50. JD McPherson: Undivided Heart & Soul
On his third album, JD McPherson leans harder on the first syllable of "rockabilly." The retro-sounding tracks, most of which feature prominent walking-bass lines courtesy of Jimmy Sutton, are among the highlights. Single "Lucky Penny" (which doesn't hide its Dan Auerbach influence), jittery "Bloodhound Rock" and "Under the Spell of the City Lights" (featuring another notable co-writer, Aaron Lee Tasjan) all harken back to retro rocking songs in both McPherson's own catalogue and American music as a whole. While Undivided Heart & Soul explores both the past and the future of roots music, McPherson shines brightest when he blends both influences to stay rooted in the present. —Hilary Saunders
49. Shelby Lynne & Allison Moorer: Not Dark Yet
Shelby Lynne and her younger sister, Allison Moorer, have released a slew of solo records between them since the late 1980s, but Not Dark Yet marks their first joint effort. In one sense, it's not surprising the siblings didn't collaborate sooner: DNA aside, they're not too similar. Boasting a resume that includes a duet with Tony Joe White and a set of Dusty Springfield covers, the more unconventional and eclectic Lynne takes a scruffier, funkier approach than her sister. At first listen, Moorer's country-pop blend seems less distinctive, but her best efforts pack a serious emotional punch. Featuring nine covers and one devastating original, this lovely LP spotlights their tangy harmonies, with Lynne and Moorer evoking ancient traditions of family music-making. —Jon Young
48. Sharon Jones & the Dap-Kings: Soul of a Woman
Though Soul of a Woman was never intended to be a posthumous release for the mighty Sharon Jones, it stands as both a fitting epilogue for an unlikely career and a comprehensive farewell to a multifaceted star who burned unbelievably bright. Courageously recorded with her beloved Dap-Kings between treatments for the pancreatic cancer she succumbed to last year, the album offers up a piece of everything that made Jones a powerhouse to the very end. The album's first side represents her carnivorous live performances—the stomping, sweating, unrelenting force of the stage presence that often got her called the "female James Brown." The second side slows things down, exploring Jones's ability to grind out pure emotion. —Madison Desler
Read: The Transformative Sharon Jones
47. Julien Baker: Turn Out the Lights
Julien Baker's debut album, 2015's Sprained Ankle, was a bolt of lightning from out of nowhere, zapped down from heaven directly into a bottle bobbing in a vast and lonely ocean. Turn Out the Lights snuck up on no one. That's a tricky place to be, but the Memphis singer-songwriter handled it with grace, never overreaching. Intimacy wasn't sacrificed to make way for chilly distance or flamboyance. Instead, it was replaced by a brighter, more muscular beauty. This is most evident on the album's first single, "Appointments," which finds Baker unfurling a tale of sadness and hope atop guitars that sparkle and pulse like a dramatic post-rock band, not an indie-folk artist. —Ben Salmon
46. Weaves: Wide Open
For their second album, Toronto art-rockers Weaves tightened up the formula of their debut, adding pop-informed melodies to their fuzzy guitars and barbed observations. The jangly perfection of "Walkaway" and acoustic inoffensiveness of "Grass" beautifully signal this new direction, while the T. Rex-infused, oddball glam of "Slicked"—imbued with a heavy dose of bubblegum-snapping attitude from vocalist and songwriter Jasmyn Burke—polishes up the best moments from their previous effort. Taking a spiritual cue from the socially-conscious but introspective approach of Bruce Springsteen, Burke and company have plenty of vitriol to counter the step or two toward the mainstream. "We are living in a time where misery is just a common circumstance," she sings on "Scream," a fiery collaboration with Tanya Tagaq that takes on everything from body-image to reproductive rights—the stick beat and freak-out grunts reminding us that Weaves can still get wonderfully weird. —Madison Desler
45. Wand: Plum
It's hard to believe that the band who came flailing headlong out of the gate with Golem just two short years ago is the same band behind Plum, one of the most thoughtfully dynamic albums to come out in 2017. The creative arch of the Los Angeles band is rooted in the grime-y sonic sludge of the Ty Segall/Meatbodies/Mikal Cronin set. It would have been fine to have regarded Wand as yet another good band living under the punk-y parasol of the neo-psych-garage revolution. But Plum has separated them completely from the fray. Plum runs like a playlist of rock 'n' roll offshoots, with experimentations in Led Zep riffage and Spoon-like piano-rock only the tip of the iceberg. —Ryan J. Prado
44. Sallie Ford: Soul Sick
Portland's Sallie Ford has continued her post-Sound Outside evolution, which began on 2014's Slap Back, with an album of fiery garage rock that leans harder into the wit and attitude that has made the singer a perpetual festival favorite. Soul Sick is a thrilling assemblage of disparate styles, from the growling attitude and casual f-bomb on "Get Out" to the sweet, malt shop-appropriate crooning of "Unraveling." Ford's voice has always projected a startling power, but Soul Sick feels like a breakthrough on the composition side of the spectrum, creating a web of jangly garage guitars and soulful organ accompaniment that suit Ford's growl better than any of her backing bands to date. Her cat eye glasses have never been worn with more confidence or mastery than they are right now —Jim Vorel
43. David Bazan: Care
Throughout the synth-soaked invitational of Care, David Bazan continues to masterfully represent and wrestle with his Walt Whitman-esque "I contain multitudes" creative arc. Between the breath-close vocal performances and a sparse sonic palette of uncluttered keyboards and minimalist drum loops, fans of Bazan's other bands (Pedro the Lion, Headphones) and his solo work will find continuing strands of familiarity carrying through—most notably from his equally intimate solo releases from last year (Blanco and the holiday compilation Dark Sacred Night) and the electronic pulse of his 2005 Headphones album. While those artistic echoes pop up throughout Care, the album showcases its individual genius through the bitingly fresh nuances found in Bazan's instrumental, melodic and lyrical approaches. —Will Hodge
42. Molly Burch: Please Be Mine
The Austin-based Molly Burch is a force to be reckoned with, albeit a subtle one. Her debut LP, Please Be Mine, was released in February and is not only one of the year's best albums by a newcomer, but one of the best period. The record is heartfelt, intricate and unconditionally romantic. As a trained jazz singer, Burch's vintage vocal stylings truly shine throughout the ten songs, particularly on the standout "Fool" and the title track, "Please Be Mine." Burch's songwriting and voice is wholly complemented by guitarist Dailey Toliver's delicate instrumentation, creating a thoroughly-nuanced album perfect for these telling times when all we really need is a bit of love. —Annie Black
41. Omni: Multi-Task
Multi-Task couldn't be a more perfect name for Omni's sophomore LP and follow-up to 2016 debut Deluxe. It's the musical and lyrical equivalent of everything happening at once. With newly sharp production and even jerkier guitars than before, guitarist (and former Deerhunter member) Frankie Broyles, bassist/vocalist Philip Frobos and drummer Doug Bleichner create hectic but contained collages of young, restless, lonely, and broke twentysomethings overextending their way through life. Of special note is how much anxiety Omni can impart with so few elements. "Date Night," which chronicles the worries over an expensive romantic encounter, uses one guitar, bass, and a drum kit to successfully convey his mental state. "Tuxedo Blues" gets by on a pounding drum line and the album's shrillest guitar work, Frobos's bass again taking a backseat as he recounts a fairly eventful and stressful evening. —Max Freedman
40. Fleet Foxes: Crack-Up
After Fleet Foxes' rustic self-titled debut took off unexpectedly in 2008, frontman and creative force Robin Pecknold poured himself into its excellent follow-up, 2011's Helplessness Blues. Then he moved to Portland and dropped out of public life, seemingly willing to check out for good. Thank the heavens he didn't. Crack-Up is at once sumptuous and ambitious, a serpentine journey from the center of harmony-drenched folk-pop out to the edge of Pecknold's brain and back. It is lovely, strange and generous, and ultimately a very welcome return for the Seattle band. Crack-Up sounds like a band that has become perfectly comfortable with its wanderlust. The evidence comes early, as opening track "I Am All That I Need / Arroyo Seco / Thumbprint Scar" is three songs in one, evolving from yawning anti-tune to orchestral gallop to a collage of cozy vocal ooohs, sloshing water and found sounds.—Ben Salmon
Read: Fleet Foxes: Two Opposite Ideas
39. Bedouine: Bedouine
Bedouine sounds like a hot summer afternoon, where nothing moves in the drowsy stillness but the beads of condensation sliding down a tall glass of something iced. Azniv Korkejian's voice is a confiding murmur, and she sings in languorous tones accompanied by simple guitar or piano arrangements augmented by elegant strings and muted horns. It's an uncommonly subtle collection, with a classic sensibility that evokes singer-songwriters of the 1960s and '70s. Writing topically without being heavy-handed, Korkejian addresses the ongoing destruction in her native Syria, especially in Aleppo. For example, "Summer Cold," a foreboding tune with stabs of noir-ish guitar, was "a reaction to learning that weapons provided by America were finding their way into the hands of terrorists." —Eric R. Danton
Read: Bedouine: The Best of What's Next
38. Spoon: Hot Thoughts
Nine albums in, Spoon might have finally cracked the code. Hot Thoughts succeeds first and foremost as a disarmingly subtle way of taking a meaningful evolutionary step as a band. Even a quick listen reveals that the Austin vets have taken their sonic palette to its most adventurous conclusion. It's not the first time they've been willing to bathe their sound in synthesizers or other electronic treatments (witness "New York Kiss," or "Was It You"), but it's the first time they've let some of the elegant sonic spaces truly overtake the record. In many ways Hot Thoughts feels like a tribute to David Bowie, who personified the elusive bridge between the conflicting pop, punk, art and party impulses that the Gen-Xers have always struggled to find. It is crisp, arch and flowing, proving Spoon to be among Bowie's most astute heirs in spirit. —Jeff Leven
Read: Ranking All Nine Spoon Albums
37. Japanese Breakfast: Soft Sounds From Another Planet
Michelle Zauner, sole creator of the indiepop project Japanese Breakfast, made 2016's Psychopomp amid the death of her mother from cancer, a catastrophic event that can easily send anyone down an unfamiliar path. For Zauner, it meant an ongoing search for solace in loss. Soft Sounds From Another Planet continues that journey. It's a somber, starry lullaby that results in periods of fitful sleep marked by struggles with fading love and death's vague mystery. But there's something comforting about the record too, with its interlocking muted chords, muffled drums, and sudden shocks of electric guitar that add sharp slices of lightning. Soft Sounds is full of pretty interludes of ambient noise mixed with shoegaze and electropop touches. —Emily Reily
Read: Paste Interview with Japanese Breakfast's Michelle Zauner
36. Melkbelly: Nothing Valley
This is the fun part, when a promising band seems to emerge fully formed, from out of nowhere, with a great debut album. Melkbelly are an affably disruptive Chicago comprising singer-guitarist Miranda Winters, guitarist Bart Winters (her husband), bassist Liam Winters (his brother) and drummer James Wetzel. Cramming what should be an unworkable heap of concepts and sounds into a deliciously volatile 35 minutes, Nothing Valley is a bracing blend of scraping noise and tender melody, not unlike the recipe used by Speedy Ortiz. Appropriately, it's issued on the Carpark Records imprint Wax Nine, supervised by Speedy boss Sadie Dupuis. Nothing Valley captures the exciting details of the guitars and drums, yet leaves Winters's voice just fuzzy enough to induce uncertainty. —Jon Young
35. Diet Cig: Swear I'm Good at This
It feels like Diet Cig have been around far too long for Swear I'm Good at This to be their debut album. The New York-based duo released their five-song Over Easy EP more than two years ago. Frontwoman/punk sprite Alex Luciano's earnest teen angst and the EP's undoctored, authentic sound caught critics' ears, and the band's rollicking live show helped them build a sizable fanbase. Then something wonderful happened: Luciano grew up. Swear I'm Good at This is the now-21-year-old's coming-of-age story, and it's an engaging one, full of awkward moments, breaking hearts, insecurity and a discovery of power. She is variously angry, melancholic, infatuated, frustrated and wide-eyed. And it shows the most effectively when drummer Noah Bowman lays off the kit and, over quiet guitar chords, Luciano belts out a simple, anthemic line. —Zach Blumenfeld
Read: Diet Cig: The Best of What's Next
34. St. Vincent: MASSEDUCTION
Many long-time St. Vincent fans would say that each of her albums, upon its release, has felt like her best yet. As expected, then, MASSEDUCTION's explosions of the futuristic guitar pop that she mastered on 2014's St. Vincent are gratifying, strange and addicting. What's unexpected are the ways Annie Clark keeps her music compelling this go-round. She has long been known as a formidable guitarist—she can shred when she wants to, but she tends to relegate her prowess to crunch-smashed riffs that growl like a motorcycle engine. MASSEDUCTION is the first St. Vincent album to push her guitars to the side, favoring flashy drum machines and roaring synth patterns. Clark will likely never abandon the guitar entirely, but these days she seems more content to use it as texture rather than foundation. —Max Freedman
33. Penguin Café: The Imperfect Sea
While Arthur Jeffes has been continuing the work of his father Simon's Penguin Café Orchestra for the past decade, it hasn't been until this year that this project—known now simply as Penguin Café—has graced the world with a major release (the contemporary ensemble's first two LPs were self-issued). Thanks to the efforts of British label Erased Tapes, longtime fans and new listeners can now fully appreciate how well the younger Jeffes has captured the austere wonder of his father's initial work—a blending of minimalist classical, airy European jazz and ambient—and expanded upon it with care and delicate modern touches. The Imperfect Sea flows by like the gentle path of a creek as it tumbles through a lush forest. The movement is repetitive and steady with cyclical melodies rolling calmly through each song, but allows for small tributaries of sound like the riveting drones of "Rescue" and the flourishing piano lines of "Now Nothing (Rock Music)." —Robert Ham
32. Ty Segall: Ty Segall
The prolific California shredder offers no overarching concepts, themes or consistent styles on his self-titled album. Instead, the nine songs distill his many talents into his most concise album in years. Opener "Break a Guitar" is a ripping statement of purpose, the kind of bombs-away rock 'n' roll fans can always depend on Segall to unleash, regardless of which genre he's tinkering with. The album's secret weapon comes in the not-so-subtle touch of ordained punk saint Steve Albini, whose crisp, low-end touch forces the crushers to flatten and the gentler songs to ring bell clear. While Albini allows the crunching tenacity of "The Only One" and combustible licks of "Freedom" to truly pummel, it's the openhearted lead single "Orange Color Queen" that really steals the show. Ty Segall provides a neatly packaged summary for why the singer is a modern rock 'n' roll treasure. —Reed Strength
31. Laura Marling: Semper Femina
Still only 27, British singer-guitarist Laura Marling has maintained the early pace of her favorite singer-songwriters—Dylan, Cohen, Mitchell—producing a new album every two years while becoming a more ambitious writer and arranger with every release. Following 2015's Short Movie, a transitional album where she switched to electric guitar and sharpened her observational skills, Marling teamed up with producer Blake Mills (Jim James, Alabama Shakes, John Legend) in Los Angeles with the intent of crafting a lusher, more varied set of songs. The pairing works, adding soulful bounce to her occasionally brittle hooks and orchestral heft to her simpler arrangements. Semper Femina represents a new type of writing about women. Political without being polemical, Marling filters her narrative sketches through a personal lens that neither over-idealizes nor under-romanticizes her subjects. —Matt Fink
30. Kaitlyn Aurelia Smith: The Kid
Kaitlyn Aurelia Smith left her home on Orcas Island to attend the prestigious Berklee College of Music, then shuttered her folk band after discovering and becoming enamored with the Buchla 100, an early synthesizer developed by electronic music pioneer Don Buchla. Experimenting with the instrument's array of beats, tones and effects, she found her way to a unique sound she has inhabited ever since. Smith is one of a small number of prominent musicians who use a Buchla creation as her primary instrument. The Kid is like being dropped into the middle of a bizarrely beautiful sound-world and enveloped by the warmth and wonder of one woman's relationship with a machine named Buchla. "An Intention" pairs her lush robot harmonies with a bed of music that seems to rise and fall like it's wheezing. And "A Kid" collapses into a pit of knocks and sproings before ascending into Smith's liveliest vocal performance to date. —Ben Salmon
29. Nai Palm: Needle Paw
Fans of Hiatus Kaiyote, the future-soul quartet that burst out of Australia following their cacophonous debut album, Tawk Tomahawk, in 2012, may be in for a shock when they hear the solo debut by the group's frontwoman, Nai Palm (aka Naomi Saalfield). Although her incredible artistry and emotional gravity are ever-present, much of Needle Paw strips away the lush instrumentation found on Hiatus Kaiyote records in favor of just a guitar, a voice, and some light accents here and there. The shift is especially noticeable because several of the songs are reworked versions of earlier Hiatus tunes, such as the ethereal "Atari" and the slinking "Molasses." Saalfield loops and layers her elastic voice into swirling clouds of soul, and she shows off her facility for interpreting and updating classic sounds with a powerful cover of Jimi Hendrix's "Have You Ever Been (To Electric Ladyland)." —Claire Greising
28: The xx: I See You
By all accounts, the third album by The xx was a make or break point for the band. After two acclaimed and brilliant albums of electronically-fueled downer pop, producer Jamie XX, bassist/vocalist Oliver Sim and guitarist/vocalist Romy Croft were unsure how to continue or, at times, even if they should. But through a healthy amount of trial and error, the trio emerged with their strongest statement yet. The beats and production are bold, multicolored affairs informed as much by grime and hip-hop as by minimalist pop and soul. And the emotions brought forth by Croft and Sim through their individual vocal turns are wrenching and true. The xx sees us, but those glances only served up reflections of their own emotional peaks and valleys. —Robert Ham
27. Julie Byrne: Not Even Happiness
Julie Byrne is from New York City. And Seattle. And Chicago. And Buffalo. And probably other places, too. Either she has moved around a lot, or she's from everywhere and nowhere all at once. Her second widely distributed album, Not Even Happiness, makes a strong case for the latter. Built mostly out of expertly fingerpicked guitar and Byrne's entrancing alto, the nine mystic folk songs wander the physical world: passing clouds and restless stargazing, hellish cities and endless roads, blue skies, bright moons and quiet back porches. Along the way, Byrne uses earthly concerns as a backdrop for explorations of love, loneliness, fear, forgiveness, spirituality and the eternal search for life's center. With a quiver full of memorable melodies and reverb that stretches to the horizon, this album is at once engaging, enigmatic and irresistible. "I have dragged my lives across the country," she sings on "I Live Now as a Singer," the luminous final track, "and wondered if travel led me anywhere." That's for Byrne to decide, of course. But Not Even Happiness is a beautiful and rewarding journey. —Ben Salmon
Read: Behind the Scenes With Julie Byrne & Johanna Warren in Portland
26. This Is the Kit: Moonshine Freeze
Kate Stables is usually the only person in This Is the Kit's press photos, yet her fourth album, the beautiful Moonshine Freeze, is a communal affair. The ensemble cast of collaborators she's gathered for her fourth album allows her to employ new arrangements and access deeper emotions. With legendary producer John Parish (PJ Harvey, Perfume Genius) and The National's Aaron Dessner (who produced TITK's previous album, Bashed Out) offering their support, Moonshine Freeze is the peak of an uphill path Stables has traced since her earliest recordings. She is the ghost haunting the propulsive rhythm of "Hotter Colder," and her softly spine-rattling coo on "Empty No Teeth" enlivens its often gory imagery. Her singing on "Two Pence Piece" ensures its soft violence punches into the ears, and most boldly, on "Riddled With Ticks," the way she hovers repeatedly over the phrase "will fight you" before it becomes "will lose" is jarring. —Max Freedman
25. SZA: CTRL
The first lady of Kendrick Lamar's Top Dawg Entertainment, SZA acquired a cult following with her 2014 mixtape Z, a downtempo project rife with ambient beats and understated vocals—a pleasing combination for fans of artists like XXYYXX and Sky Ferreira. On her debut LP, SZA trades Z's whispery vocals for a robust timbre steeped in jazz and soul, evoking Amy Winehouse and earlier predecessors like Billie Holiday. In keeping with jazz tradition, there's an improvisatory quality to the way she sings throughout the album, unraveling structured pop hooks with stream-of-consciousness riffs and scat-like repetition. But in contrast to the self-seriousness that often comes with impressive vocal chops, CTRL is comically blunt: "Highkey, your dick is weak, buddy / It's only replaced by a rubber substitute," she croons on "Doves in the Wind." It's lines like these that make CTRL feel as intimate and fun as a slumber party with your best girlfriends. —Nastia Voynovskaya
24. Benjamin Booker: Witness
The most frequent criticism of New Orleans-based guitarist/songwriter Benjamin Booker's new music is that it's not what he did on his 2014 self-titled debut. They say he changed too quickly, too drastically. They miss the aimless rock 'n' roll. But on Witness, Booker's music emerges as defiant, insightful and both intimately and communally self-actualizing. For the most part, Booker leaves behind the punk-inspired blues rock of his debut. Sequels to the snarling "Have You Seen My Son" and the quick-hitting "Violent Shiver" can be found bookending Witness on the opening "Right On You," and less-than-two-minute closer "All Was Well." For the most part, Booker trades the yelping for melodic musings, offering a soulful, fearless record that castigates racial and social injustices. It's a reminder that our greatest chances for success happen when we grow and change together. —Hilary Saunders
23. The War on Drugs: A Deeper Understanding
With a title like A Deeper Understanding, it's incumbent upon the listener to at least attempt to deduce some of the impetus for the writing and the playing, which The War on Drugs deliver masterfully, in trance-like croons that more or less run in neutral, even when Adam Granduciel allows his voice to soar on songs like "Holding On." The band sounds best, though, when it puts the pedal to the floor on driving pop rockers like "Nothing to Find." Even when they sound like some simulation of rock music, The War on Drugs have the capacity to explode in relentless, dialed parameters that touch on everything from A-ha to Tom Petty and the Heartbreakers to Empire Burlesque-era Dylan. And perhaps that is A Deeper Understanding's greatest asset: its ability to bridge seemingly disparate eras of sound under one weird parasol. —Ryan J. Prado
Read: The War on Drugs on Blooming Late and Finding a Deeper Understanding
22. The Oh Sees: Orc
Orc, The Oh Sees' 19th release in 20 years, is an absolutely evil stunner from front to back, head to toes and everywhere in between, whipping up the same kind of radiant, strange awe that the band's overdriven catalog has so generously perpetrated on album after wicked album. Orc is immediately manic, overdriven, and intense on roiling opener "The Static God," forming a pounding fist of screeching guitars that gives way to a wordless chorus that pogos in stop-start guitar clangs, and continues to shapeshift and waggle in bizarre backroads of experimentation. Liberated somewhat from the jammy tendencies they explored on the likes of Castlemania and Floating Coffin, and venturing further into the loopy explorations of last year's A Weird Exits, The Oh Sees opt to take cues from any twisted source they so desire, smashing it all into an approximation of a rollicking garage-rock basement party. —Ryan J. Prado
21. Priests: Nothing Feels Natural
It took a minute for Priests to materialize with a full-length debut. Together since 2011, the Washington, D.C. quartet spent their first few years releasing a handful of tapes and 7-inches prior to recording the EP Bodies and Control and Money and Power in 2014. But this particular full-length debut turns out to have been worth a minute. On Nothing Feels Natural, the band's scattershot punk tantrums congeal into a more ambitious LP outfitted with deep post-punk grooves and anti-corporate screeds. It's a weightier, more cerebral collection that succeeds without sacrificing the raw force of this group's chemistry. If Priests have a signature sound, it is anchored by singer Katie Alice Greer's deep, exacting wail. It's a voice that lends itself to snarled critiques—of society, of shitty men, of consumerism. By chance or by design, Nothing Feels Natural is the first great punk album of the Trump presidency. —Zach Schonfeld
Read: Washington, D.C.'s Priests are Political, But Don't Call Them 'Riot Grrrl'
20. Kevin Morby: City Music
Singing Saw, the third solo album from L.A. singer-songwriter (and former Woods bassist) Kevin Morby, was one of the great "growers" of 2016. Dusky and unassuming, it revealed its considerable charms slowly but surely. Morby's follow up, City Music, mines a similar aesthetic, though its songs in general seem to endear themselves more quickly. Where Singing Saw was inspired in part by Morby's sleepy neighborhood in the hills northeast of L.A., City Music is about the metropolis: city life, city noise, city people, a city's pace, and so on. Morby has said Singing Saw was Bob Dylan and Joni Mitchell, while City Music is Lou Reed and Patti Smith, and the comparison is clear in Morby's speak-sing deadpan and bulging crescendos from brooding guitar-folk to driving rock. (The barreling "1234" makes a beeline for the Ramones.) City Music doesn't hustle and bustle. But it won't let you miss it, either. —Ben Salmon
Read: Kevin Morby Finds a Home Anywhere in the World
19. Sylvan Esso: What Now
Three years removed from their debut, the indie electropop duo of singer Amelia Meath and producer Nick Sanborn returned with a denser sound and a very different goal than the blissfully direct objective of "making people dance." The band called What Now a representation of "the inevitable low that comes after every high." Indeed, Meath and Sanborn dispense with many of the freeing and expansive sounds of their debut, opting to play instead with feelings of tightness, darkness and enclosure. Unlike the immediate sugar high of pretty much every track on Sylvan Esso, most of the melodies on What Now take a little while to unspool. The fuller, darker, and more chaotic sound is appropriate, grappling with and effectively communicating what happens after the party, when it's time to come down. —Kayleigh Hughes
Read: Sylvan Esso Master Purposeful Pop
18. Waxahatchee: Out in the Storm
When Katie Crutchfield released her last record as Waxahatchee, 2015's Ivy Tripp, she called the album a gas and her release before that, 2013's Cerulean Salt, a solid. Her fourth full-length, Out in the Storm, may not symbolize a physical state of matter, but it reveals Crutchfield as a scientific element in her own right—explosive, volatile and uncontrollable. At moments where Crutchfield used to put herself down, like on Ivy Tripp's "Less Than," she now talks back, standing up for herself, even to herself. She allows herself to get angry or frustrated, such as on "Never Wrong," the record's purely rock 'n' roll opening track. And she indignantly removes herself from a noxious relationship and asserts her independence on tracks like "8 Ball" and "Brass Beam," but later portrays the vulnerability and weakness that unavoidably merge with that withdrawal. —Natalia Barr
Read: Waxahatchee's Katie Crutchfield Gets Candid on Out in the Storm
17. Aimee Mann: Mental Illness
The songs on Mental Illness paint bleak, sparse pictures of characters pondering loneliness, mistakes and, in particular, their own lovability. The album chronicles the decay or outright termination of relationships of all stripes. But to dismiss Mental Illness, or Mann's work more broadly, as merely a club of sad sacks is too glib. Rather, she writes musical snapshots, documenting the smallest details to convey rich inner worlds. By eschewing the lush instrumentation of some of her early solo work, Mann and producer Paul Bryan give the record an exceptionally spacious feel; most songs find her singing over a piano or single acoustic guitar, augmented occasionally by strings or subtle harmonies. The spare arrangements highlight Mann's melodies—contemplative, longing, vulnerable—as well as her words—solitary, reflective, honest. —Craig Dorfman
Read: Aimee Mann on Mental Illness and 'Embracing the Soft Side'
16. Slowdive: Slowdive
Slowdive's brief and wondrous '90s run was like a pleasant dream: hazy textures, deep emotional heft that remained fuzzy around the edges and an end that came far too quickly. You knew you there was something special left behind in their wake, but it was fleeting and hard to piece together all the details. Slowdive, the band's first album in 22 years, manages to absorb elements from Slowdive's glory days without settling into mere retread. The lengthier, more expansive tracks are especially inspired. "Slomo" is a euphoric dream-pop workout with lyrics inspired by the Cornwall seaside, and it's among the band's best work. The twinkling piano arpeggios that anchor "Falling Ashes" bear a similarity to Radiohead's "Daydreaming," from last year's A Moon Shaped Pool. Maybe that's a coincidence, or maybe it's payback: Radiohead famously lifted the melting frequency effect at the end of "Karma Police" from Slowdive's "Souvlaki Space Station." It's heartening to see Slowdive survive long enough to borrow from the bands that got rich off their influence. —Zach Schonfeld
Read: After Two Decades Away, Slowdive Tiptoes Back to Center Stage
15. King Gizzard & the Lizard Wizard: Sketches of Brunswick East
Coming in as their third release of yet another mind-bogglingly prolific year, Sketches Of Brunswick East saw the Australian psych-rockers trying on a few new hats—making for one of the more unique offerings in their ever-growing catalogue. Teaming up with the Steely Dan-influenced, Mac DeMarco-backing Alex Brettin and his band, Mild High Club, the result is a pastiche of effortlessly cool, funk and jazz-laced tracks—a second life for a tragically-unhip genre. Brettin's influence is a calming one, evident in the jazzy shuffle and daydream flutes of the opening cut, and the funk-lite of "Countdown." "Tezeta" mixes Afro-rhythms and Michael McDonald-smooth vocals, "Dusk To Dawn On Lygon Street" adds extra dimension with the sounds of passing conversations and car horns, and "The Book" throws in some Doors-organ and spacey guitars to put the rock back in rock-fusion. Inspired by the Melbourne neighborhood where King Giz make their music, the collective feel is that of a technicolor, metropolitan dream-state—a stoney walk around romanticized cities that only ever existed in songs played on 70s AM radio. —Madison Desler
Read: The Tripped-Out, Magnetic Horror of King Gizzard & the Lizard Wizard
14. White Reaper: The World's Best American Band
The World's Best American Band, this Kentucky group's devilishly catchy second full-length, opens with the roar of an approving crowd. It is not a live album, and this sounds like a large audience packed into an amphitheater, the sort of venue White Reaper might be headlining in a more excellent world. The song that emerges is sheer self-affirming cock-rock ("Rally up and dress to kill / Lace your boots and crush your pills"), a motivational speech for greasy-haired dirtbags. On the album, White Reaper manage to distill all the strut and swagger of Thin Lizzy's "The Boys Are Back in Town" into a pithy, 10-song set. The production is a bit clearer and less sludgy than on 2015's White Reaper Does It Again, and the songs mark the quartet's most confident collection to date. Two of them ("The World's Best American Band" and "Little Silver Cross") even hurtle past the four-minute mark. —Zach Schonfeld
13. King Krule: The Ooz
Beginning with the clunky lounge-hop of "Biscuit Town," Archy Marshall employs street-smart rhymes in a fiendish croon on The Ooz. The track, like much of the record, warbles a bit, like a melted vinyl record with the needle gliding across the valleyed grooves. Allusions to lovesick lows and drug-haze highs dominate the musical panorama here and give glimpses into the somewhat reclusive Marshall's last four years beneath the moon. Partly due to Marshall's incredibly low register, songs throughout The Ooz take on frightful undertones, as howls and shrieks are riddled atop meditative musical ambience, like a Lynchian fever dream. There is something unsettling around every corner—the title connoting an exfoliation of biological detritus, which this album sonically approximates over 19 toxic tracks. It's not a record to absorb in desperate moments, but rather an artfully brooding, grime-y thing that stands as a terribly unique and nightmarish account of what it might sound like to spiral out of control. —Ryan J. Prado
12. Jason Isbell and the 400 Unit: The Nashville Sound
Jason Isbell is often called one of the world's best songwriters. That sort of expectation can be a challenge to live up to, but Isbell continues to sally forth, upping the ante in all aspects of his craft. The Nashville Sound, his first record with the 400 Unit since 2011's Here We Rest, is triumphant in its topical resonance, but draws influence from the timelessness of lyrical curiosity. Whether delivering heart-wrenching lines on the crumbling of the American Dream, or the crumbling of a relationship, each is given an equal shake, and that makes his songs unreasonably powerful. "Last of My Kind" recalls the melodic cadence of The Grateful Dead's "Friend of the Devil." "Cumberland Gap" is the first song to showcase the 400 Unit's riotous rock 'n' roll combustion. Isbell, maybe better than anyone else on the planet, can tap into the polarizing societal veins of the country's manias and transform them into anthems for (hopefully) much better days ahead. —Ryan J. Prado
Read: Jason Isbell: Taking the Hard Road Never Gets Easier
11. New Pornographers: Whiteout Conditions
The New Pornographers have spent their career seesawing between two sides of their collective musical personality, contrasting straightforward peppy, poppy records (2001's Mass Romantic, 2003's Electric Version and 2014's Technicolor Brill Bruisers) with less accessible and at times gratuitously weird LPs (2005's Twin Cinema, 2007's Challengers and 2010's Together). Whiteout Conditions breaks the tie, unmistakably throwing its lot in with the former group. It's a fitting introduction to spring, a blast of synthesizers and harmonies and aural smiles. While AC Newman's knack for melodies is on full display here—every song invites head-bobbing or singing along—the album's success stems at least as much from his penchant for experimenting with arrangement and structure. Verses flow into choruses with such little fanfare, it hardly seems fair to call them choruses. Instead, the songs come off as collages of uniformly important but musically distinct melodic lines. —Craig Dorfman
Read: AC Newman Talks Politics, Lineup Changes and Whiteout Conditions
10. Sampha: Process
If anyone could've padded their sales/streaming numbers by packing a hotly anticipated debut with big-name guests, it's Sampha, best known for his previous supporting work with Drake, Beyonce, Kanye West, Solange and Frank Ocean, among others. But on his first full-length album, the British artist called in no favors and focused on his singular sound and vision. The results are glorious. Process is a study in contrasts: between Sampha's understated voice and his outsized melodic gifts; between his laid-back vibe and skittering beats; between forward-thinking production and a young man's old soul. But most of all, Process is a 10-track tug-of-war pitting Sampha's vivid, likable modern R&B against his inescapable feelings of anxiety, sadness, worry and uncertainty, whether driven by a romantic relationship or his mother's ill health. "You shake me and tell me that I'm OK," he sings in "Blood On Me," a sleek fever dream. "But I swear they smell the blood on me. I hear them coming for me." Process is the sound of a talented, successful guy simply trying to keep it together in an uneasy world. —Ben Salmon
9. Mount Eerie: A Crow Looked at Me
Over his prolific 20-year career, Phil Elverum has written lots of songs about mortality, probably second only to the number of songs he has written about nature. A Crow Looked at Me marks the first time he has written about death, and there is no album quite like it. Following the passing of his wife, visual artist and musician Geneviève Castrée, Elverum took a couple months to grieve and then sat down in the room where she died and recorded the 11 songs that make up his eighth release as Mount Eerie. Song by song, line by line, he speaks directly to Castrée and into her absence ("Real Death," "Toothbrush / Trash"). The results are as engrossing as they are emotionally devastating. More than words, what sticks with you are the images. Unlike other Mount Eerie albums, this one features very little tape hiss atmosphere or extra ambient texture, allowing you to hear every word Elverum says with clarity. But the music is not simple sonic wallpaper. The beats rise and fall, sounding eerily like a respirator. The instruments—all provided by Elverum—often enter and fade at unpredictable intervals, with tiny details buried in the mix. The music feels as unsettled and in-the-moment as the stories he is telling. —Matt Fink
Read: When Words Fail: Phil Elverum Navigates Life After Death
8. LCD Soundsystem: American Dream
Post-hiatus records tend to be mediocre attempts to rejuvenate the enthusiasm of the past. Fans probably applied this to James Murphy's band, wondering how American Dream, the first LCD Soundsystem record in seven years, could live up to 2007's Sound of Silver or 2010's This Is Happening. Thankfully, American Dream is a beautiful work of art about aging, regret and an arduous search for meaning, an expansive record that explores a variety of sounds and themes, but it never feels confused or lost. As Murphy's vocals dreamily weave their way into the intro of opening track "Oh Baby," you immediately know that this is a different LCD Soundsystem. The frantic energy of hits such as "Get Innocuous!" and "Movement" is gone, but not necessarily missing. Sonically, American Dream is more spacious than its predecessors. This dreamscape suits a record that's aware of beauty in life, but invariably realizes that what it once thought was beautiful is merely an empty void. —Grant Sharples
Read: Is It Really Rock 'n' Roll Without Guitars? Yes, It Is.
7. Alvvays: Antisocialites
On Antisocialites, Alvvays haven't lost their knack for writing concise indie pop songs that rival the best of Camera Obscura or Belle & Sebastian. By adding a warm synth sheen for their sophomore release, the Toronto-based quintet manage to make their jangly guitars seem even lusher. They've achieved what every band strives for on a sophomore album but most fail to do—namely, strike the middle ground between making the same record twice, and wanting to evolve and change their sound. By tweaking their songwriting ever so slightly, Alvvays one-up their 2014 breakthrough record. "Plimsoll Punks" plays like a fuller, more tightly wound "Next of Kin;" "Dreams Tonite" is a supercharged, groovier take on "Ones Who Love You." Molly Rankin & co. have dissected every minute detail from their debut and figured out how to truly improve upon each part, one by one. Those small flourishes—a more pronounced synth line here, an unexpected key change there—don't distract from what makes Alvvays great; they've only made the overall sound better. —Steven Edelstone
6. Sheer Mag: Need to Feel Your Love
On their full-length debut, the Philly rock quintet Sheer Mag flex less and strut more than on their previous EP releases. Guitarist Kyle Seely's wellspring of riffs and licks, which sound like they were unearthed from a late-'70s time capsule but somehow never got old, meld classic-rock, proto-punk and hard-soul sounds in inventive and addictive ways. Tina Halladay's vocals are imbued with a combination of tenderness and tough talk that doesn't come along often. She uses her voice skillfully, pushing it to its straining point on populist jams like "Rank & File," but scaling back the astringency when love and longing are the subjects at hand. Some of the guitar sounds, as on "Pure Desire" and "Need to Feel Your Love," are more influenced by funk, soul and disco than rock, snapping and moving like Seely's got a few Chic records in his collection. "Just Can't Get Enough" spills over with guitar and vocal melodies that shimmer and soar. "Milk & Honey" jangles at a relatively leisurely pace, while "Until You Find the One" reveals Sheer Mag's underused twangy streak. —Ben Salmon
Read: For Sheer Mag, Balancing Protest and Play in 2017 Is a Tricky Business
5. Courtney Barnett & Kurt Vile: Lotta Sea Lice
In a year fraught with emotional intensity and existential drama, the lighthearted Lotta Sea Lice, the collaborative album by Courtney Barnett and Kurt Vile, was a welcome change of pace. Rooted in the artists' mutual admiration, the album finds the Aussie Barnett and American Vile celebrating one another in ways that highlight increasingly revealed common ground. What began as an idea for a split single evolved into a full-length, and that evolution is on full display. The duo's piecemeal approach to recording—two recording sessions over almost 15 months—is heard in the final product, and what the album lacks in structural consistency it repays in undeniable chemistry. Lotta Sea Lice finds Barnett and Vile making it up as they go to vital results. The album's meandering low-stakes approach projects the artists' comfort with and confidence in each other, illuminates their process and hints at greater possibilities. Opening track "Over Everything" highlights the recurring motifs of the album: the insular world of the artist, where it overshadows the wider world and where those worlds overlap. —Ian Thomas
Read: Catching Up With: Kurt Vile and Courtney Barnett
4. Run the Jewels: RTJ3
Killer Mike and El-P become full-fledged juggernauts on their third album as Run the Jewels, never compromising, never obstructed. "Militant Michael might go psycho / On any ally or arrival," Mike warns on "Talk to Me." "We talk too loud, won't remain in our places," El-P snarls on "Everybody Stay Calm." Run the Jewels have always been fearless, but here they are frank, the threats too real to risk ambiguity. There is zero shade on this album. Instead, there are direct confrontations and call-outs: Don Lemon and cops get their just desserts on "Thieves;" Donald Trump and All Lives Matter get suplexed on "Talk to Me;" reckless retweeters get splayed on "A Report to the Shareholders: Kill Your Masters;" land-grabbing developers in Atlanta's Cabbagetown neighborhood get blasted on "Don't Get Captured." RTJ3 isn't just a reaction to the shitshow that was 2016; it's a line-itemized receipt. The beats are just as abrasive. Usual suspects Little Shalimar and Wilder Zoby provide co-production throughout, contributing to some of the most nuclear compositions of El-P's career. Familiar elements abound—droning synths, cosmic bass, corrosive keys, glitchy sequencing—but the sum total is pure uranium. —Stephen F. Kearse
Read: Run the Jewels: 'Run the Jewels 3' Review
3. Father John Misty: Pure Comedy
Much has been made of the marriage of Josh Tillman's conventionally beautiful voice and accessible instrumentation with his nihilistic and irony-soaked lyricism. Here is proof that the relationship is working, and getting better with age. The title track serves not just as an entryway into those larger themes but a summary statement of all that's to come. The cards are on the table and his worldview is explained with a voice as delicate as his observations are harsh. His mockery of birth, death, religion, consumerism and politics is matched with delicate piano-chord progressions pining for a solution to all those problems. Tillman's main source of dissatisfaction seems centered around the idea of humanity's insatiable desire for importance. This takes the form of organized religion ("When the God of Love Returns, There'll Be Hell to Pay") and politics ("Two Wildly Different Perspectives") and…everything else. Ultimately, beautiful music and community-in-communication—the two things Pure Comedy gives us—are what make our meaningless lives worth living. There's still something awe-inspiring about this "speck on a speck on a speck" existence of ours. —Mack Hayden
Read: The World According to Father John Misty
2. Kendrick Lamar: DAMN.
DAMN. isn't the personal journey that 2015's To Pimp a Butterfly was, and it doesn't try to be. DAMN. is Kendrick Lamar dead and Kendrick Lamar alive. It is Kendrick Lamar condemned and Kendrick Lamar redeemed. It is a meditation—or rather, a series of meditations—of his technical and emotional capabilities. Those meditations, on subjects explicitly named in songs like "PRIDE." "LUST." and "FEAR." are bound together as an examination of his own existence: his past, his present, his future, his disciples, his worshippers, his enemies and his worldview. When Butterfly came out, Lamar was coronated hip-hop's king and savior. Here he embraces the image, turning himself into messiah and martyr. He finds himself crucified on the very first track—his desire to do good, his outstretched hand to the blind of the world, turned upon him and used to undo him. On "DNA.," he's "Yeshua's new weapon," born of Immaculate Conception and eager to lead his people. But Kendrick Lamar is not Jesus. He can't help being human, and like the best among us, he is capable of, and often beholden to, a dark part of the mind. In highlighting the struggles inherent in his morality, he forces his listeners to consider their own. —Carter Shelter
Read: Ranking Every Kendrick Lamar Music Video
1. Jay Som: Everybody Works
Melina Duterte begins her sophomore album with a hushed, distorted couplet: "I like the way your lipstick stains / the corner of my smile." It's memorable, sweet and original bedroom pop, intimate but carefully orchestrated. The guitar tones play with pitch even more than current lo-fi kings Mac DeMarco or Kurt Vile, or much like Duterte's first instrument, the trumpet, whose imprecise notes can make a piece of music feel more human in our digital world. The vocals are buried and dreamy, surrounded at times by discordant guitars, especially on songs like "1 Billion Dogs." Moments of crunchy noise-rock make the clean pop hooks of songs like "One More Time, Please" stand out even more. Duterte plays all the instruments on Everybody Works, including some of the coolest psychedelic guitar solos recorded this decade, sometimes hidden within layers of jazzy, fuzzy counter-melody. It's both informal and intricate, carefully constructed then filtered through crappy speakers, like listening to Sun Kil Moon or Sufjan Stevens through a cell phone with someone you love on the other end. The result feels personal and vulnerable and, above all, beautiful. And it's our favorite album of 2017. —Josh Jackson
Read: Jay Som: The Best of What's Next
.