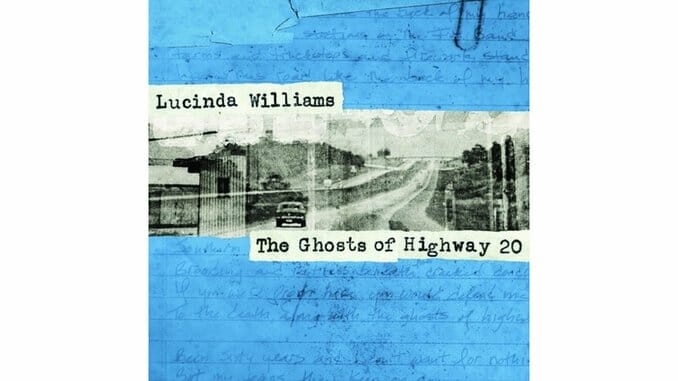 February was a strong month for reissues, reinterpretations of old tunes, and rediscovering old beloveds. In fact, three of our top eight this month aren't even artists with new or original works at all. Read on for a recap of the highest rated albums that Paste reviewed this month.
8. Matmos: Ultimate Care II
Rating: 8.5
Over the last 15 years, the Baltimore-based duo Matmos has managed to compose intelligent electronic music from source samples culled from surgical procedures, 16th-century war music and even parapsychological experiments. With Ultimate Care II, the creative couple sonically dissects the Whirlpool model the album is named after, which exists in the basement of the home they share with the help of an elite force of local acts who sometimes drop in to do their wash, including Dan Deacon, Jason Willett of Half Japanese and members of the severely underrated avant-rock outfit Horse Lords. Together, this ragtag ensemble proceeds to rattle, flip, filter and process the watery, domestic rhythms and drones to fine-tune a continuous 38-minute suite that lasts the exact length of a small load cycle. —Ron Hart
Read his full review here.
7. Lissie: My Wild West
Rating: 8.5
Lissie, in many ways, is emblematic of the millennial/post-millennial generation's golden promise: follow your dream, work social media, find believers, win! But after banging against a plateau, the young Midwesterner with the intriguing, earthy alto came to grips with the liar's poker nature of the dreams Hollywood feeds you. Pondering the loss of innocence, rise of awareness and acceptance over 12 songs and 45 minutes, Lissie demonstrates resilience in the wake of California/stardom's illusionary appeal. —Holly Gleason
Read her full review here.
6. Lake Street Dive: Side Pony
Rating: 8.6
Ten years in, and a fully realized Lake Street Dive had finally arrived and announced itself as a force to be reckoned with. Their new Nonesuch follow-up, Side Pony, provides both an encore and procedural evolution of the songs that were presented on 2014's Bad Self Portraits. The earlier tracks on the new record find the band adeptly grooving in the particular, difficult to categorize niche of neo-soul and jazzy pop that they've made their signature, and one initially fears if perhaps there's been little additional growth. The revelation of Side Pony, however, is in the album's final third. —Jim Vorel
Read his full review here.
5. DIIV: Is the Is Are
Rating: 8.7
The sort of lush, reverbed guitars DIIV traffics in have always been my go-to when it comes to experiencing the transcendent. Mastery of a pedal board can really bring you to the altar if it's your thing. Is the Is Are will take you one listen to decide whether you're on its team. For those who don't go in for this type of music, the good thing about the modern world is there are a lot of people with advice as to how you can be saved, renewed and/or rejuvenated. But for those who think the way to Heaven is through a chorus pedal, this record will take you there without ever losing sight of what it's like to go through Hell. Smith knows the way up is through taking a hard look at the depths. Two albums in and he's proven himself to be a terrific guide of the earthly and the eternal alike. —Mack Hayden
Read his full review here.
4. Elliott Smith: Heaven Adores You Soundtrack
Rating: 9.0
Though the Elliott Smith documentary Heaven Adores You was released last year, the accompanying soundtrack is only just now coming out. The album is set up to be a summation of Smith's career, not solely a rarities set. Thus, it includes a previously unreleased version of "Christian Brothers" recorded with Heatmiser, the band Smith was in before going solo. The record's two live numbers also capture the sudden transition Smith experienced when his career crossed over to the mainstream from the indie realm. The instrumentals, however, are perhaps the most interesting; as unfinished tracks, you're left to imagine the words Smith might have added to his work. —Gillian G. Gaar
Read her full review here.
3. Michael Jackson: Off the Wall Reissue
Rating: 9.0
This reissue of Off the Wall, originally released in 1979, includes brand new packaging and a copy of the Spike Lee documentary Michael Jackson's Journey from Motown to Off the Wall. Just 21 years old when the album came out, Off the Wall is Jackson's first statement of musical independence, shaking off his teen idol past as lead singer of the Jackson 5, and emerging as a compelling new adult talent. It was a moment when the possibilities must have seemed endless. In particular, the slower songs on Off the Wall, highlight Jackson's vocal abilities, while the upbeat strut of the rest of the album underscores his versatility. It's a winning combination that makes Off the Wall sound so relevant nearly 40 years later. There were greater career successes in the years ahead for Jackson. But never again would he sound so fresh and optimistic in his work. —Gillian G. Gaar
Read her full review here.
2. Various Artists: God Don't Never Change: The Songs of Blind Willie Johnson
Rating: 9.0
Blind Willie Johnson was a mean slide guitarist, but it's his commitment to gospel that means you can enjoy him and never listen to any other blues performer. His songs are songs of faith from the bottom of a man's soul and the top of his conviction. He sang about God with a muscle, fire and grit that is unrivaled and impossible to replicate. Songs that will never grow old. It's blood-and-guts religion, pure hard gospel, from a man who meant it and believed it. He gets to you. So it's easy to understand why someone would pour the better part of a decade into a tribute album for him, as producer Jeffrey Gaskill did with God Don't Never Change: The Songs of Blind Willie Johnson. With covers and interpretations from aritsts like Tom Waits, Lucinda Williams, Cowboy Junkies and Lone Justice's Maria McKee, this is simply the best Americana album of the year. It reminds us all the way out here in 2016 that Blind Willie Johnson's songs are still alive, and there is no better way to pay tribute to one of the finest American artists who ever lived. —Kaleb Horton
Read his full review here.
1. Lucinda Williams: The Ghosts of Highway 20
Rating: 9.3
In the late '80s, Lucinda Williams emerged as the patron saint of busted love and broken dreams. At 63, Williams has seen enough life to know more than the brutal ache of love-gone-wrong's agonies. Having flirted with death, loss and mourning in 1998 with Car Wheels' "Drunken Angel" and in 2007 with West's "Mama You Sweet" and "Fancy Funeral," mortality emerges as a matured theme on Ghosts. But what could be a sad or ruminative record is more a triumphant road reflection. Adult work, Ghosts hits the gut, the soul and the grey matter. —Holly Gleason
Read her full review here.