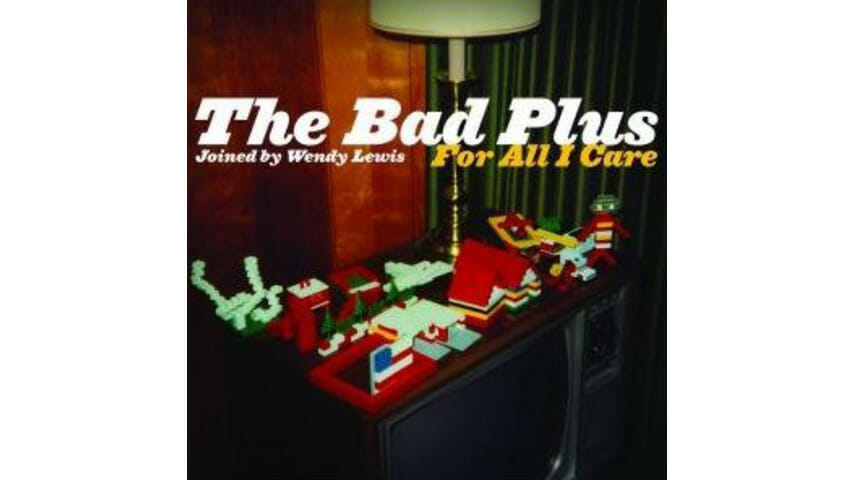 Twin Cities alt-jazzbos take another bite out of the rock canon: this time, with vocals
It's a "your peanut butter's in my chocolate" musical conundrum: Are Minneapolis' Bad Plus a jazz combo with a healthy appreciation for modern pop, or a power trio that just happens to have strong feelings for jazz? Both, as it happens, and on the band's fifth studio LP, For All I Care (as in the Kurt Cobain lyric from "Lithium," which the trio covers here in typically skewed fashion), they add vocals to the mix for the first time as if to put their confusing array of footprints in cement, once and for all. Fellow Minnesotan Wendy Lewis serves as the trio's vocal muse on an album of cover songs spanning the rock universe, as represented by a sorta-faithful rendition of Pink Floyd's "Comfortably Numb"; a skeletal, bass-heavy reading of Wilco's "Radio Cure"; a McCoy Tyner-meets-Thelonious Monk spin on Yes' "Long Distance Runaround"; and idiosyncratic takes on Stravinsky's "Variation d'Apollon" and Liget's "Fém." If this all sounds like a dog's breakfast of sound, it is—the tunes themselves only occasionally work, with a dark-hearted gem like The Bee Gees' "How Deep Is Your Love" followed by a strangely mute iteration of Heart's "Barracuda" as though the two were meant to forever stand side-by-side as strange bedfellows. But for all of The Bad Plus' instrumental prowess and fearless exploration, it's Lewis' voice that stars here, bending notes and emotion to her will like so many coat hangers left outside in a tornado.
Listen to The Bad Plus on MySpace.