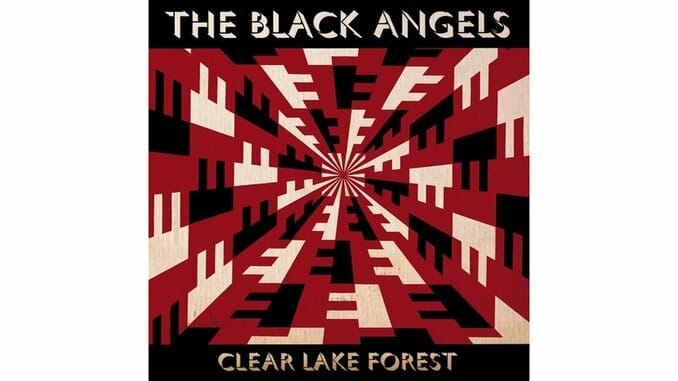 The Black Angels are extremely good at figuring out ways to propel their psychedelic mischief forward without worrying all that much about its current influx of popularity. The Austin band's run of sinister, washed-out soundscapes has taken it from obscurity to elder-statesmen status in a matter of only a decade or so, filing down the familiar calling cards of psych to focus on strong songwriting, anchored by vocalist Alex Maas' flatlining cadences.
On Clear Lake Forest, the Angels' haunted harmonies dig through lazy pop scorchers, as heard on album opener "Sunday Evening," as Maas' adolescent melodies proffer the inquiry, "What if I told you everything you know isn't even really true?/ What if I told you nothing matters in the end?" Buoyed by guitarist Christian Bland's blues-y drones and snappy, jangled strums, the tune's initial snail's pace is ramped up for the chorus and reverbed-out in the verse, vaunting a trippy tempo shift that exacerbates the band's wall-of-sound aesthetics even further.
"Tired Eyes," Clear Lake Forest's second track, diddles in a driving drum beat and interestingly shoegaze-y repetition, Maas' vocals marching in tandem to some cathartic chord changes and lots of wah-pedal hysteria. Deeper down the rabbit hole, strange shades of the band's 2013 LP Indigo Meadow rear their creepy heads on "The Occurrence," a vague, organ-heavy tune that sounds like a trance-inducing folk song on about three cups of ayahuasca.
"The Executioner," in turn, follows the horror-film framework with an easy lead guitar mimicking some broken record-type ambiance while Maas bellows, "Do what you should, honey/Be a good girl, darling/'Cause you'll meet the executioner one day."
Clear Lake Forest is a quick listen at just seven songs, but The Black Angels have the wherewithal to pack in enough volleying moods that you feel like someone has sprinkled DMT into your smokes. You know—if you're into that sort of thing.