Taking a Plunge With Kim Deal of The Breeders
The bandleader charts the years between her and her sister Kelley's musical genesis and the making of Last Splash in 1993
Photo by Gie Knaeps/Getty Images
Music
Features
The Breeders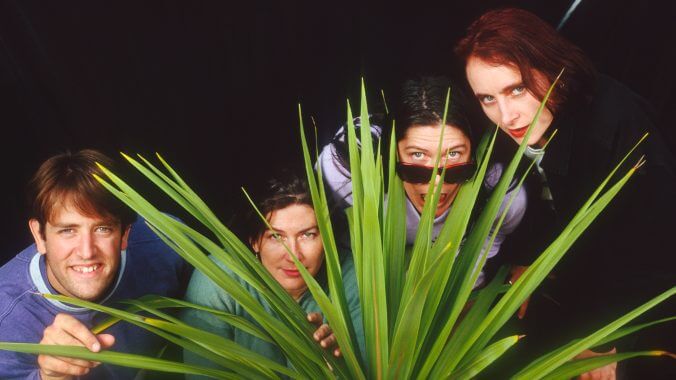 From her hotel room in the middle of Utah, Kim Deal can't help but show me just how horrible the sky is outside. She leaves her laptop on the desk and goes to the other side of the bed, pulling the curtains back and trying to narrate a brightness that is skewed heavily by the pixelation of a camera lens. It's loud and, in her own words, looks like a "biochemical laboratory" or a "grow room." Let the record show that this is occurring only a minute into our interview and that the not-so-picturesque view Kim has been sequestered to in-between gigs in Big Sky, Montana and West Valley City, Utah has clearly been on her mind for a good while before she logged on. But Kim and her music have been such an important, enduring fixture in my life; I'd be happy to listen to her riff on cross-country landscapes and metropolitan business for hours. Quickly, though, she sniffs out that I'm from Columbus, Ohio—just a stone's throw from her home in Dayton—and quickly brings up how good it is to have Joe Burrow quarterbacking the Cincinnati Bengals. If you were a fly on the wall of this Zoom call, you'd never believe that the agenda today was to talk about Last Splash.
I grew up on Kim's music, be it hearing her sing lead on the Pixies' "Gigantic" for the first time as a teenager or seeing her and The Breeders play an opening set during Nirvana's Live and Loud performance in 1993 via a low-resolution YouTube video. When you come from Ohio and you learn that the greatest rock musician you've ever caught a glimpse of is also from Ohio, there's no greater gravitational pull than the energy emanating off of that shared orbit. Kim and her sister Kelley grew up in Dayton in the 1970s—or the "sevs," as Kim affectionately puts it—when the city was the unofficial funk capital of the world. The twins were—and still are—the only members of their family who were not born in West Virginia. By the time they graduated high school in '79, the Midwest was largely populated by rock bands who toured through Ohio constantly—like Rush, Ted Nugent, Black Oak Arkansas and The Outlaws. "Marshall Tucker Band!" Kim blurts out, after humming the Outlaws' song "Green Grass and High Tides." She and Kelley would hole up at the Hara Arena in the Trotwood suburb, siphoning all they could from the wayfaring troubadours who'd pencil Southwest Ohio into their itineraries.
It was the time of the guitar hero for Kim, be it Nugent or the Schenker brothers. She's quick to note that the Eagles never played gigs at Hara, but that UFO did. She tells me about some of her most precious and formative concert memories—like seeing X play to a near-empty room at Bogart's in Cincinnati or seeing a triple-bill of Stevie Ray Vaughan, the Moody Blues and Lynyrd Skynyrd at the Riverfront or being mesmerized by Heart's opening set before a Beach Boys set. Kim's older brother was a disco guy and would wear white suits and go out to bars with his friends and dance and try to pick up women. "That was their thing, I thought it was stupid," she asserts. The funkified world of Parliament and Ohio Players and James Brown was always in a close proximity to her, but she was much more drawn to the Heartland heaviness and Rust Belt attitudes of rock 'n' roll. Kim learned how to play guitar at 13 and began writing songs shortly after, and she and Kelley would start doing four sets a night at the Ground Round—playing covers and original songs. For her and Kelley's birthday one year, she asked for a Yamaha keyboard and—after they got it—they used their grandfather's toilet seat as the stand and would lug it around to bars across the Oregon District.
Kim made folk music with Kelley for much of high school and then for a few years after, while she was cycling through different colleges—including Ohio State and, eventually, Kettering College, where she would get an associate's degree in medical technology and work in the cellular biology field as a lab technician. It was when she got married to John Murphy in 1985 and moved to Boston with him that she'd tumble into the music industry in a real meaningful way for the first time. "I was thrilled," Kim says. "I thought the city was very vital and very interesting. Back then, there was no internet or anything, so what you would do is you would look at the Boston Phoenix and flip to the back pages and you'd see all of these bands looking for musicians. And a lot of them would be like, 'Need a drummer. Professional attitude only. Chops: A must.' I was like, 'Gah, some people. Some people.' You know, you just look and see what's going on and then, there was one where it said something about no chops. It was so great. That's who I called and they were looking for 'bass player/harmony'—so we started playing together."
That band was the Pixies, and Kim would go on to become an integral force for them for seven years—playing bass and singing on Surfer Rosa and Doolittle, two of the most important alt-rock records of the 1980s. It was there that Kim became a rock star and a living legend, inspiring an entire generation of women to pick up an instrument and absolutely shred. There's a photo of Kim from way back then where she's smoking a cigarette during a Pixies gig, and I'm absolutely positive that no musician has ever looked so cool or made smoking seem like such a worthwhile hobby to pick up. She'd co-write "Gigantic" with Black Francis, and it endures—in my opinion—as the best Pixies song; her slide guitar on "Silver" lives rent-free in my brain to this day. When I interviewed Jenny Lewis earlier this year, she mentioned that the defining moment for her wanting to become a musician was seeing Kim play bass at Dodgers Stadium in 1989, when the Pixies were opening for The Cure. Log into Twitter any random day and there's a high probability that someone on your news feed is talking about how great of a musician and how badass of a person Kim Deal is—and it's usually just an unprompted extension of gratitude someone picked up after listening to "Cannonball" or something.
During her time in Boston with the Pixies, Kim met Throwing Muses and became close friends with their frontwoman, Tanya Donnelly. The two bands would tour together and become labelmates until—around 1989—when someone in Throwing Muses got pregnant and had to take a hiatus, and Kim and Donnelly began playing guitar together in their apartments. Shortly after, 4AD's founder, Ivo Watts-Russell, caught wind that the two women were playing together and asked them to make some demos. At that point, The Breeders were born—and it happened organically. "It wasn't like, 'I will bring Tanya here and we will begin working on our monumental album,'" Kim adds, mimicking an epic, towering inflection. "I wouldn't have even said we were making demos. I would have just said we were recording what we were making up. The record company would probably call them a 'demonstration' of what we were playing, but I would not have even called it a demo."
The first iteration of The Breeders would be Kim on rhythm guitar, Donelly on lead guitar, Britt Walford on drums and Josephine Wiggs on bass, and they would record Pod with Steve Albini in January 1990. Boasting a melting pot of geographical home bases—Kim being from Ohio, Donelly from Rhode Island, Walford from Kentucky and Wiggs from England—the assemblage of The Breeders was nothing short of a lightning-in-a-bottle touch of miraculousness. I ask Kim how she met Wiggs, especially, given that the bassist remains an integral figure in the band in 2023. "We were doing a Pixies show in London and [Wiggs' band] Perfect Disaster opened and I said hello to her," Kim notes. "And then, at some point, we were playing a show in Germany and she was at the show with her girlfriend. After the show, I hung out with them—and I was very buzzed on beer all night long. The sun was coming up and Josephine was like, 'You need to find your bus.' So, I probably just had her contact and said, 'I'm doing something, do you want to do something?'" As for Walford's entry into the group, it's a little less concrete—as Kim swears that him joining the band was Albini's idea, that she doesn't even remember meeting him until the foursome was in Biggleswade rehearsing Pod at Wiggs' family's house.
The legacy of Pod is almost mythical in a way, thanks to the British magazine Melody Maker labeling The Breeders a supergroup (mainly because of the then-shared universe of Pixies, Throwing Muses, Perfect Disaster and Slint) upon its release and Kurt Cobain calling it one of his favorite records of all time. But Kim didn't pay much attention to any of that. "I didn't think, 'Let's make an indie supergroup, Tanya,'" she says, snickering in a mischievous tone. "This was just a girl that I knew who was in a band." What made that distinction and title even more odd to Kim was the fact that Pod was an import-only record, much like Surfer Rosa had been two years prior. "You had to go to the 'import' section with plastic sleeves and buy that record from Newbury Comics, because the records were not manufactured in the United States," she says. "So, you know, I'm sitting in my place in Boston and then I go overseas and it says 'indie supergroup.' It's like, 'We don't even sell these records in America.'"
The Breeders would sell records in the States eventually, after catapulting fully into the limelight in 1992—when Jim Macpherson replaced Walford and, after Donelly was planning to form her own band Belly, Kelley was asked to join the group and play guitar (even though Kelley did not know how to play guitar). Nirvana would have The Breeders open for them on the European leg of their Nevermind tour that year, too. In retrospect, it was a huge, huge deal for the biggest rock band in the world to have a woman-led group (or, as Kim puts it, "chick bands") open for them. Yes, of course, they would have bands like Teenage Fanclub and The Melvins foot the front of the bill often—but ushering in The Breeders was a seismic shift that Dave Grohl continues to practice even today, by having Wet Leg and Courtney Barnett open Foo Fighters gigs. When it was happening back then, though, Kim wasn't all that tuned in to what it meant for the social conscious of rock 'n' roll. "I didn't think of it as a movement or a revolution, [Cobain] did really like Pod," she says. Perhaps it wasn't a movement as much as it was a door being cracked.
Nirvana would have The Breeders open for them again a year later and they'd share a Live and Loud concert for MTV, along with Cypress Hill, at Pier 48 in Seattle, Washington (where that infamous Christmastime cover of Melody Maker featuring Kim and Cobain was photographed around the same time). Watching that concert is where I would go on to discover The Breeders for the first time, at the height of my Nirvana obsession—when smiley face T-shirts were a crucial piece of my everyday wardrobe. I could have talked to Kim all day about her time spent with Cobain, Grohl and Krist Novoselic, but I kept it brief—and she unveiled her favorite story to tell, about when Macpherson was puzzled by these "big back boxes" (monitors) next to Grohl's drum kit, to which the Nirvana percussionist said "Jim, you put the band in them."
Earlier this month, The Breeders sophomore album—Last Splash—turned 30. For a year as loaded with alt-rock classics as 1993 was, including In Utero, Siamese Dream, Rid of Me and Exile in Guyville, it's a massive testament that Last Splash outperforms all of them. Many years ago, Kim told SPIN that she never thought anything she made would sell. But, when Last Splash came out, it charted high on the Billboard 200 and went platinum. The record was taking off, yet The Breeders had no idea about it until they returned home from a tour and saw that their Spike Jonze and Kim Gordon-directed video for "Cannonball" plastered all over MTV. "They played that video a lot," Kim says. "Jim came back from tour and his dad said, 'What's the name of that band you're in? I think I see it.' Nobody knew us, we were from Ohio. But [Jim's] dad knew. I noticed that, gosh, they were playing that song a lot. It's a good video, though. They had a loop like radio stations and it goes over and over and over again. We were on that."
Anniversaries and reissues are unavoidable now, and Last Splash is the latest classic to get a spot treatment—but this instance sees the new remaster being taken from original half-inch analog tapes, which were long thought to be lost (or, as Kim says in a whisper, "not on a shelf at 4AD where it was supposed to be"). Miles Showell, the guy who did the original mastering three decades ago, took the tapes and did a half-speed master on two discs running at 45 rpms at Abbey Road Studios—which is why this edition of Last Splash sounds so fucking beautiful and pristine. And, we even get a rendition of "Divine Hammer" featuring lead vocals from Dinosaur Jr.'s J Mascis—so there are many Ws to be claimed this time around.
Last Splash was produced by Kim and Mark Freegard, and it wasn't the typical producer/artist partnership—at least not from Kim's perspective. "For me, I feel like producers, traditionally, are people who book studio time, organize rehearsals, they know the links, they know every cover that people are doing, they purchase the reel-to-reel tapes, or whatever the thing is going to be captured on," she says. "They're responsible for that. After we had humped all of our gear out to San Francisco, the first time I met Mark was the day before we would go to Brilliant Studios and we had two or three days of rehearsal. To me, it didn't feel like a collaboration with a producer. He was excellent at recording everything. He captured everything beautifully." In the process, the two of them even picked up some recording tricks—including Kim sticking her head in a piano with bricks on the pedals for a vocal take of "Do You Love Me Now?"
A big, important and crucial part of Last Splash is the inclusion of Kelley, who had come in officially during the recording of The Breeders' Safari EP in 1992—which is the only thing the band ever made with both Kelley and Donelly on it. "Evidently, I told Josephine on a phone call that I had asked Kelley to play guitar in the band, because we knew Tanya was leaving," Kim says. "And Josephine said, 'Oh, does she play guitar?' And I think I said, 'No, she doesn't. But she'll learn.'" And that's exactly what Kelley did, because—as all great shredders can—she had a huge knack for being able to learn a melody by ear quickly. Kim would sing something—a hum of inaudible dribble—and Kelley would have it down in an hour or less.
I remember reading a review of Last Splash on the wayback machine some time ago, and somebody had written that Kelley's guitar playing on the record was "passable"—which, when I bring it up to Kim, is a sentiment met with the insistence that such a critique could have only been made because of the plainspoken truth that Kelley was new to the instrument. She then intones the opening riff of "Divine Hammer." "If somebody plays that well, it's not passable. It's just, that's the part. Just because it's simple doesn't mean it's just passable," she adds. It's a similar sentiment you might hear in response to peoples' critiques of Ringo Starr's drumming. He's the only person who could do those parts perfectly for the Beatles; Kelley Deal is the only one who could have lent a six-string to Last Splash.
And Kelley brought some experimentation to the studio around that time, too. She hooked her sewing machine into a Marshall amp and that's where the distortion at the beginning of "S.O.S." came from. Kelley had never been in a recording studio before (and neither had Macpherson, who was positively chuffed when he heard a song played back through the big speakers). "She thought she would bring her quilt and she could be sewing, and she wasn't wrong. There is a lot of downtime in the studio," Kim says. "She set up her sewing machine and she was quilting while we were working on drums and bass." She imitates the sound of a sewing machine so loudly that the speaker on my laptop dips out for a split-second. "Of course, it was like, 'Oh, my God. We've got to put a mic on that and put it through the fucking amplifier. It's a Kenmore something, something, zig-zag stitch," she adds.
Last Splash still boasts one of the most unpredictable slates of instruments ever. The Breeders found it choice to include, on top of their core coterie of tough axes and drums, a Moog, Casiotone, lap steel, mandolin, violin and cello—on a stone-cold alt-rock record, no less. It's difficult to put into words, sometimes, just how good Last Splash is—how, even 30 years on, it still sounds fucking perfect. It's a time capsule of brilliance, a treasure trove of four musicians making the best album of the decade but being too cool to even dedicate one second to playing up the hype.
Sure, MTV playing their videos for "Cannonball" or "Divine Hammer" got many new eyes and ears on The Breeders, but I'd like to think that the niche of Last Splash would have made a home in the hearts of millions regardless—that a couple of punks from different corners of the world would have gotten full on Jolt Cola and demoed tracks for three days straight no matter what big-time tours or cable television spotlights were coming their way.
This month, The Breeders played a pseudo-hometown gig in Columbus, Ohio that doubled as a celebration of Last Splash's birthday. Getting to see Kim and Kelley and Josephine and Jim go positively bonkers on-stage and play their breakout album from the front to back (including the recently unearthed outtake "Go Man Go") was a dream come true; the fact that it had to happen at the worst venue in the city, KEMBA Live!, couldn't even banish the mythicality away. It was a healthy crowd—save for the one middle-aged dude who, for some reason, thought it would be cute to get blackout drunk before Horsegirl even finished their opening set—of folks from all generations, a truth I suspect will only continue to swell in numbers once The Breeders start their stint as an opening act for Olivia Rodrigo later this fall. Everything, down to the last minute detail, was electric and once-in-a-lifetime.
When the anniversary remaster of Last Splash was finished a while back, 4AD had a listening party over Zoom and invited The Breeders to join. Kim was blown away by the pages and pages of people who wanted to be there and spend 50 minutes with her and her bandmates and the music that made them stars. That translates to the crowds showing out every night this year to see The Breeders cook up magic together once again. Even the rained-out Cleveland date at the Rock and Roll Hall of Fame was a massive success, despite its brevity and shortened setlist. Because, 30 years later, the Deal sisters have still got it; Wiggs and Macpherson have still got it. Kim hums into a vocoder before she and the band absolutely rip the roof off of the venue during "Cannonball"; they wash Columbus aglow in noise while jamming sharply on "Roi." In 2023, the band is, perhaps, more in-tune with their own creative prowesses than ever before. Wiggs' bass playing can still make a skyscraper shudder; Macpherson's drumming is so unequivocally Breeders-pilled that it's a distinguishable masterclass now; at 62, Kim's singing juxtaposes the angelic with the chaotic just as deftly as it did when she was 32, while Kelley's artistry and sharp ear for construction and finesse have fashioned her into one of the greatest guitarists of her generation—or of any generation, for that matter.
And what a gift to be able to marvel at all of that unfolding 20 feet in front of you. Growing up, Kim was inspired by frontwomen like Chrissie Hynde, Nancy Wilson, Debbie Harry and Grace Slick, as well as Kitty Wells, Dolly Parton, Patsy Cline and Loretta Lynn via their family's Appalachian roots. She liked that Chrissie and Dolly both played guitar and sang, and she thought that, just maybe, she could do that, too. You can see that influence in her on-stage demeanor, how it gets distilled intp how she commands the crowd and the room and herself all at once. At over an hour into our call, I ask Kim where all of that star-powered charisma comes from, what instilled such an iconic and cool grandeur within her. I wasn't shocked to learn that it was a product of her catching the earliest warning signs of how the 1980s were going to transform rock 'n' roll. "The one thing that made me think 'You know, why not?' was the Dayton rock scene, where everybody was wearing spandex and had big hair," Kim says. "This was 1981 and, I know we're not supposed to talk bad about people, but I thought, 'Nothing I could ever do could be that bad, so it's fine. Whatever. It doesn't fucking matter.'"
What does matter, though, is that, sometimes, destiny looks greatly upon those who deserve it. And, after years of an unromantic history full of hiatuses and rehab stints and drug busts and divorces, The Breeders remain beloved and vital and larger-than-life—and this celebration of Last Splash is as much a victory lap for them as it is for the album they made. And, wherever the band goes next, Kim Deal will always be the girl who used her grandfather's toilet seat as a keyboard stand because she wanted to take her music to venues and play gigs around Dayton with her sister; she's always going to be the bassist who thousands of young women watched play sold-out stadiums and then, immediately, thought "This shall be my destiny, too."
---
Matt Mitchell reports as Paste's music editor from their home in Columbus, Ohio.