The Curmudgeon: The Sons of Lou Are Playing a Velvet Guitar
Nude Party photo by Sacha Lecca, courtesy of New West Records
Music
Features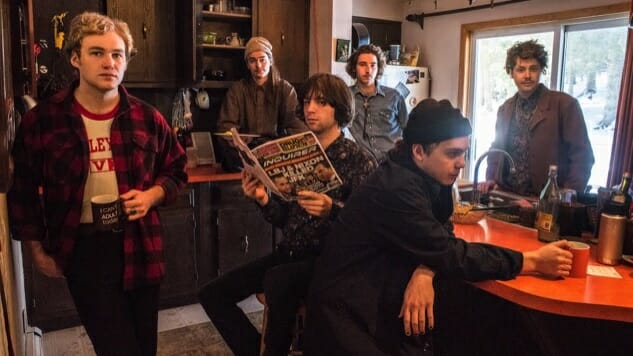 In the 1960s, when groundbreaking songwriters such as Bob Dylan, John Lennon and Paul Simon were all working within the romantic tradition, Lou Reed stood out as a defiant anti-romantic. While the others were suggesting that the world was full of wonderful, stimulating sensations that a conformist society had overlooked, Reed was suggesting that the same world was filled with depraved behavior that the same society had hidden. When Reed sang songs about drug addiction, S&M sex and domestic violence with the Velvet Underground, he was pointing to the abyss and daring us to look in.
Reed's contrarian attitude wouldn't have mattered much if he hadn't had such extraordinary verbal skills to convey it. When he sings in "Heroin," "I'm goin' to try to nullify my life, 'cause when the blood begins to flow, when it shoots up the dropper's neck, when I'm closing in on death, you can't help me, not you guys," he's giving us a visual, tactile and psychological description too vivid to ignore.
The fact that all four of the above songwriters were telling the truth doesn't lessen Reed's importance as a much needed corrective to the decade's rose-tinted optimism. His commercial impact was greatly limited by his subject matter, for it seems that the general public would much rather hear songs about a Tambourine Man and Strawberry Fields than songs about heroin. Those who did listen to Reed, however, often started their own bands.
But Reed's brilliance as a lyricist often overshadows his other crucial contribution: one of the most original rhythm-guitar sounds in rock 'n' roll history. It was a stridently non-blues, non-pop guitar style to match the anti-romantic lyrics. When played slow, it alternated single-note chiming with brusque chording and lots of vibrato. When played fast, it was a clipped, brittle riff, edged with distortion. It was as if the instrument was steeling itself for something unpleasant.
Reed played changes as if he were reluctant to let the harmony resolve; he was more likely to go to the minor sixth than to ever return to the one. It was as if the lack of resolution reflected a life without lasting satisfaction, as if the lack of resolution would keep the listener—and himself—in suspense about what might happen next.
It was a hypnotic sound that many admiring musicians adopted as their own. David Bowie's early, guitar-oriented singles had that sound, and Bowie repaid the favor by producing the only top-100 single of Reed's career, "Walk on the Wild Side." Alejandro Escovedo embraced Reed's six-string style so thoroughly that he wrote a song called "Velvet Guitar." The Modern Lovers, the Feelies, Sonic Youth, Joy Division, the Jesus and Mary Chain, Patti Smith, Iggy Pop, Television and many more borrowed that brittle, mesmerizing guitar riff.
Even this year, 50 years after The Velvet Underground, the band's third album, introduced "Candy Says" and "Pale Blue Eyes," Reed's guitar sound is fueling the rise of two terrific new rock 'n' roll bands: Fontaines D.C., an Irish quintet currently touring the U.S. in support of its 2019 debut album, Dogrel, and the Nude Party, an American sextet now on the road to showcase its eponymous 2018 debut album.
Fontaines D.C. met at a music college, where they impressed each other during a songwriting class. They named their new band after Johnny Fontaine, the wedding singer who asks Don Corleone for a favor at the beginning of the first Godfather movie and after the initials for their town, Dublin City. Dogrel, however, is wedding music only for the never consummated marriage of Sid Vicious and Nancy Spungen—or perhaps of William Butler Yeats and IRA radical Maud Gonne.
Even before one can focus on the lyrics, Fontaines D.C.'s debt to Reed is obvious. The vigorous riffing of the opening track "Big" has that familiar brittle, reluctant-to-resolve approach to the guitar, pushing the music along impatiently. When you do catch the words, it's obvious that the steely chording serves am examination of a city's seamy side similar to Reed's. "Dublin in the rain is mine," Grian Chatten half-sings, half-snarls, "a pregnant city with a Catholic mind. Starch those streets for the birdhouse jail, all mescalined when the past is stale."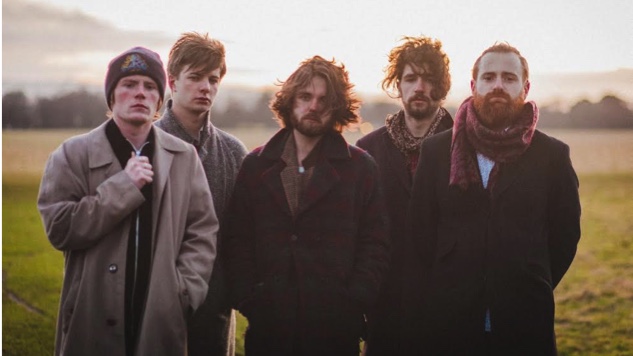 Fontaines D.C. photo courtesy of Partisan Records
The lyrics are sometimes too "literary" for their own good, lacking the deadpan, in-the-trenches observations of Reed's monologues—or the stoic detachment of Yeats' poetry. Small verbal gems are scattered across the record, though, promising that maybe the band's lyrics will grow into its music. Chatten describes the rear-end hours of Saturday night thusly, "A cabbie pisses in the wheel of his own car; heads hit the street, turn cheeks at stars." He etches the weekday evening commute like this: "The city in its final dress. And now a gusty shower wraps the grimy scraps of withered leaves around your feet." In lines like these, he captures the price one pays for living in a "happening" city.
The sound of the album, however, is irresistible, and so is its spirit. Guitarists Carlos O'Connell and Conor Curley weave clipped downstrokes and siren melodies with distortion and drone, even as bassist Conor Deegan and drummer Tom Coll gallop along. The blend wraps the listener in all the frantic push-and-pull of a 21st-century metropolis; like an expert horror movie, it's scary and thrilling all at once. At the end of "Too Real," that sound earns Chatten the right to howl, "Is it too real for you? Is it too real?"
Even more impressive is the Nude Party. The band's name was once an accurate description of the shows they put on while they were college students in North Carolina. Now that the six members are in their mid 20s and based in upstate New York, that name is an impediment to being appreciated as one of the better rock bands of their generation. When the sextet, plus a guest pedal steel guitarist, appeared at the Newport Folk Festival in July, the songs from their only album, The Nude Party, sounded even better than they did at Willie Nelson's Luck Reunion in March or in the 2018 studio sessions.
Part of the improvement is due to the musicians' growing confidence and skill—always the result when ambition and talent are refined by constant touring. Part of it is due to the broadening of the band's sound, thanks to Jon "Catfish" DeLorme's twangy pedal steel and Don Merrill's bleating Tex-Mex organ. But the core of the group's music is still its inspired resurrection of the Velvet Underground sound by singer/guitarists Patton Magee and Shaun Couture.
By no stretch of the definition can the guys in the Nude Party be labeled folk musicians, but they nonetheless delivered one of the most exciting sets at the Newport Folk Festival. You could clearly hear the echoes of "Heroin" when the band hit its stride on its own song, "Feels Alright," midway through the set. Over the propulsive two-chord vamp, Magee was singing about a time in the not-too-distant future when a nuclear winter has descended on the planet.
Maybe the song's narrator can't breathe the outside air; maybe he's shivering in the cold, but at least he's got some electricity to plug his guitar into. Like Reed, Magee's not going to soft-pedal the world's problems but neither is he going to surrender to them. "It don't look good," he sings, "but it feels alright." And the music provides aural proof that you can feel energized even in the midst of a disaster.
The sci-fi theme could also be heard on "Astral Man," not only in the tale of an astronaut floating through space, disconnected from his spacecraft, but also in the slow and psychedelic space-rock. The Nude Party was better off, though, when it set off its tales about Che Guevara's death, sex for money or a departed lover against the implacable riffs and droning insistence of the Velvets' '60s art-punk. When the band stacked its vocals into four-part harmony and massed its instruments into extended chords, it evoked both the bleakness of the near future and the resilience needed to survive it.
With his mop-top bangs, buttoned-up white cowboy shirt and black-and-white Rickenbacker, Magee was the focal point on stage. But the crucial instrumentalist was Alex Castillo, a scrawny kid in a black jacket, white T-shirt and fuzzball haircut whose bass lines were both rhythmically muscular and melodically fearless. That restless bottom prevented the recycled influences from ever sounding stale.
While Magee took most of the lead vocals, Couture sang the lead on "Live Like Me." The song borrowed the riff from Question Mark and the Mysterians' "96 Tears" and retrofitted it for the lament of a man who can't understand why his girlfriend left him for a "guy who wears a suit and tie." Why wouldn't she rather sit around, drinking beer and watching TV with the narrator?
That highlighted something else the Nude Party (and Fontaines D.C.) have borrowed from Reed: a wicked sense of humor. Whenever it seemed that Reed was glamorizing the addicts, sex workers and rock 'n' rollers he sang about, he'd always reveal another side of them that proved they weren't nearly as heroic or as innocent as they pretended. His willingness to poke fun at his characters made him a true anti-romantic, and not merely someone who romanticized a different class of people. The same is true of the Nude Party.
They climaxed their Newport set with their best and wittiest song, "Chevrolet Van." Based on a true story, it reflects the advice every young musician (or poet or painter or actor or political activist) gets from well meaning older relatives. "Driving around, getting drunk with your friends in a van every night sounds like a lot of fun," Magee sings in recalling that advice, "but you need a plan B. 'Cause it ain't gonna last long past 21. You'll never make enough money, and no one cares about the things you say. You're gonna wake up someday and wish you got a job."
It's a wonderful song, because the Nude Party doesn't make the advice-giver out to seem mean or reactionary; in fact, Magee and his backing singers belt out the lyrics as if the words contain a kernel of truth, which they do. But the combination of that sing-along chorus and that chugging Velvets guitar riff is so damn enjoyable, so liberating for both the musicians on stage and the would-be artists in the audience, that maybe it's worth it to put off Plan B for a few years, maybe for a decade or two, just to relish a moment like this, even if your career never gets past a side stage at the Newport Folk Festival. There's a good chance that the Nude Party's career will go further than that, but maybe they've justified their decision already.