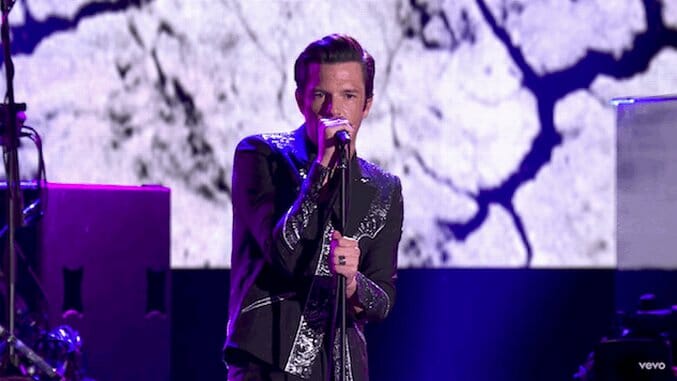 With iconic hits like "All These Things That I've Done," "Human" and "When You Were Young," The Killers could have called it quits long ago. Thankfully for us, they continue on with the same swagger and sound that to this day prompts a visceral reaction from everyone between the ages of 20 and 30 when they hear the opening guitar riff of "Mr. Brightside." They performed their latest single, "The Man," from their forthcoming album Wonderful Wonderful, on Jimmy Kimmel Live! last night as part of the show's concert series.
Wonderful Wonderful marks the first album the band has released since 2012, at a time when Obama hadn't even started his second term yet. What a great year that was; we didn't know the future of American politics or that we'd have to wait five years for the next Killers record. "The Man" is evidence that The Killers have stayed relatively on the same sonic path throughout their time as a group, and why fix what isn't broken? It's also worth noting that Brandon Flowers hasn't aged since the band came on the scene in 2004, which is a feat in and of itself.
Wonderful Wonderful will be released Sept. 22 via Island Records. Watch The Killers perform "The Man" above and read our list of the top ten Killers songs here.