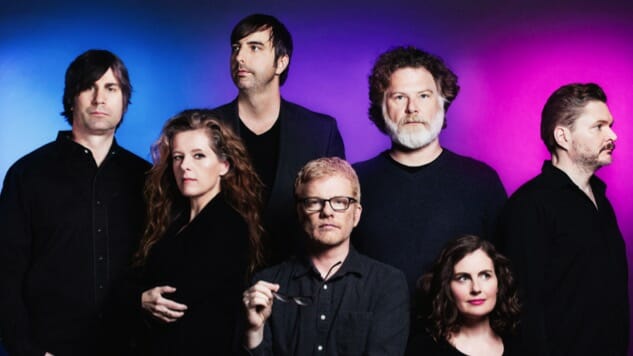 The New Pornographers' songwriter and chief vocalist Carl Newman has been an active Twitter user for years. On it, fans could watch him joke about collaborating with friend Dan Bejar, trade quips with fellow active indie musicians like Jon Wurster and Will Sheff, and bring levity to his life as a touring musician. In short, if you already liked his band, Newman's Twitter presence only added to that fact, illuminating a sharp sense of humor and a refusal to take his art too seriously.
But recent months have seen his online presence change just like much of America's daily experience has shifted. Newman's dispatches are less about writing songs and playing shows and more about the political climate. "This past year, I find it hard to see how a person can not be political," Newman says by phone from New York City, "especially when it is so easy to say what you think."
"I know Twitter is an echo chamber, but it feels like the only thing worth saying," Newman says of his political activism. "If it can make any difference at all, I should do it. But I don't think I'm swaying many people. Twitter is a lot of preaching to the choir. And whenever I encounter someone who isn't part of the choir, I'm like 'you're a psychotic troll, I'm blocking you.'"
Newman's perspective is valuable aside from his general intelligence. He's a Canadian living in America, married to an American. Though his band has long been associated with the Canadian indie rock boom of the aughts, Newman has lived in New York for a decade. This allowed for a memorable bit recently, when Newman was traveling and preparing to go through U.S. Customs. His tweets became a joking concept of throwing customs off his trail by posting banal, inoffensive opinions.
Really into obeying laws. Always have been.

— Carl Newman (@ACNewman) March 11, 2017
Just give me a hamburger and I am GOOD.

— Carl Newman (@ACNewman) March 11, 2017
'Centerfield' by John Fogerty. Enough said.

— Carl Newman (@ACNewman) March 11, 2017
Great news! I cleared US customs.

I oppose the racist policies of Donald Trump.

— Carl Newman (@ACNewman) March 11, 2017
I don't like 'Centerfield' by John Fogerty. It was all a ruse, US customs! Don't hate it but wouldn't consciously put it on.

— Carl Newman (@ACNewman) March 11, 2017
His heritage also informs his point of view on American healthcare, and while he notes that the Trump era has helped him appreciate his homeland more, it's actually his wife who is most pushing to move north. "A lot of Americans look at Canada with rose-colored glasses," he says. "But in terms of healthcare, I've been thinking about what the endgame is in this country. Am I going to go broke just trying to pay for healthcare? At some point, you just think that maybe we should go to that country next door where healthcare doesn't cost anything. If the U.S. implemented a single payer-type thing, I'd probably think things are great. But how many people have to die in abject poverty before something like that changes?"
And while these issues distract from promoting his latest album, it's not necessarily a negative thing. "The positive part of it is it puts things in perspective," he says. "When so many people are fighting for their rights, it is hard to get too wrapped up in pushing your record. You still do it, but you aren't so emotionally involved because you have that perspective."
Many artists would channel these concerns into their music, but The New Pornographers have never been a political band. Newman shies away from discussing his lyrics in depth in conversation, noting that he's more of a melody and harmony guy, and lyrics are generally not as big of focus of his songwriting. That doesn't mean that politics didn't seep its way into the fold, though. He notes that "High Ticket Attractions" and the end of "Avalanche Alley" are both about the anxiety leading up to the election, and while he never sets out to write about a subject directly, it's hard to avoid when going on the internet or watching TV means being bombarded with some fresh bit of awful news.
But Whiteout Conditions isn't a political album by any stretch. The record is better defined by its sound than what Newman and co-leads Neko Case and Kathryn Calder sing. Where 2014's Brill Bruisers saw Newman exploring new territory with a sort of '80s futuristic sound, this new album dives deeper down that wormhole. Part of this might have to do with the departure of longtime drummer Kurt Dahle after the last record, with the band now experimenting with krauty, repetitive rhythms. But it's more Newman trying to push himself and his band to not get stuck making the same album or trying to repeat past successes. It's been 17 years since the debut album Mass Romantic, and those years should, and do, demonstrate a growth and evolution of the project.
Longtime fans will likely note Whiteout Conditions as the album that lost The New Pornographers one of their greatest assets, Dan Bejar. With his own beloved recording project Destroyer, it long felt like a matter of time until Newman would struggle to get the whole band back together (Case is also notable for her successes outside the Pornographers, but has managed to appear on every record and many of their tours). Newman explains that from the band's inception, he always was a bit shocked that things worked out and Bejar was able to continue to record and perform with them. This time around, though, when it just couldn't work out, Newman saw it as an opportunity to make a more focused album without the requisite three Bejar songs.
"It's not like anything has changed between us," Newman says. "We're still friends and we still hang out the way we used to hang out. Basically he's trying to finish the new Destroyer record and he didn't have any songs that he thought would fit what we're doing. I just figured this was bound to happen eventually. It's been on my mind for 16 years."
And it's this attitude that continues to make The New Pornographers a fascinating band. There was never a definition that Newman established, and its fluidity has allowed to the addition of someone like Calder, whose vocals beginning with Twin Cinema changed the dynamic of the project for the better. It has meant that Newman can push himself as a songwriter to strange places and not feel a responsibility to what defines the project. "When I feel like we're doing something different, I'm not always sure if that translates to the audience," he wonders, hitting on what the band continues to do well. Whiteout Conditions contains a sense of identity without being a rehash, and nothing from band member shuffling to the literal state of the world can take away the magic that The New Pornographers have produced for now seven records.