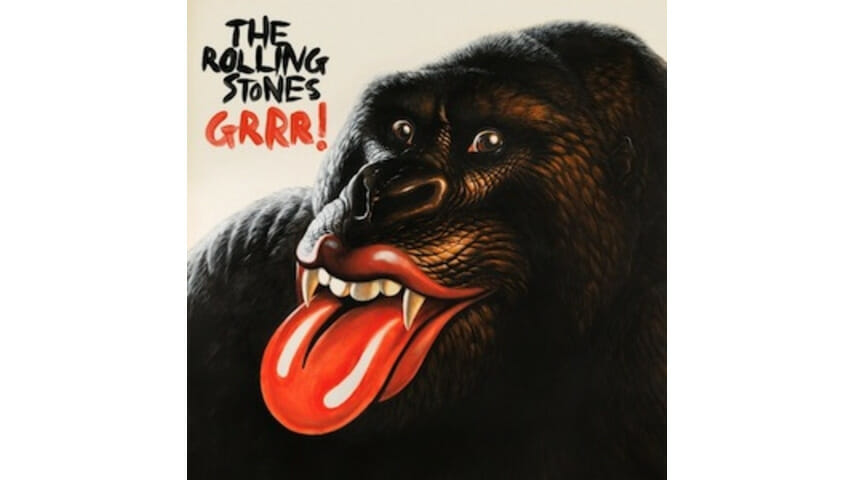 First of all, there's that cover. Even by the relaxed standards of The Rolling Stones (who unleashed Goat's Head Soup and Love You Live on the world), that gorilla is pretty awful. They may have paid top dollar for Walton Ford, but it looks like the mascot of some dunderheaded '80s hair metal band rather than the id of the premier geriatric blues-rock band. It's really hard on the eyes.
Second, even for a Rolling Stones hit package, GRRR! is completely redundant. Sure, it's the band's 50th anniversary, a milemarker no one thought they'd reach (at least not with Keith Richards). But it's only the 10th anniversary of 40 Licks, which remains a much more digestible sum-up, even if GRRR! is numerically superior: 50 tracks to 40's 40. Then again, most of those extra tunes are from the 1990s and 2000s, so don't get too excited.
Third, this isn't even the only Stones reissue this season—and certainly not the best. ABKCO just released a documentary about the Stones, Charlie Is My Darling, which chronicles a short tour of Ireland in 1965. The Stones are in the throes of early success and at the top of their game, yet it took nearly 50 years to be released. That is the better and much more revelatory release, one that actually reveals new facets of the band instead of trotting out the same old hits that every fan has in triplicate by now.
GRRR! is, in other words, a grievous attack on disposable income, but how's the music? It's amazing, of course. "Satisfaction" and "Gimme Shelter" and "You Can't Always Get What You Want" and "It's Only Rock n Roll" are some of the best and most durable songs to survive the '60s, and they've lost none of their power in the meantime. Even the Stones' most recent single, "Doom and Gloom," sounds good, jettisoning the gimmicks of their '90s output for a sleeker sound that might be best described as "classic Stones."
Still, is it too much to ask that they put a little more thought into their hits packages? Do the Stones really think we'll just shell out our cash for the same songs with slightly different sequencing? This is great music, but it's hard to imagine why anyone would actually buy it.