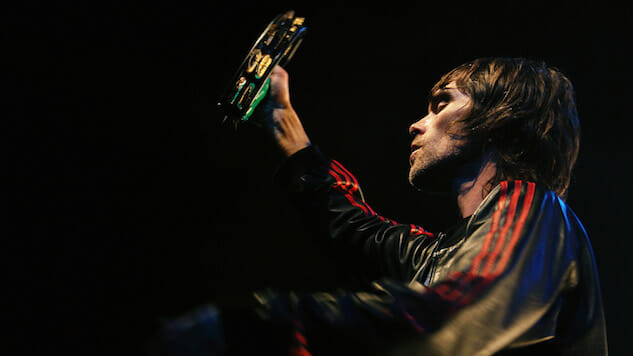 If you had just been introduced to The Stone Roses via their 1985 debut single, it would be easy to think they were nothing special.
The Manchester band, then a fivesome with an ever-shifting lineup, released a double A-side single, "So Young," backed with "Tell Me"—two post-punk tracks without a crumb of charisma or direction. Their lyrics are hollow, and Ian Brown's off-key lead vocals are so grating they make John Lydon or Ian Curtis sound like Pavarotti. The only two shreds of promise were Alan "Reni" Wren's adept drumming and John Squire's intricate guitar melodies, but you'd have to overlook some glaring flaws to think this band was anything but a young group struggling to find an identity during the decline of post-punk and the rise of New Wave in the mid '80s.
Four years and two bassists after that abysmal first single, The Stone Roses released their classic self-titled debut album, unleashed 30 years ago today (May 2), an LP that's about as close as any band has ever come to beaming and buoyant rock 'n' roll perfection.
The Stone Roses weren't musical progenitors, but they fused their influences in a way that might fool the average listener into thinking they were. They took the chiming Rickenbacker folk-pop of American bands like The Byrds and blended it with Britain's burgeoning acid house music, subversive politics, psychedelic funk and The Kinks' poppy knack for depicting English summers. Often credited with spearheading the "Madchester" dance-rock scene, The Stone Roses didn't embody its psychedelic pill-swallowing rave aesthetic to the extent that peers like Happy Mondays did—the Roses were a different breed altogether.
Building off their 1987 single, "Sally Cinnamon," The Stone Roses released "Elephant Stone" in 1988, the first track to surface from their debut full-length. Though "Sally Cinnamon" didn't make the cut for the eventual album, it remains a fan favorite thanks to a godly California-esque guitar twinkle, gratifying, honeyed vocal melodies and harmonies (thankfully Brown gave up the punk wailing) and groovy cymbal clattering. "Elephant Stone," on the other hand, planted the seed for their funky dance-rock leanings as Reni's rhythms thump like the beat of Manchester's famous Haçienda nightclub, particularly on the extended 12-inch version. These releases marked the beginning of their quintessential sound, and once their classic lineup had been cemented with Gary "Mani" Mounfield on bass, there was no stopping the citrus-soaked rock avalanche that followed.
The Stone Roses' self-titled album opens with a nondescript whoosh—as if you're slowly chugging to the lofty introductory peak of a rollercoaster. But once Mani's bass line quietly wriggles on "I Wanna Be Adored," it's easy to feel the celestial ascending energy start to boil over. The timbre of John Squire's jangly guitar lines mesh with Brown's sky-high voice, spouting contagious self-belief or chest-beating arrogance (depending on who you ask).
The spunky cymbals and low bass rumble of "She Bangs the Drums" feel like mountain-movers in and of themselves, but after Squire's guitars reverberate with pop finesse and Brown delivers a first verse for the ages with a euphoric pop rush, it sounds like the rounding out of a perfect band.
Unlike most bands, none of the members of The Stone Roses' classic lineup were disposable. Reni's backing vocal harmonies added an angelic glaze, and his supernatural ease on the drum kit allowed them to experiment with nontraditional rhythms ("Elephant Stone," "Fools Gold"). In addition to songwriting duties with Brown, John Squire's coiled guitar riffs always rang with such a bewildering elusiveness, despite their eerie familiarity. Mani's instantly recognizable bass lines ran the gamut with everything from the leisurely pop-rock meander of "Waterfall" to the freaky dancefloor-filler "Fools Gold." And say what you will about Brown's live voice (and detractors definitely have), but on this LP, his pipes gleam with a charming retro pop panache ("Waterfall," "Song for My Sugar Spun Sister") and a messianic conviction that could rally any crowd to action ("This is The One," "I Am The Resurrection").
"Waterfall" embodies the independence of this album emboldens. It's another rousing first verse from Brown, referencing the beginning of a quest to personal liberation with hints of poetic old world charm and "chimes" to match Squire's similarly ringing guitar ("Chimes sing Sunday morn"). While Brown and Reni's tuneful, slightly dusty vocal harmonies proved their classic rock bona fides, the immersive wah-wah guitar tangent proved their dance-psych credentials. "Waterfall" is then played in reverse on the subsequent track "Don't Stop." Is it a self-indulgent mishmash or a stroke of psychedelic genius? Probably some of both, but the album wouldn't be the same without it.
The lemon album cover and the lyrics to "Bye Bye Badman" ("Choke me, smoke the air / In this citrus sucking sunshine") are nods to the Paris riots of 1968 (lemons were used to counteract tear gas side effects). Some listeners may perceive the rock throwing in the song's chorus as part of a nebulous hurrah for the everyday man, but the song paints the Roses more like left-wing political dissidents than just disillusioned blue-collar folk who know they're getting screwed by someone, but don't quite possess the wit or motivation to do anything about it.
"Elizabeth My Dear" repurposes one celebrated English tradition ("Scarborough Fair") to skewer another. The Stone Roses distill anti-monarchy sentiment into a minute-long acoustic folk ballad, and they land another zinger on "(Song For My) Sugar Spun Sister" ("Every member of Parliament trips on glue"), a song about a romance that's literally and metaphorically sticky.
Then, the Roses bring out their fine china in the form of an exhilarating five-song curtain close. You might think The Smiths' "There Is A Light That Never Goes Out" when you think of indie-rock car crashes, but The Stone Roses' "Made of Stone" gives Morrissey a run for his money. Brown sets a bleak scene of burning roadside metal and knuckles that "whiten on the wheel" while the chorus swells with a visceral teenage melancholia.
"This is The One" could easily be an album closer with its enlivening pop rapture and pursuit of the life-affirming dream girl—it clearly has the goosebump factor—but the Roses decided to prolong the exultant payoff until the next track. On "I Am The Resurrection," the Roses make one individual the object of their scorn, and listeners owe a debt of gratitude to that person for the initial spark of one of indie rock's greatest melodic upswings and personal takedowns.
Although "Fools Gold" didn't appear on the original U.K. pressing of this album, it made its way onto the U.S. version. It was their furthest descent down the funky Madchester wormhole with Mani's squiggly dance rhythms, Reni's bongos and perky drum loop and Brown's cool, distant vocals, and its inclusion feels essential.
The Stone Roses marked both the beginning and the end of the band. Their subsequent and final album—1995's Second Coming—arrived six years later with frankly dispassionate vocals, overwrought guitar solos and a discarding of the ethereal classic pop-rock that made them seem so untouchable in the first place. But oddly enough, The Stone Roses' story didn't die with the band in 1996.
We've seen countless bands release one classic album before disappearing into oblivion, or bands who weren't appreciated in their time, but eventually saw their fanbase grow in the years after their dissolution, resulting in a modestly successful reunion tour. But The Stone Roses don't fall into either camp. In the time between their disbanding and their reunion in 2011, everything changed.
Oasis became the biggest band in Britain, and the Gallagher brothers cited The Stone Roses as a pivotal reason for starting the band. Oasis, being the press darlings they were, divulged their love of the Roses, leading much younger generations to check out a group that was instrumental in the formation of their favorite band. Even after bands like Blur, The Charlatans, Ocean Colour Scene and Super Furry Animals let go of their Stone Roses-adjacent sound, an influx of new bands from the current decade arrived with undeniable influence from that seminal LP—bands like Peace, Jagwar Ma, Swim Deep, Eagulls and Childhood. The Roses continue to pop up today via bucket-hat-donning tribute bands and other various fledgling indie acts, and however maddening their laddish fanbase has become and however insufferable many of The Stone Roses-indebted bands are, it doesn't take anything away from this album.
What other late '80s band is capable of drawing tens of thousands of teens and parents alike into fields and stadiums across the world for a reunion tour in the 2010s—all on the back of one great album? It's an unthinkable feat. The Roses had a meager cult fanbase in America, but they were somehow booked to headline the first weekend of Coachella in 2013 (the audience was glaringly small and the performance was less than satisfactory). Nevertheless, they sold out Madison Square Garden three years later for their first American headline show since the mid '90s. Every country had their own religious Roses fans, but no one loved them like their homeland. The Stone Roses played three hometown shows in 2012 at Manchester's Heaton Park, selling a combined 225,000 tickets, making it one of the fastest-selling shows in British history. They also played London's Wembley Stadium as recently as 2017 to a crowd of 90,000. Fans wouldn't really want it any other way—the album's communal spirit, sonic vastness and radiant pop uplift wouldn't be the same performed in some dinky hole-in-the wall venue.
The Stone Roses wanted to be adored, and their debut LP, one that sparked a musical revolution across the U.K., was more than worthy of the numinous adoration that followed.