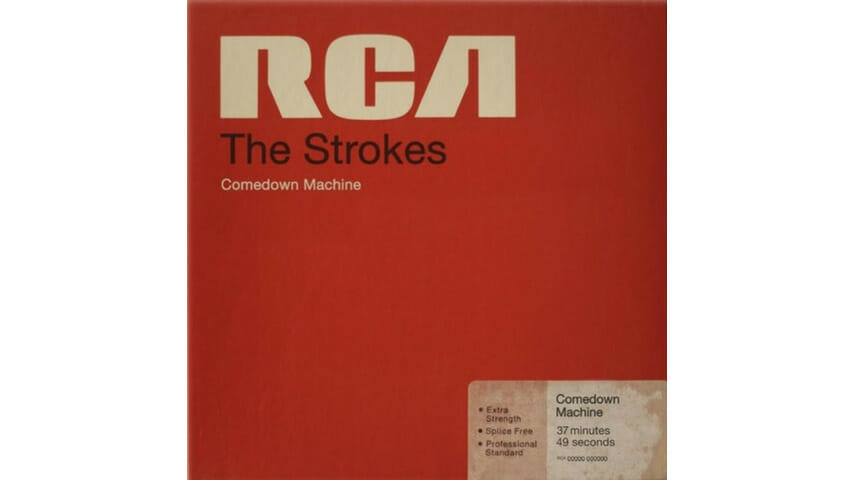 A decade ago, in that vulnerable post-9/11 age filled skinny jeans and retro garage-rock, The Strokes were rock royalty. Their debut album, Is This It?, became the instant definition of disconnected New York indie-hipster cool—and Julian Casablancas had top-tier songwriting to back up their bad-boy image. But they've basically been critical punching bags ever since, releasing solid album after solid album of quirky new-wave synths and palm-muted riffage, never quite capturing the undefinable spark of their solitary masterpiece. Comedown Machine, the NYC quintet's fifth release, keeps the streak alive: massive hooks, intricate riffs and grooves, subtle experimentation, along with the undeniable feeling that something's missing.
Ever since Casablancas—the band's chief songwriter and sonic architect—went solo with 2009's Phrazes for the Young, people have wondered why he bothers with The Strokes at all. In a way, it's a reasonable question: As he proved with that synth-heavy album, Casablancas is fully capable of realizing quality music all on his own. But even if these five guys often can't stand being in the same room together, there's still a unique magic when they're on the same page, firing on all cylinders. The best tracks on Comedown Machine are the ones that sound most like a band playing their instruments: "Tap Out" harnesses a hugely funky new-wave groove, building tension through the interplay of Nikolai Fraiture's bass and the twin electric guitars of Albert Hammond Jr. and Nick Valensi; the decidedly Is This It?-styled "All the Time" sounds like The Strokes doing a Strokes cover, but with its blaring guitar chug and finger-tapped solo, it rocks really fucking hard nonetheless.
Comedown Machine is the band's most blatantly '80s album, from the synth-driven, "Take On Me"-esque "One Way Trigger" to the bland drum-machine ballad "'80s Comedown Machine." That approach works wonders on the heartfelt "Chances," which features one of the most gorgeous melodies Casablancas has ever written, delivered in a surprising falsetto. But that voice isn't strong enough to carry a vocal showcase like "Call it Fate, Call it Karma," a moody, textural palette-cleanser in which the band sounds positively disinterested.
As long as they keep stumbling into the same studio every few years, The Strokes will probably continue making albums like Comedown Machine: reliably solid, mostly enjoyable, slightly disappointing for reasons that are difficult to articulate.