Old-School Soul: Class Is Still in Session
A Curmudgeon Column
War and Treaty (Tanya Trotter and Michael Trotter) photo by Austin Hargrave, courtesy of Universal Music
Music
Features
The War and Treaty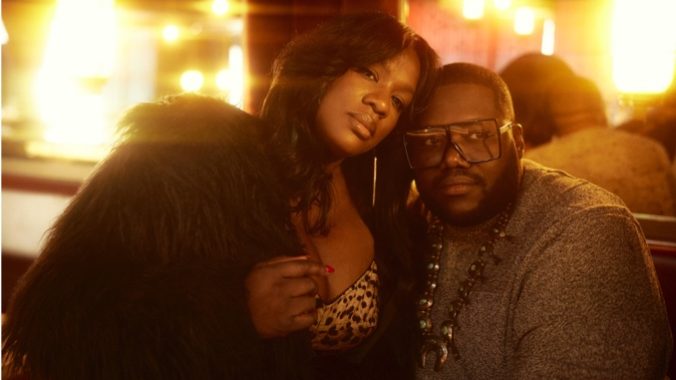 Old-school soul music—much like swing, reggae, British Invasion rock or countless other once-popular genres—may have lost its market share, but it has not lost its musical value. Soul has entered that cultural twilight zone, where it is neither a major force nor mostly forgotten. Now that is has been deserted by the ambitious careerists—who care only about a path to the top of the charts—it belongs to the true believers, those who recognize that a musical lineage can provide inspiration even when it no longer offers riches.
Among those believers are The War and Treaty; Billy Valentine; and William Bell, who have all recently released albums that not only draw from the soul-music tradition but also add something valuable to it. And they have done so by digging into soul music's origins as the secularization of Black gospel music, a music for zealous beliefs, live instruments and unprocessed voices.
Most observers trace the beginning of soul to 1954, when Ray Charles rewrote the Southern Tones' hymn "It Must Be Jesus" into "I Got a Woman," an exuberant celebration of sexual satisfaction. Charles proved that reverence for a deity and reverence for a lover can be expressed with the same musical materials, with equal fervor and equal effect.
Church folks didn't like it, but it was demonstrably true. You didn't have to be African-American or Christian or even a theist to recognize how powerful this musical devotion could be—whether it was directed at a Supreme Being or a human object of desire.
African-American religious music had evolved from "spirituals" to "gospel" in the 1930s by incorporating a heavy dose of the blues. The pivotal figure Thomas Dorsey had recognized that the bawdy excitement of the blues could be translated into exultant worship music. Charles merely revealed that the door could swing both ways.
Black gospel had perfected the release of uninhibited emotion in worship, but it did so within a disciplined framework that intensified feeling by containing it—much as gunpowder has more bang when compressed within a steel casing. The vocal soloist—and maybe even an instrumental soloist—can go crazy, but the rhythm section and the backing singers have to be locked in. The same is true for the soul music that grew out of gospel.
"The music is set for everyone else; it's me who changes things," Charles once told me. "The only person who's loose on stage is me. You can't have people going in all different directions; that's anarchy. But you can't say which notes of mine are improvised, because everything I do is improvised. Everything I sing I make up as I go along. The band is steady, and I sing against that; I just follow my feeling and my voice goes where it wants to go."
But even the singer who lets loose always tries to maintain a sense of dignity, as if being passionate or vulnerable is nothing to be embarrassed by, but rather something to be proud of. And it's this paradox of being out-of-control and in-control at the same time that gives Black gospel and soul music their great drama. This methodology is so effective that singers and musicians keep returning to it, even if the style doesn't sell records and tickets like it once did.
The War and Treaty, the Nashville duo of Michael and Tanya Trotter, straddles the border between gospel and soul on their new, fourth album, Lover's Game. Five of the 10 songs are plainly secular love songs and three are explicitly religious. The other two are intriguingly ambiguous—as if to show how interchangeable the sentiments are.
Charles and his many followers often used the music of gospel to woo a lover, but The War and Treaty take that a step further and use the language of gospel for romantic purposes. "Your love is my religion," Michael Trotter testifies on "Angel," adding, "I'm a faithful member of your church." When his wife joins him on the chorus to sing, "I don't have to die and go to heaven to know I've been touched by angel," it's clear the couple see marital devotion as a form of religious practice.
Working with hot-shot Americana producer Dave Cobb, The War and Treaty make brief detours into British Invasion rock (the Stonesy title track) and old-school country (the twangy "Yesterday's Burn"). But most of the new record is devoted to classic gospel-soul, though they add a couple of welcome twists.
Both gospel and soul singers, given a license to vent their emotions, sometimes abuse the privilege to adding so many embellishments that it seems they're asking for adoration rather than providing it. Or they can grow so preachy that they become overbearing. Michael and Tanya both own huge voices, and they can wail and embellish when they want to. But they always counterbalance those climaxes with quiet passages, for climaxes are only effective when they're isolated peaks rather than long mountain ridges.
"Blank Page," for example, begins with a low-key, vocal-and-piano opening, builds to a peak, subsides to a churchy piano interlude before rebuilding to a big crescendo. "The Best That I Have" celebrates chilling at home with a lover with a silky understatement right out of the Smokey Robinson Quiet Storm playbook.
The other thing that Cobb and the Trotters do is mix the two lead vocals at the same volume on most of the choruses. Instead of having a lead singer shadowed by a harmony, the usual approach, the two voices are equal partners. This increases the risk of one voice getting in the other's way, but the husband and wife are so used to one another that there's never a problem. The payoff is a musical partnership that reinforces the romantic partnership in the lyrics.
The Trotters wrote or co-wrote all the songs on the new album but one (the religious hymn "Dumb Luck" by the Texas Gentlemen's Beau Bedford). The two singers may lack the literary flair of such soul-music poets as Smokey Robinson, Curtis Mayfield, Bill Withers, Oscar Brown Jr. or William Bell, but The War and Treaty are capable craftsmen who create compact lines that fit snugly into the melody even as they efficiently frame the issue. Their immense voices make clear the feelings merely suggested by the words.
William Bell may be 83, but he's still writing new songs and recording them. His past songs include "Born Under a Bad Sign" (recorded by Albert King, Jimi Hendrix and Cream), "You Don't Miss Your Water" (recorded by Otis Redding, Lou Rawls and the Byrds) and "Any Other Way" (recorded by Chuck Jackson and Bruce Springsteen). Like his fellow Memphis soul man Don Bryant, Bell has long been overlooked but is enjoying a well deserved late-career revival.
Bell's new album, One Day Closer to Home, includes a dozen new compositions, many of which would be good vehicles for any singer who loves old-school soul music. But the octogenarian does a good job with them himself, using savvy and finesse to compensate for a dwindling of sheer lung power.
Bell mocks his own age with the album opener, "I Still Go to Parties." Over a slinky Southern soul groove, accented by a clipped guitar and baritone-sax honks, he confesses, "I still go to parties, but I don't dance as much, and I just don't stay as long." The Bo-Keys' Scott Bomar, who helped Bryant's revival, co-wrote the album closer, "Georgia Peach," with Bell and plays guitar behind the singer's giddy delivery over funny lines such as "I got the fuzz all over me."
Not everything is so light-hearted. Bell and Bomar co-wrote "One Day Closer to Home," a stark, edgy blues about a man newly freed from prison after three years and 29 days, standing in the pouring rain and trying to hitchhike home. Even when he gets a ride, his head slumps against the rain-streaked window as he wonders, "Will I ever feel love again?"
Even better is "In a Moment of Weakness," an R&B ballad that laments, "I lost my job, lost my house, left it all behind, lost my self-respect." Charles Hodges' simmering organ makes us feel that we're back in Al Green's church, as a man steps from the pew to confess his moment of spiritual crisis. Or maybe we're in Michael Trotter's bedroom as the once-homeless man confesses to his wife that only she cared enough to save him. In either case—temple or boudoir, deity or lover—the feeling is the same—unexpected salvation in a moment of despair. And Bell gives it one of the best vocals of his 75-year career.
Like most forms of popular music, soul has most often dealt with romance, using the extreme feelings of religion to illuminate the edge-of-the-cliff experiences of love. But gospel music can also be useful in social-commentary songs. After all, such anthems are calling attention to the same issues of right and wrong as religion does. And the same passion that the church applies to individual morality can easily be directed to issues of social morality.
This was obvious when Martin Luther King, an Atlanta pastor, made his "I Have a Dream" speech in 1963. And it was unmistakable when Sam Cooke turned those sentiments into a song, "A Change Is Gonna Come," the following year. By the late '60s and early '70s, artists such as Sly Stone, Curtis Mayfield, Stevie Wonder, Marvin Gaye, Donny Hathaway, the Staples, Parliament-Funkadelic, the Temptations and War were transforming gospel materials into soul protest on a regular basis.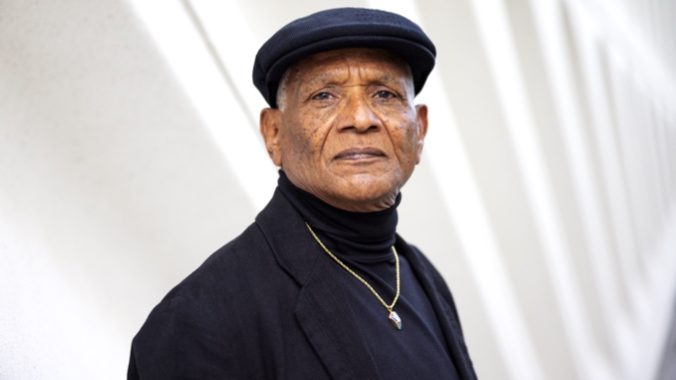 Billy Valentine (Photo by Atiba Jefferson, courtesy of Flying Dutchman Records)
This is the era saluted by Valentine on his new album, Billy Valentine and the Universal Truth, which includes songs associated with Mayfield, Wonder, the Staples, War and the Temptations' Eddie Kendricks. In 1982, Valentine and his brother John had a modest R&B hit as the Valentine Brothers with their own soul-protest anthem, "Money$ Too Tight," which Simply Red turned it into a global pop smash two years later. After one more R&B hit with "Lonely Nights" in 1984, the Valentine Brothers called it quits and returned to stage and screen work.
Now Billy Valentine has returned to that socially conscious soul tradition, believing it's needed now more than ever. When Bob Thiele Jr. decided to resurrect his father's legendary Flying Dutchman Records—best known for its albums by Gato Barbieri, Gil Scott-Heron and Leon Thomas—the son tapped Valentine's project as the first release. It was a smart choice, for the singer straddles the line between R&B and jazz as so many of the label's projects did.
The musicians on Universal Truth include such contemporary jazz stars as saxophonist Immanuel Wilkins, bassist Linda May Han Oh and keyboardist Larry Goldings. All three can be heard on the opening track, "We the People Who Are Darker than Blue," Mayfield's moody meditation on racial injustice. Valentine sings in a high tenor—like the songwriter's but with a fuller tone—and uses understatement just as skillfully.
He resists the genre's temptation to bombast, to sounding triumphant and simplistic when the reality is often painful and complex. Valentine's vocal is full of sympathy for pain past and uncertainty about the way ahead. And Wilkins, deeply rooted in the church himself, responds with a solo that bridges despair and hope.
Valentine does something similar with Scott-Heron's vivid description of drug addiction, "Home Is Where the Hatred Is," using his sure sense of pitch to make the vocal more palatable and setting up Goldings' Fender Rhodes reverie.
The album's church roots are most obvious in "Wade in the Water," the 19th century abolitionist hymn that was popularized by the Staple Singers in the 1960s. It begins slowly as an unaccompanied duet between Valentine and Golding before adding a funky beat and leading to a jazz guitar solo by Jeff Parker, demonstrating how the song can work in any era.
Thomas's free-jazz masterpiece, "The Creator Has a Master Plan," is reworked to reveal its gospel roots. So are Kendricks' "My People … Hold On" and War's "The World Is a Ghetto." Wonder's "You Haven't Done Nothin'" is slowed down and stripped down to haunting minimalism. By contrast, Prince's "Sign o' the Times," a 1980s echo of Mayfield, is transformed by an acid-jazz arrangement which relaxes the rhythm, adds Rhodes, clavinet and trumpet, and slathers everything in echo. Every song is reimagined so smartly that it's like hearing it for the first time.
Valentine isn't the only jazz vocalist drawing on soul music—and by extension gospel. Gregory Porter, a self-acknowledged disciple of Donny Hathaway and Roberta Flack, has turned himself into a jazz headliner by reinjecting soul and all its churchy passion into a jazz scene that can sometimes be too cerebral for its own good. It's more evidence that old-school soul music is too valuable a cultural resource to go unused for long.