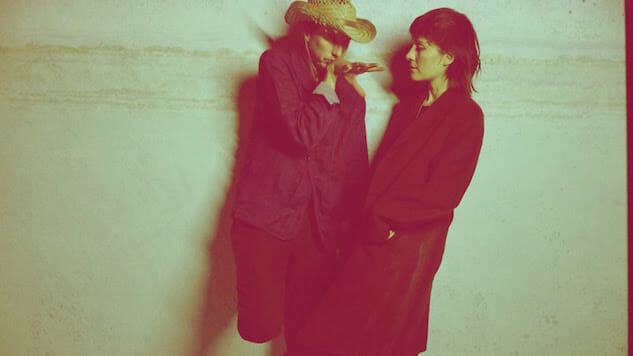 Yet again, another Kanye West project failed to surface on its expected release date. His album Jesus Is King was expected to drop today (Sept. 27) after its album artwork and release date had been teased on social media. Although we'll have to wait a bit longer for Yeezy's next album, this New Music Friday has plenty of other gems in store. We received new albums from Irish noise rockers Girl Band, Canadian indie-pop veterans Tegan and Sara, Grammy-winning country mainstay Sturgill Simpson and many more. On the new track front, we were impressed with cuts from Cate Le Bon & Bradford Cox, Sudan Archives, Eyesore & The Jinx and more, plus in Paste Studio land, we enjoyed exceptional sessions from SadGirl and That 1 Guy in our Atlanta headquarters. Comb through all the best new music from the past seven days below.
BEST ALBUMS
Girl Band: The Talkies
Cecil Day-Lewis, poet and father of the eccentric actor you are definitely familiar with, wrote a poem about Ballintubbert House, the Irish country manor where he was born in 1904. Over a century later, Dublin noise rockers Girl Band took over the space to birth their sophomore LP, The Talkies. "In many ways the idea behind the album was to make an audio representation of the house," guitarist Alan Duggan explains. More than anything, though, their newest music speaks to a state of mind, one that's quite pervasive these days: an apocalyptic anxiety, a dread that seeps into your bloodstream and quickens your heartbeat. Their acclaimed debut Holding Hands with Jamie was largely derived from vocalist Dara Kiely's own mental health, including a post-breakup psychotic episode. Around that time, the group cancelled tour dates for their first LP due to health issues. Now they've returned, and are ready to revisit the gray matter floating between our ears. Perhaps this album is called The Talkies because in comparison, all other music may as well be from the silent film era. Unlike black midi, Girl Band isn't trying to put on airs. Their noise rock is arguably more accessible, a term often used pejoratively but meant as positively as possible here. The Irish group have distilled their music into what noise rock is about at its core: waves of sound that convey emotion effectively, and lyrics that feel at once indecipherable and evocative. There's little noodling here, which isn't to say that The Talkies is stripped down, but rather, Girl Band trims the fat where other bands fail to. —Clare Martin
Sturgill Simpson: Sound & Fury
Sound & Fury is a brute strength record, full of needle-in-the-red guitars and vocals pushed to the edge of distortion, and sometimes past it. There has already been a lot of buzz about how this is Sturgill Simpson's "rock" album, which is true enough, but it also misses the point: Though his 2014 breakthrough Metamodern Sounds in Country Music pegged him as a latter-day country traditionalist, Simpson was neck-deep in blues and soul on A Sailor's Guide to Earth. It's more accurate to say that while '70s-style outlaw country music was a starting point for Simpson, he's not willing to let it box him in for the sake of other people's expectations. In fact, he seems to enjoy upending expectations. In that regard, Sound & Fury succeeds. If there's an overarching theme, it's that these 10 songs are loud to the point of blaring, and Simpson loads them up with musical touches from other styles and eras that are so prominent that he might as well be pouring them over your head from a bucket. The thunderous guitar riff powering "Best Clockmaker on Mars" makes room in the bridge section for a keening synthesizer part right out of Dr. Dre's early-'90s toolkit, while the fast, twitchy beat on "A Good Look" would have gotten club crowds moving in the late disco era. There's enough of that kind of borrowing on Sound & Fury that you can almost play spot-the-homage: a Keith Emerson keyboard vamp here, maybe, or a Prince drum fill over there. —Eric R. Danton
BEST TRACKS
Eyesore & The Jinx: "Leisure Time"
Eyesore & The Jinx are grotesque in the most charming of ways. In the Liverpool post-punk trio's latest single, "Leisure Time," the group barrage the senses with waves of dissonance and tongue-in-cheek lyrics that are as authentically British as punk music itself. The group seem to cultivate their sound around a barebones approach—a simple guitar, bass and drums trio—but generate an impressive wall of sound with these few elements. "Leisure Time" revolves around the churning bass line that opens it, building from its machine-like constancy. The biting guitar travels across the rhythm with percussive attacks of discord. —Hayden Goodridge
Sudan Archives: "Confessions"
Cincinnati-born, Los Angeles-based violinist, singer-songwriter and producer Sudan Archives has shared the video for her stellar recent single "Confessions," in which she also debuts an excerpt of a new song titled "Black Vivaldi Sonata." Both songs appear on the artist's forthcoming debut full-length Athena, out Nov. 1 on Stones Throw Records. "'Confessions,' a female flip on classic rap music videos—resilient women surviving in a world that seems to be falling apart & ends with its alter ego Black Vivaldi, an ode to duality," explains Sudan Archives, aka Brittney Parks. —Scott Russell
Cate Le Bon & Bradford Cox: "Secretary"
Cate Le Bon and Deerhunter's Bradford Cox have banded together for a fourth installment of indie label Mexican Summer's Myths series. Le Bon and Cox completed their seven-track contribution, Myths 004, in just one week. Along with the EP announcement, Le Bon and Cox have released the lead single, "Secretary," which explores office-worker malaise. With her languid voice over plinking keys, warm strings and backing vocals that vie for your attention, Le Bon creates a world of her own—before it shifts, suddenly and seamlessly, to stark spoken word from Cox. —Amanda Gersten
THE PASTE PODCAST
Grace Potter Performs on The Paste Podcast
Grace Potter is back. Four years after her last album, the singer/songwriter/guitarist/keyboardist/actress has a new album, Daylight, coming in October. She stopped by the Paste Studio in New York to talk about the new album and preview a few songs from it.
We also discuss two new movies in theaters: Downton Abbey, the surprise #1 movie in America; and JUDY, Renée Zellweger's exquisite portrayal of Judy Garland.
Listen below, or better yet, download on iTunes, Google Play, Stitcher, Spotify or the new app from our podcast partner Himalaya, and subscribe!
BEST PERFORMANCES
SadGirl
Los Angeles band SadGirl stopped by Paste's Atlanta Studio to share the flowing, synth-laced guitar pop of their recent debut LP Water, out now on Suicide Squeeze. The trio performed four tracks: "Enter Montague," "The Ocean," "Breakfast For 2" and "Water."
That 1 Guy
That 1 Guy, the musical project of Mike Silverman, is a truly one-of-a-kind experience. He plays a homemade instrument that he calls "The Magic Pipe," which is played with a pinched string and plucked like a bass. It's also armed with trigger sensors that allow him to play percussion. Plus, he has an electrified cowboy boot with an input jack and a record player with a backing track that he fades and manipulates.
FEATURES
No Matter Who You Are, You'll See Yourself in Tegan and Sara
"My face was wet with tears. Nothing had ever sounded more important to me," Tegan Quin wrote of her experience listening to Smashing Pumpkins' Mellon Collie and the Infinite Sadness as a 10th grader. Little did this angsty high schooler know, she'd later instill those same feelings in her own fans—becoming one-half of an internationally successful indie-pop duo with her identical twin sister, Sara. Before achieving indie rock and radio pop stardom as Tegan and Sara, the Quin sisters were typical, moody teenagers from Calgary. They fought over their landline phone, took acid at raves, struggled to comprehend their sexuality, slammed their bedroom doors and endured repeated questions from parents about their college plans. Now, in a more inclusive environment that craves relatable stories, it was the perfect time for Tegan and Sara, both openly gay, to share their personal coming-of-age journeys in a book titled High School. Instead of the conventional musician memoir that tracks the rise to fame, the Quin sisters decided to write about their formative high school experience—grades 10, 11 and 12, to be exact—and release an album of reimagined and re-recorded demos from that same time period. —Lizzie Manno
Hiss Golden Messenger's Righteous, Wandering Road Map
Last year, M.C. Taylor, better known by his artistic alias Hiss Golden Messenger, released a box set featuring three of his first LPs, now classics in this decade's folk canon: Bad Debt, Poor Moon and Haw. Taylor tells me that he very rarely revisits those early albums, but he stands by "all the sentiments that exist on them, and all of the emotions that appear on them." "They still feel like genuine documents of where I was at that time," he continues, calling from his home in Durham, N.C., where he relocated from California more than a decade ago. Few words summarize the Hiss Golden Messenger spirit better than "genuine." Throughout his career, Taylor has drawn from a long lineage of American roots musicians and folklorists, creating an undeniably honest and singular strain of Americana. His music has always exhibited the endurance of humanity, even while sharing and reckoning with his own personal narratives. Now he's back with the next chapter in that ongoing series of documents. Terms of Surrender (out now on Merge Records) is the follow-up to HGM's 2017 release, Hallelujah Anyhow, a jubilation in spite of it all. This release, however, is heavier, resulting from a difficult year of touring and general restlessness. Taylor disclosed in an essay that, "I wasn't sure that I would survive it, and it's hard to put my finger on just what I thought was going to kill me." —Ellen Johnson
An Interview with the Man Who Wrote "Misbehavin,'" the TV Song of the Millennium
By now, if you're watching HBO's excellent The Righteous Gemstones, the original song "Misbehavin'" is not just familiar to you … it's stuck in your head, permanently, to the point that you're convinced it will drive you to acts of insanity. You've passed the stage where you appreciate the extremely sticky melody, you've passed the stage where you laugh at hysterical lyrics like "running through the house with a pickle in my mouth!" and you've passed the stage where you delight in watching Walton Goggins clog on YouTube, over and over, at 2 a.m. You are now in its clutches, forever and ever, and for this fate you have composer Joseph Stephens to thank. Stephens has worked scoring TV and film for years, and when we spoke by phone, even he seemed a little shocked by how "Misbehavin'" has taken off. Before we get to the interview, watch the clip of Goggins and Jennifer Nettles performing the song, and by "watch," I mean "if you haven't seen this yet…RUN." —Shane Ryan
Vivian Girls on Their Return and Boldest Album Yet
Vivian Girls are the epitome of accessible cool. They may spill with composed indifference, but they actually give a shit. Their aloof vocals, candy harmonies and driving guitars give them an edgy allure, but they also divulge deep-set anxieties and sound like a group of friends you could easily be a part of. They're musically snappy and sophisticated, but emotionally and aesthetically approachable—never overly intellectual or pretentiously styled. Vivian Girls became a band to fully invest in upon emerging as a leading act in Brooklyn's noise-pop scene, and their 2008 self-titled debut album was both hailed as a classic and cynically dismissed. After three albums and worldwide tours, they called it quits in 2014. In that time, Ramone released a solo album, Goodman continued with her project La Sera and Koehler played with Best Coast and Upset. Then, a few years later, the same thing that brought them together in the first place roped them back into it—pure, unadulterated fun. Goodman made a simple phone call to Ramone and Koehler, and luckily, they were all on the same page. —Lizzie Manno
Brittany Howard Becomes Herself on Jaime
Brittany Howard was driving across some slab of American plains circa summer 2018 when she realized a solo album was in her future. She was on a "just-for-fun" road trip, her first outside of touring, with her partner (now wife) Jesse Lafser, but the dialogue regarding her next career move was entirely internal. "There's times where you're just driving across Texas, Oklahoma, somewhere flat, and ain't nobody really talking, it's just silent in the car," Howard says. "And I was just thinking, 'I'm turning 30. I want to do something that I've always wanted to do, and I've always wanted to make my own record.' I was like, 'Well, what do I want to do? [Do I] want to be touring, playing these songs 'til I'm 50, or do I really wanna switch up the game and do something risky and challenging?' And that's really all there was to it—just a little conversation between me and myself." That chat was the first step towards making Jaime, the Alabama Shakes frontwoman's impeccable debut solo effort, out now. The genre-busting record arrives four years after the rock band's second LP Sound & Color won them their third of four Grammys. The Shakes shook up the scene in 2012 with their debut Boys & Girls, finding fans in their native South and far beyond, among classic rock aficionados and eager hipsters alike. They are easily one of this decade's greatest rock success stories. But Howard had no doubt in her mind it was time to step out on her own. I ask her if leaving was scary. Her answer was the literal opposite. —Ellen Johnson