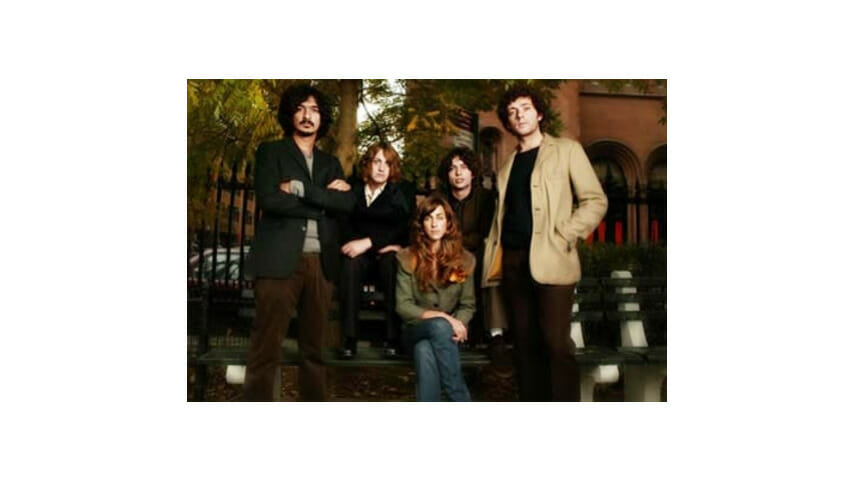 I thought this was going to be an intriguing triple bill featuring three of today's hottest buzz bands, each quite different from the other. The show, however, proved an epic mismatch of styles and execution.
The Illinois based Redwalls opened with a shot of guitar pop that was much edgier live than their sole recorded effort. At times they appeared uncomfortable onstage which was likely due to some minor sound problems. Less of the heavy Beatles vibe in the impossibly young looking quartet's music glimmered through than was expected. In the end, they could've been any number of faceless '60s-garage-band revivalists who learned their way through repeated listens of the Nuggets box.
Liverpool's Zutons (pictured above) followed with what was easily the most impressive set of new music I've witnessed in a long time. Many groups have taken a centrifuge to a list of influences and come up with something entirely original, but few have accomplished it as thoroughly as The Zutons. With a careening mix of '70s-style British blues'n'boogie with a nod toward prog-rock, a touch of sensitive singer/songwriter folk and a dash of glam, they captured the audience's attention early and never let go. High points were the strutting "You Will You Won't" and the funked-up "Pressure Point." A percussive jam at set's end even brought to mind the psychedelia of Happy Mondays. Still, The Zuton's obvious self confidence, tight ensemble play and refreshing creativity made the evening a memorable one.
The appeal of Keane is something else entirely. The British trio seems to have only two songs, an anthem and a ballad. And to fill out its hour as headliner Keane just alternated between the two. While such a damning criticism might not be entirely fair, there are limitations to a band using only keyboards, drums and vocals. Tom Chaplin's voice is a powerful instrument but he never seemed to have a touch for refinement and his shouting wore thin early on. Meanwhile, the piano pounding of Tim Rice-Oxley was amazingly repetitive, an honest-to-god occasional solo would've made the band's presentation infinitely more interesting. But the crowd adored them anyway. Chaplin's young-star looks were surely the source of some swooning among the females present. But, musically, Keane seemed headed for a promising future on Lite-FM stations all over America.