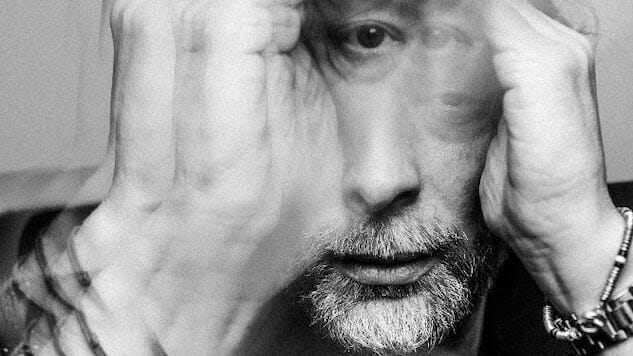 Radiohead was never enough for its members, as if being in one of the most critically acclaimed bands of all time was limiting in some way. Guitar maestro Jonny Greenwood needed an outlet for his classical-leaning orchestral compositions, finding it through a bevy of Paul Thomas Anderson film scores. Philip Selway, the Oxford band's restrained drummer, wrote songs of his own, releasing two solo albums of his own this decade, one folk-indebted collection of melancholic acoustic guitar gems in 2010 and another in 2014, that time in the form of dark synth pop.
Thom Yorke, perhaps more than any of his bandmates, needed to break free from his long-running band to explore his other musical interests, particularly his brand of downbeat electronica, influenced by the many artists he included in his "Office Charts" he'd routinely post to Dead Air Space, the very same acts he eventually collaborated with, including Flying Lotus, Gesaffelstein, Modeselektor, Burial, Four Tet and more. At times, Radiohead actually tried out these styles—particularly on King of Limbs' "Feral"—but it was always better suited for Yorke's various side projects, where he had the freedom to experiment on his own.
His career outside of Radiohead has taken a number of twists and turns, including writing film scores, hopping on Björk and UNKLE tracks, collaborating with Brooklyn Youth Chorus for fashion runway soundtracks and much more. In celebration of Yorke's new album, ANIMA, released Thursday, we decided to pull together a list of his best non-Radiohead songs to date as a primer ahead of his first proper solo record in five years.
10. "Ego" by Burial & Four Tet feat. Thom Yorke
"Ego"and its b-side "Mirror" hit the Internet like wildfire when they debuted in 2011 on U.K. radio station Rinse FM during a Four Tet session with Floating Points. Featuring three of the most influential artists of experimental electronica, "Ego" is a perfect merging of their individual styles, resulting in a beautiful downbeat track with Yorke on lead vocals. With bubbling synths and quick piano bursts, "Ego" is the encapsulation of Yorke's "Office Charts" playlists that he kept running for years, the electronic music that inspired him for a decade.
9. "Open the Floodgates"
Radiohead have been known to hold onto songs, sometimes for over 20 years, before they'll finally release the perfected studio versions (see: "True Love Waits," "Burn the Witch," "Morning Mr. Magpie"). They frequently perform new songs live well before they ever make their way onto a physical release—""Identikit" debuted on the King of Limbs tour while "Nude" goes back to the late '90s, even performed in their documentary Meeting People is Easy—while a score of others are still floating around in the ether. "Open the Floodgates," which Yorke and the debut Atoms For Peace lineup performed throughout the 2010 The Eraser tour , is a still-unreleased piano ballad, stunning in its simplicity. Perhaps left off the King of Limbs final tracklist for its similarities to "Codex," "Open the Floodgates" is Yorke at his most direct: "Don't bore us / Get to the chorus / Open the floodgates / We want the good bits / Without the bullshit / And no heartache." There are loads of others like this stashed away somewhere, but "Open the Floodgates" always stood out for its effortlessness. It's a song sketch, perhaps, but one of his most beautiful tracks to date.
8. "Ingenue" by Atoms For Peace
"Default" may have been the song that introduced the world to an epic supergroup and most directly resembles the sound that Yorke was going for on ANIMA, but "Ingenue" was the true highlight on Atoms For Peace's debut, AMOK. Opening with an alien-like fuzz that we'd now compare to that sound from Annihilation, "Ingenue" is stacked with Nigel Godrich's pulsating synths and Joey Waronker's frenetic percussion. Unlike so many other songs from the Flea-assisted project, "Ingenue" has a typical pop song structure, one with a driving chorus and a clear refrain, resulting in a catchy track that's easy to nod along to. The song gets an extra boost thanks to a solo piano version that Yorke performed on Jonathan Ross, showcasing how beautiful this song can be when everything else is stripped away.
7. "Suspirium"
While Thom Yorke has written loads of songs on piano, he had never released a full project with the instrument front and center—until he worked on the soundtrack for Luca Guadagnino's reimagining of the Italian horror cult classic Suspiria in 2018. While that record is mainly an eerie score for the disturbing film, there are a few songs on which Yorke sings, including highlight "Suspirium," which was shortlisted for "Best Original Song" at the Oscars last year. Yorke croons over arpeggiated piano chords in his iconic falsetto as the credits roll, a beautiful epilogue following one of the most disconcerting scenes in recent movie history.
6. "Truth Ray"
Considering the manner with which it was released and the resulting flurry of press, it's easy to forget that Tomorrow's Modern Boxes even had any music on it. Uploaded to BitTorrent with a pay-what-you-want pricing model, the story of its release overshadowed its eight downbeat tracks, making it one of the more underrated albums this decade. Its crown jewel comes about halfway through the short run time with "Truth Ray," a slow-building song featuring smooth-as-hell synths that gently crash like small waves at low tide. Here, Yorke presumably struggles to keep his relationship with Rachel Owen going—the longtime couple amicably split in mid-2015, about a year after the album's release—and is more blunt about his personal life than usual: "And all of this is in my head / Tender love's caught an easy ray / I won't let go, I won't let go."
5. "Black Swan"
"'Cause this is fucked up, fuh-uh-cked up," sings Yorke over his grooviest beat since "I Might Be Wrong," unleashing an anthem for the generation coming of age during the Bush years. The song actually originated in the Kid A sessions six years earlier and features a sample from Ed O'Brien and Phil Selway. When Thom Yorke was younger, he was a social outcast, the kind of musician that would never be caught dead dancing onstage. But "Black Swan" is without a doubt the catchiest thing Yorke has written for a side project, the kind of song that even his younger self couldn't resist shaking his hips to.
4. "The Clock"
It isn't until you watch this acoustic performance of "The Clock" that you realize how complex and impressive it truly is. The album version features glitchy electronic drums with an Amnesiac-era guitar line, all progressing towards the unnerving final "oohs," but the acoustic version from The Henry Rollins Show showcases a completely different side of the track, one that's more akin to a chaotic Bob Dylan song from the late '60s. Both versions are incredible in their own way. The song put a major spotlight on Yorke's environmental activism all the way back in 2006: "Time is running out for us / But you just move the hands upon the clock / You throw coins in a wishing well, wake up."
3. "Unmade"
Released just one day before the film, "Unmade" is Yorke's most beautiful solo composition to date [Ed note: until "Dawn Chorus" was released today], a flat-out gorgeous piano track with a haunting chorus backing him up. A melancholic song with a hint of a swing rhythm, "Unmade" appears during that extremely gory séance scene in Suspiria, a dichotomy not lost on director Luca Guadagnino. Over a bevy of blood-curdling screams and breaking bones, Yorke's calm voice appears with a surprisingly sweet song that opens with the tender line: "Come under my wings, little bird."
2. "Atoms For Peace"
"Atoms For Peace" is likely the most simplistic track Yorke's ever written. Over 10 bouncy synth notes (which were apparently written in just 10 minutes), he largely strips away all of the electronics featured so heavily throughout The Eraser for the most direct song on his debut solo release, a composition unlike anything he'd released prior. It's also a sweet love song written for Rachel Owen, highlighting even the most mundane moments in this lengthy relationship: "Peel all of your layers off / I want to eat your artichoke heart." Though "Atoms For Peace" has no real political references to the infamous Eisenhower speech concerning nuclear armament, it feels like it carries that same weighty importance in Yorke's world. It's not a shock that his later supergroup, made up of Flea, Nigel Godrich, Joey Waronker and Mauro Refosco, took its name from this track.
1. "The Eraser"
With a few in-your-face heartbeat-like syncopated piano chords, Yorke introduces us to his musical world outside of Radiohead on "The Eraser," the title track and album opener on his debut release. It's a deceptively straightforward song before it gives way to two surprises, first a recall of the piano riff and later an electronic-heavy bridge that transforms it into an almost different song entirely (what would later become a huge electronic, guitar-led jam session live, the biggest sounding thing he'd written since "2+2=5"). The song was the genesis of everything Yorke has done outside of Radiohead since: glitchy electronics accompanied by haunting melodies and insightful, deceivingly multifaceted lyrics ("The more you try to erase me / The more, the more, the more that I appear").