Thom Yorke Shares Fourth Suspiria Tune, "Open Again"
Suspiria (Music for the Luca Guadagnino Film) is due out Oct. 26
Images via Greg Williams, XL Recordings
Music
News
Thom Yorke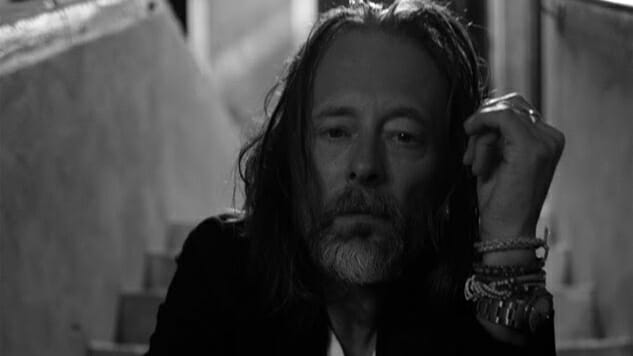 Thom Yorke has shared the fourth single from his forthcoming Suspiria score, out Oct. 26 through XL Recordings.
"Open Again" deepens the creep factor that Yorke displayed with his previous single, "Volk," which had all the trappings of vintage horror soundtracks. "Open Again" isn't quite as unsettling as that song's queasy synth-and-strings combo, but it rattles the nerves in other ways. Borne in on a wave of rising tape hiss, "Open Again" quickly establishes itself as a gentle acoustic ballad, built on nothing more than fingerpicking, string bass and Yorke's voice.
But it's that voice—his haunted, whispered falsetto—that shapes this song into something morbid. The song's carnival-music lope conjures up images of the big top abandoned while Yorke's alien wail surveys the damage from above. After just two minutes of music, the death waltz dissolves back into the tape hiss that it came from, leaving just whistling wind.
Listen to "Open Again" and a 1995 Radiohead performance from the Paste archives below, and while you're at it, revisit Yorke's previous Suspiria singles, "Suspirium" and "Has Ended."