Exclusive: Tokyo Police Club Challenge Preconceptions of Their Sound on "DLTFWYH"
Images via Mimi River, Dine Alone Records
Music
News
Tokyo Police Club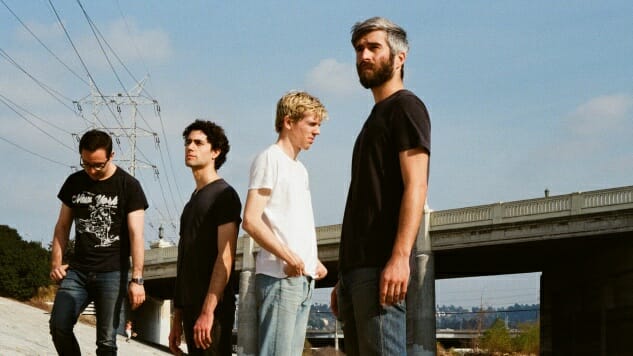 Premiering today at Paste is Tokyo Police Club's "DLTFWYH," one half of the band's double A-side single from their first full-length record in four years. The essentially self-titled album TPC is due out Oct. 5 on Dine Alone Records.
While the album title's acronym is straightforward, good luck decoding "DLTFWYH" without hearing the track itself. "Don't Let Them Fuck With Your Heart" is the title's meaning and the main lyric. The record grew out of jam sessions and "DLTFWYH" feels straight from the hands of friends who ran their way onto the same wavelength. With anticipatory verses and a crashing chorus, it's ready for the chaos of a house party and has enough push for a larger-scale rock show.
Guitarist Josh Hook said that "DLTFWYH" is a statement of where Tokyo Police Club are as a band now, as well as an encapsulation of the spirit of TPC. That comes at least in part from the band pushing themselves to work outside what is perceived as "their sound."
"'DLTFWYH' stands out to me because it was a venture into new and unfamiliar territory for us," Hook said. "We chose to really challenge those years of built up preconceptions of who and what we are; so what you're really hearing is four-plus minutes of why the fuck not?"
And still, this song almost never came to be. Working apart on music dimmed Tokyo Police Club's creative spark, but when the band was on the brink of a breakup, Dave Monks (bass/vocals) said, "Fuck no." Rallying his bandmates to try and make their Abbey Road before bowing out, Monks and the rest of the band retreated to rural Ontario to write without reservation, with thoughts of commercial success blocked out to uninhibit themselves. Rob Schnapf, who worked with Tokyo Police Club on Champ in 2010, was brought into the fold as producer to capture the joy of the re-energized band on their new record.
"DLTFWYH" pairs with "Hercules" as a double A-side single. Tokyo Police Club played the recently premiered "Hercules" along with "New Blues" (released in April) and the still-unreleased "Pigs" at Paste in May, the first on-camera preview of their new material.
Listen to "DLTFWYH" exclusively at Paste below and find the band's performance of new TPC songs in the Paste Studio further down, along with Tokyo Police Club's expanded fall North American tour dates.
Tokyo Police Club Tour Dates:
October
16 – Brooklyn, N.Y. @ Baby's All Right [sold out]
18 – Winnipeg, Manitoba @ The Good Will Social Club
19 – Saskatoon, Saskatchewan @ Capitol Music Club
21 – Regina, Saskatchewan @ The Exchange
23 – Red Deer, Alberta @ Bo's Bar
24 – Edmonton, Alberta @ Starlite Room
25 – Calgary, Alberta @ Commonwealth [sold out]
25 – Calgary, Alberta @ Commonwealth
29 – Vancouver, British Columbia @ Fox Cabaret [sold out]
30 – Vancouver, British Columbia @ Fox Cabaret
31 – Seattle, Wash. @ Barboza
November
01 – Seattle, Wash. @ Barboza
02 – Portland, Ore. @ Doug Fir Lounge
03 – Portland, Ore. @ Doug Fir Lounge
05 – San Francisco, Calif. @ Bottom of the Hill [sold out]
06 – San Francisco, Calif. @ Bottom of the Hill
07 – Los Angeles, Calif. Moroccan Lounge [sold out]
08 – Los Angeles, Calif. @ Moroccan Lounge
09 – Santa Ana, Calif. @ Constellation Room
10 – Santa Ana, Calif. @ Constellation Room [sold out]
16 – San Diego, Calif. @ Casbah
17 – Phoenix, Ariz. @ Crescent Ballroom