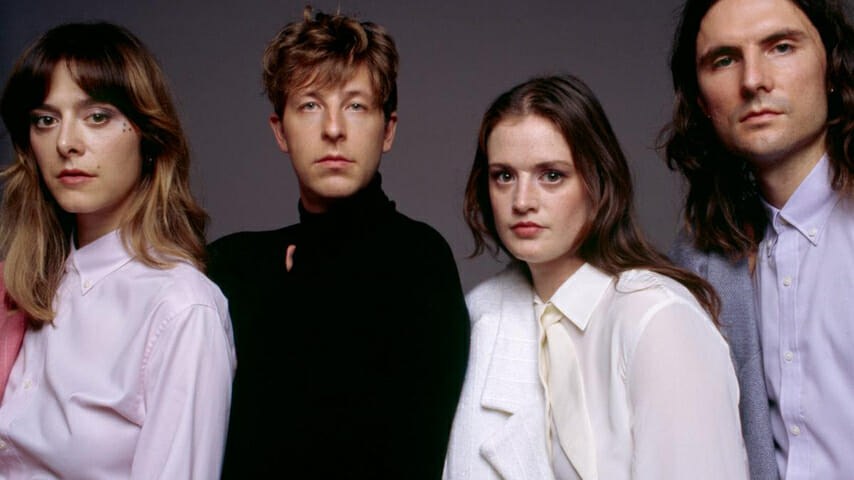 Last month, TOPS released their stellar single "Witching Hour." Wednesday, they shared their latest single from their forthcoming album I Feel Alive, titled "Colder & Closer." The track is a light incursion on modern intimacy and the separation that often results from it. It's a slight departure in sound for the band, exploring more shimmery, '80s new wave sounds than their previous soft rock material.
The song comes with an accompanying video that stars singer Jane Pelly and makes liberal use of thermographic visual effects. The video's director, Mashie Alam, said of the collaboration:
Jane had this really amazing vision where she hoped to convey the feeling of being immensely close to someone. The choice of using thermal footage was made because we wanted to see, feel, and immerse ourselves into the varying temperatures of the body as it heats up, cools down, responds to touch, and feels alone. We created a movement composition that travels between a live action world and a thermal world! The idea was to visually explore the dynamic of being far (in the live action world) and being close (in the thermal world)! Eventually the juxtaposing jumps between the two worlds merge into an immersive thermal universe to evoke a climactic sense of closeness from where there is no return.
Check out the video for "Colder & Closer" below. You can also revisit TOPS' 2012 Daytrotter session. I Feel Alive is set to release on April 3 via TOPS' own label, Musique TOPS.