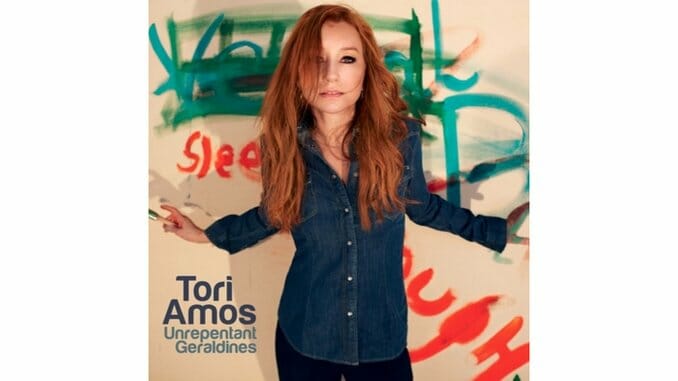 To call Unrepentant Geraldines the first real Tori Amos album in five years is to miss the point of Tori Amos. Sure, it's the first album of pop songs she's released since Abnormally Attracted to Sin in 2009, and in the interim she's released a handful of heavily conceptual albums that subverted certain rock tropes. Midwinter Graces was Amos' version of a holiday album, but with centuries-old hymns replacing the familiar chestnuts, and Night of Hunters, which built on variations of music by Bach, Debussy, Satie and Mendelssohn, could have worked as a parody of rock artists' stage pretensions (Elvis Costello's Il Sogno, for example, or Paul McCartney's Liverpool Oratorio) had it not been really good. Gold Dust was a greatest hits compilation, but its orchestral reimaginings of her old songs dispelled any moneygrab motives.
While never quite as accessible as, say, Boys for Pele or Scarlet's Walk, those albums showcased Amos' idiosyncratic ambitions, her unshakable faith in music as art and art as world-shaking force. In other words, if a song cycle about time-traveling women and shapeshifting wolfgirls doesn't constitute a "real" Tori Amos album, then we need to seriously reconsider our definition of the word "real." Geraldines is an extension of those albums, even if it plays like a reaction to them as well.
Rather than lushly arranged, these songs are musically sparse, primarily featuring piano and voice, with flourishes of drum loops and synths serving as ambience rather than delivering melody. This is not unwelcome: Amos' greatest appeal has always been that unnerving voice of hers, which can tear apart words and ideas with a sly smile. Even as she hits 50, that instrument has remained ageless.
Despite the nods to "Strawberry Fields Forever" on opener "America," Unrepentant Geraldines bridles and bristles against the constraints of pop music. Formally, she's a tinkerer, often writing against the verse-chorus-verse format to favor stray stanzas. She's a builder of sturdy bridges: The sudden burst of bright sounds and melody turns "America" inside out, not only contrasting the relative austerity of the arrangement but redirecting the song toward some other planet.
Conceptually, Amos has always understood pop music as a vehicle for heady, often otherworldly topics, which are only useful insofar as they speak to the everyday. The mundane is always fantastical in her songs—but the fantastical never mundane—yet the consequence is bulky, unwieldy songs like "Invisible Boy" and "Maids of Elfen-Mere." With its chipper mood and awkward melody, "Giant's Rolling Pin" imagines a woman on a quest to find the utensil that will make pies to feed the world, her only opponents the NSA and CIA. It might make an intriguing interlude, but over four minutes Amos rolls its premise too thin.
At 14 tracks, Unrepentant Geraldines is overlong and self-indulgent—or at least it seems that way when the second half begins to drag with drab "Selkie" and "Rose Dover." Even the title track, the most rock-oriented track here, sputters and stalls as it tries to justify its seven-minute length. In these cases the very things that define Amos so thoroughly can turn on her. Yet, it's her nature to take such risks, to flirt with the ponderous or the ridiculous. That she refuses to play it safe may be her most laudable trait.