Tune-Yards and Sorry to Bother You Star Lakeith Stanfield Have Released a Song Together: Listen
Images via Haven Sounds
Music
News
Tune-Yards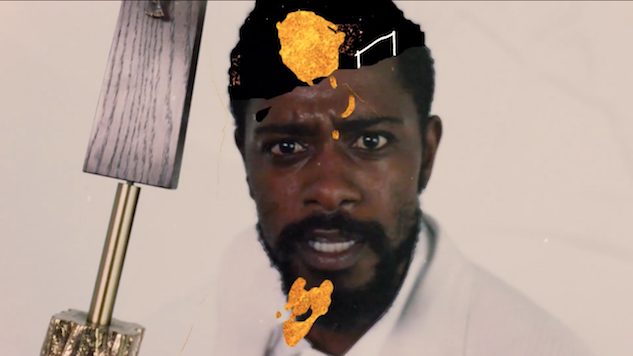 Considering his roles in such influential movies and TV shows as Atlanta, Get Out and this year's Sorry to Bother You, Lakeith Stanfield might qualify as a cultural mogul. Adding to all of that, he's also a musician, one half of the rap duo Moors (with L.A.-based producer HH). Stanfield, and the duo's stellar, six-song self-titled EP from 2014, attracted the attention of indie-rock outfit Tune-Yards, who also worked on the Sorry to Bother You score—hence, an unlikely collaboration was formed. The two groups recorded a song together, the juicy hip-hop number "Mango." The song is out today, Aug. 10, via Stanfield's label, Haven Sounds.
Tune-Yard's percussion-heavy production is evident on the track, as is Stanfield's distorted brand of rap. There's a colorful accompanying video, too, which splices negative B-roll with gold-splattered footage of Stanfield dancing. Watch it down below.
Tune-Yard's Merrill Garbus explains in a statement that she first became a Stanfield fan when working on the music for Sorry to Bother You:
We became big Lakeith fans by spending hundreds of hours scoring Sorry to Bother You, watching his incredible acting skills. We met at the Sundance premiere, and Lakeith was really into the score so we talked about collaborating. Lakeith came to our studio in Oakland twice to work on vocals. He had really specific ideas about the track, different characters he wanted to give voice to, and we worked together to keep amping up the weird. Times are weird. Lakeith is reflecting his universes and creating new ones—it's fascinating and important and we're grateful and lucky to be a part of amplifying his voice.
Early in 2018, Tune-Yards released a sonically heavy album reckoning with social issues like white privilege, the sludgy I Can Feel You Creep Into My Private Life. Just this week, the band shared a remix of King Tuff's fuzz rocker "Psycho Star." You can give that a listen here.
Stanfield also recorded a song with hip-hop group The Coup (of which director Boots Riley is a member) for the Sorry to Bother You soundtrack, which you can check out here. Read the Paste review of Sorry to Bother You here.
Again, you can listen to "Mango" below, and keep scrolling for the single art.
"Mango" Single Art: