Listen to Twist's Sweet, Surf-Tinged New Song "Venus"
It's the first single off their forthcoming album Distancing, out in December
Photo by Caitlin McLafferty
Music
News
Twist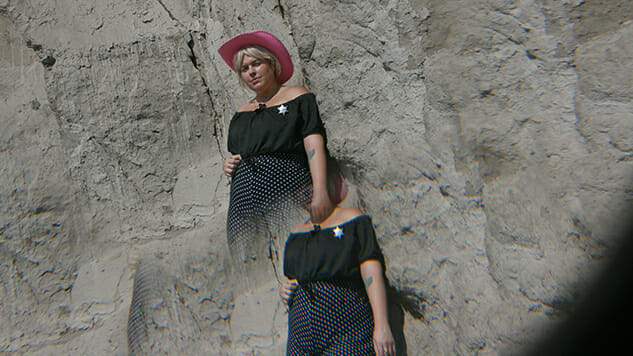 Twist, the project of Toronto-based songwriter Laura Hermiston and producer Brian Borcherdt, have dropped "Venus," along with an accompanying music video. The track is the first single off the band's forthcoming album Distancing, out Dec. 7 on Buzz Records.
"Venus" continues Twist's evolution from bedroom project to full-fledged indie-pop outfit. The project started as a collaboration between Hermiston and Borcherdt, and the songs on their 2016 debut Spectral had their signature surf-rock vibe, but felt more cloistered—more the sound of the ocean in a shell than the waves on a beach. But on "Venus," Hermiston brings her touring band into the fold, and the result is a more expansive experience.
Most immediate is the skittering drum figure, a welcome change of pace from the machine beats that were all over the band's previous records. It's a groove that feels like the shuffle-step of "Walk On The Wild Side," but the reverb-drenched guitars push the song in a decidedly more coastal direction. "Venus," like a few other songs on the album, was inspired by tarot-card imagery, and the track takes that mysticism to heart, dropping oblique references to an unnamed "it" that apparently has gone away. It's all a bit lost in the haze, which seems to be the point. In a way, it's the same kind of cloistered song Twist used to make, only a bit more widescreen. "I don't think this record is making any big statements on the complex world we're living in right now," Hermiston said. This is for the best—good pop songs speak in universal strokes. And this is a damn good pop song.
Twist will be hitting the road this fall for a handful of tour dates. Find those further down.
Listen to "Venus" below. You can preorder Distancing here.
Twist Tour Dates:
December
05 – Montreal, Que. @ Turbohaus
07 – Asbury Park, N.J. @ AP Brewery
09 – New York, N.Y. @ Alphaville
10 – Washington, D.C. @ Songbyrd Vinyl Lounge
12 – Cleveland, Ohio @ Mahall's Locker Room
13 – Hamilton, Ont. @ The Casbah
14 – Toronto, Ont. @ Grolsch Spaces x Northern Contemporary