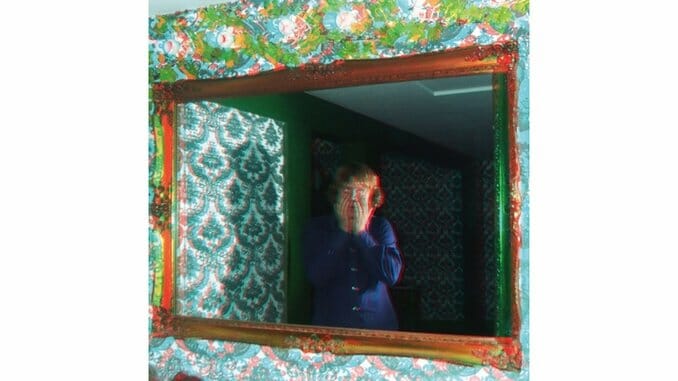 To those for whom simply owning a vinyl copy of one album or another is not enough, the eternally vintage-scoped Ty Segall teamed up with Famous Class Records for a collector's treasure. Outside of the music itself, the Mr. Face EP comes with 3D glasses within the gatefold, the better with which to view the album's trippy, mirror-reflection photography on another dimension, man! To boot, the double EP is issued in translucent red and blue 7" vinyl.
Beyond the novelty of the collectible, Segall's four songs here come on the heels of releasing by far his most ballyhooed effort, the brilliantly timbred Manipulator LP. For the same reasons that Manipulator effected such effortless, oddly traditional yet coolly experimental psych-rock, the Mr. Face EP triumphs and seems like it could very well be comprised of B-sides from the Manipulator sessions. Segall's homages to amped-up proto-folk jams play like "Mrs. Robinson" on methamphetamine, bridging the coy optimism of '60s guitar-forward rock music with the slackery abandon of mid-'70s punk. It's Segall's greatest attribute, perhaps, that his extensive absorption of American and English musical culture?from Hawkwind to the Kinks to Bowie to Alice Cooper, etc.—goes in one ear and pings around for a while before coming emerging, canon-like, into yet another batch of fantastically infectious tracks.
As on lots of Segall's solo material, he played every instrument on the EP, save for closing track "The Picture," the drums for which were manned by C. Moothart dutifully. Segall's own drumming is front-and-center during the intro to "Circles," a driving psych-fuzz song in the vein of Roky Erickson, the ubiquitous electric jug replaced by something that sounds like electric flute.
Vinyl collector or not, it's ultimately the strength of Segall's songwriting that makes this four-songer a must-have for anyone who only has, like, seven of his dozens of releases in the past five years.