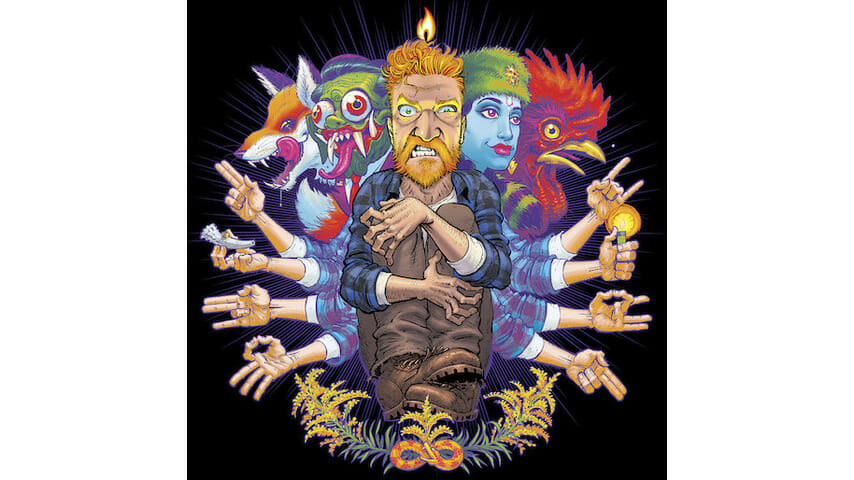 The album art on Tyler Childers' latest LP, Country Squire, is unappealing to say the least. A cartoon Childers, looking like a cereal box version of a Hindu deity, extends eight arms into a black void, surrounded by four unfortunate creatures that can best be described as a fox, rooster, goblin and a blue woman in a ushanka hat.
It's weird, messy and seems better suited to a Pigeons Playing Ping Pong release. Yet, it works strangely well with the wild and somehow real-as-hell stories on Country Squire, the Sturgill Simpson-produced follow-up to 2017's Purgatory. On Country Squire, the Kentucky native takes some of life's grittiest moments—the stuff that's defined country music for ages—and punches them up with humor and honky-tonk.
Childers doesn't change the formula he established on Purgatory, or even really freshen it up. He just applies those same sonic building blocks—scorching fiddle, relaxed mandolin, and lots of wheeze and funny little springy noises—to an even more realized story, one that stretches from Childers' schooldays crushing on the "Bus Route" to hesitantly facing the big city on "Creeker" to writing love songs with a "Days Inn pen" in "All Your'n" (its amusing music video sees all those album art creatures come to life).
Country Squire is Purgatory's splashier sequel. And within itself, it makes for a very cohesive listen. Childers ropes you in and shares tales from a rocking chair, cracking jokes, romanticizing the good ol' days, bemoaning the lonely life of a touring musician and holding your attention for a round, just short-enough 35 minutes.
When our beloved "squire" begins his tales, he's a regular John Doe who's saving up "nickels" à la the country boys in Alabama's "Dixieland Delight." The title track embodies the same rural, blue collar ideology in which "a little jingle" can feel like a fortune. The narrator dreams that one day he'll have a family and "a cabin on the hill" but recognizes the responsibilities that accompany the American Dream. But like Ronnie Rogers and his "homegrown country girl," he's happy as long as he's "huddled with my honey" at the end of the week.
He spends a few songs retracing his Kentucky roots with talk of childhood and smalltown lore, but some of this album's best moments are born of pure passion. The record's first single, "House Fire," is a smoky hoedown fueled by a lust so intense it might burn the barn to ash. Later, on the cheeky "Ever Lovin' Hand," the road warrior Childers expresses gratitude to a hotel that stocks his "favorite lotion" in what may be the most earnest song about masturbation ever written. The ways in which Childers draws empathy from his audience are certainly quirky, but they work. "It gets so hard out on the road," he sings, a precursor to one of the many honky-tonk guitar solos on this record. "But I go it alone 'cause I'm your man." No one ever said life as a musician was easy or comfortable. Childers' willingness to discuss all the gnarliest moments from the road is fresh and funny.
Childers' music remains rugged and real despite now being fully situated as one of country music's most distinguishable voices, which isn't easy to do in the age of Simpson, Jason Isbell, Margo Price and the whole lot of progressive artists who've emerged over the last decade. Childers also has a crossover appeal to mainstream country radio, which is a welcome defiance in the neverending sea of Thomas Rhetts and Luke Bryans that dominate Top 40 country. Childers is a different kind of bro-country. On Country Squire, his best release yet, he grapples with masculinity, family and the South in ways that feel entirely new, despite sounding really traditional. I'll listen to his rocking chair tales any time.