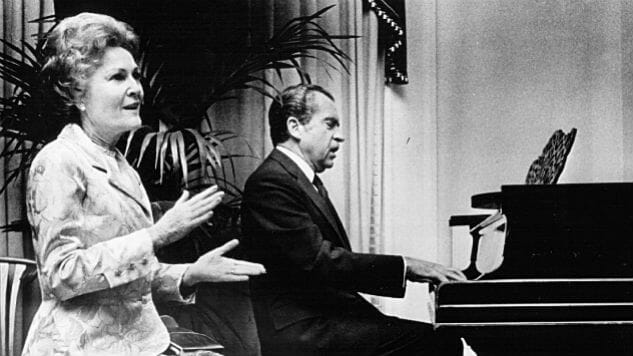 As we barrel towards this year's Election Day, we get yet another chance to see democracy in all its terrifying action. Whether we like it or not, we seldom define candidates by their political stances alone. Instead, we judge them by their haircuts, whether we could grab a beer with them and what their stances on emotionally polarizing issues are. In a perfect world, we'd vote based on careful research into the issues, but we're really trying to answer a simpler question: Are they like us? The following list examines the musical tastes of the last 15 modern presidents. Over the course of a century, each of these men has somehow contributed to the musical culture of the White House, but the real question is, which leader of the free world would you trust with the aux cord? Because the answer may have been your vote.
1. Herbert Hoover (1929-1933)
Herbert Hoover, without question, has one of the worst reps of any modern U.S. president. Remembered largely as the sitting president during the 1929 stock market crash and (possibly more embarrassingly) as the inventor of Hoover Ball, Hoover actually made significant contributions to the musical culture of the White House during his singular term. While his individual musical tastes aren't widely reported, Herbert and Lou Hoover made history as the first first couple to invite an artist to play for a head of state when they invited harpist Mildred Dilling to perform for King Phra Pok Klao Prajadhipok of Siam in 1931 (a tradition that continues today) as well as when they invited the Hampton and Tuskegee choirs to perform at the White House. Hear Herbert Hoover's less-than-catchy (but boldly titled) 1928 campaign song "Hail Herbert Hoover!" below.
2. Franklin Delano Roosevelt (1933-1945)
In contrast, FDR's presidency is defined by many momentous milestones, but given the rampant unemployment, the burgeoning second world war and his ailing personal health, it doesn't seem like music was that big part of his either. He was a member of Harvard's Glee Club, and according to his presidential library, his favorite song was "Home on the Range." After the judge who introduced FDR at the 1932 Democratic Convention bombed his speech (and then walked out to the song Roosevelt was supposed to enter to), the president picked the sunny "Happy Days Are Here Again" as his intro at the last minute, connecting the song to the Democratic party for years to come. Roosevelt's most lasting musical contribution, however, was the creation of the Federal Music Project. As part of the New Deal, the project employed thousands of musicians, composers and conductors to host public concerts and begin formally studying forms of American music.
3. Harry S. Truman (1945-1953)
Truman's music tastes were just pretentious enough to hint that he may have been our first hipster president. The Harry S. Truman National Historic Site website writes that he "was not fond of what he called 'modern noise,' preferring the traditional classical music of his youth." Truman had a collection of over 680 records—a 31-page list of which you can find here his favorites were Florodora, Strauss waltzes, Gershwin and Debussy. He quit studying piano at 15 to "go to work and earn a living," but still performed regularly at White House functions. In 1945, he played at a country fair for a group of Methodist women, winking as he said, "When I played this, Stalin signed the Potsdam Agreement."
4. Dwight D. Eisenhower (1953-1961)
According to the White House Historical Association, Ike Eisenhower was admittedly not knowledgeable about European music trends, but the general did take important strides in providing American music with a platform on a national stage. Eisenhower became the first president to have a Broadway performance in the White House when he and wife Mamie hosted an after-dinner musical program for Justice Earl Warren in 1958. During his presidency, military band performances at the White House became far more frequent, when groups like the Air Force Strolling Strings performed for the king of Saudi Arabia in 1957. Eisenhower's presidential library lists an extensive number of his favorite American standards, such as "Oh, Susanna!" and "My Old Kentucky Home" (as well as some of his favorite recipes, including delectable treats like prune whip and fluffy turnips). No word on whether he actually enjoyed it, but you can listen to his syrupy campaign song below.
5. John F. Kennedy (1961-1963)
"There will be great presidents again," Jackie Kennedy told Life magazine one week after John F. Kennedy's assassination. "but there will never be another Camelot.; The comment was a riff on the last lines of the 1960 musical starring Richard Burton and Julie Andrews—Kennedy would frequently listen to the B-side of the record before going to bed—and the statement permanently mythologized Kennedy. While president, JFK advocated for the arts by hosting concerts and musicians at the White House (during his visit, the 80-year-old Russian composer Igor Stravinsky famously called the Kennedys "Nice kids"), but his musical legacy was cemented via the Kennedy Center for the Performing Arts, which opened to the public with Leonard Bernstein's memorial to JFK, Mass. Kennedy supported popular music as well, and Frank Sinatra backed Kennedy during the 1960 election by re-recording "High Hopes" to campaign for JFK. The two had a highly public falling out two years later, but Kennedy still tried to help out Sinatra when the Nevada Gambling Control Board revoked his casino license by reportedly asking governor Grant Sawyer "Aren't you being a little tough on Frank?"
6. Lyndon B. Johnson (1963-1969)
According to LBJ's presidential library, Johnson's favorite songs included cowboy classics like Roy Rogers' "Don't Fence Me In" and "Wagon Wheels," as well as songs from popular musicals of the era, like Oklahoma, The Sound of Music and Hello Dolly!—the last of which was inspiration for yet another outrageous campaign song, this one titled "Hello, Lyndon!" by Ed Ames. Johnson's most significant musical contribution was his ratification of the Public Broadcasting Act of 1967, thus creating the CPB, PBS and NPR. He declared that the CPB "will assist stations and producers who aim for the best in broadcasting good music, in broadcasting exciting plays and in broadcasting reports on the whole fascinating range of human activity. It will try to prove that what educates can also be exciting," and to this day, fans of Austin City Limits and All Songs Considered can rejoice.
7. Richard Nixon (1969-1974)
Say what you will about Richard Nixon's love of other recordings, but the man was without a doubt an ardent classical music fan. Trained on piano and violin from a young age, Nixon even wrote his own compositions, one of which you can watch him perform here. Nixon wasn't a jazz fan, but he was still the first president to formally recognize the art form by bestowing the Presidential Medal of Freedom, the nation's highest civil honor, on jazz legend Duke Ellington in '69. Nixon told Henry Mancini that his favorite LP was Richard Rodgers' music for the television series Victory at Sea. Nixon once invited Johnny Cash to perform at the White House—what become one of many visits—requesting the song "Welfare Cadillac," which Cash refused by launching into three protest songs. Watch Nixon perform "Home on the Range" with actress Pearl Bailey—whom Nixon appointed as America's "Ambassador of Love"—in the White House in 1974.
8. Gerald Ford (1974-1977)
Like many other elements of his presidency, Gerald Ford's musical tastes were not overly memorable. His presidential library lists his favorite music type as "jazz/swing" and his favorite hymn as "The Navy Hymn – Eternal Father Strong to Save," two sexy choices on par with his favorite season ("dawn, all seasons") and favorite weather ("sunshine on golf course, snow on ski slopes"). However, Ford did host visits from George Harrison and Peter Frampton (his son Jack's favorite rock star) during his presidency and also reportedly enjoyed ballroom dance, famously hosting and dancing with Queen Elizabeth during the '76 bicentennial. Natalie Cole even convinced Ford to dance on camera.
9. Jimmy Carter (1977-1981)
Jimmy Carter just turned 94, and lest we forget that he is one of the Southeast's regional treasures, the man frequently credits his presidency to none other than Gregg Allman. Carter developed the friendship with Allman as governor of Georgia, when he helped to implement a variety of anti-bootlegging laws. In return, the band helped fundraise for Carter's campaign via benefit concerts (and subsequently, it became a running joke that Allman was in line to become Carter's Food and Drug Administration boss). Business aside, Carter told The Atlanta Journal-Constitution that to relax "between crises" as president, he would "tie flies for fishing and listen to Willie Nelson." Linda Ronstadt covered Nelson's "Crazy" for Carter's inauguration.
10. Ronald Reagan (1981-1989)
Ronald Reagan's most lauded musical achievement was his expansion of Jimmy Carter's In Performance from the White House PBS series to include more genres of music, but his relationships with many of the musicians of his era were … complicated at best. To Bruce Springsteen's chagrin, Reagan co-opted the not-so-patriotic "Born in the USA" during his re-election campaign, eventually transforming the Boss into an advocate for the Democratic party (John Mellencamp also rejected Reagan's request to use "Pink Houses," until the president settled on Lee Greenwood's schmaltzfest "God Bless the USA"). Reagan called The Beach Boys "America's Band; despite the fact that they had been banned from performing on the DC mall in 1983 (but more on that later) and that Brian Wilson was arrested by mistake for trespassing at the 1984 Republican Convention. Later that year, The Beach Boys would perform at Reagan's second inaugural ball, where they'd dedicate "Their Hearts Were Full of Spring" to the first couple.
11. George H.W. Bush (1989-1993)
As Vice President, the original George Bush defended The Beach Boys when they were banned from performing on the DC Mall for the 4th of July by Reagan's Interior Secretary James Watt (who believed rock music brought drinking and drug-taking youth to family celebrations), stating "They're my friends and I like their music." But in the true spirit of his Texas populace, Bush is a stated country music fan. George Strait performed "Love Without End, Amen" for the POTUS at Camp David, and once, in 1991, Bush (as sitting president!) and First Lady Barbara even attended the Country Music Awards. Bush made an emotional speech at the ceremony, thanking host Reba McEntire and praising country music for its contributions to his presidency: "Country music gives us a window on the real world and when I want to feel a certain surge of patriotism or turn nostalgic or even when I need a little free advice about Saddam Hussein, I turn to country music."
12. Bill Clinton (1993-2001)
Bill Clinton was the first president to win a Grammy, and even if it was for Best Spoken Word Album, the man has musical connections. He's hung out with everyone from Bono to Bowie, and somehow managed to convince Fleetwood Mac to perform together publicly for the first time in years at his inaugural ball in 1993. Clinton listed his 20 all-time favorite songs, including Nina Simone's "I Wish I Knew How It Would Feel to Be Free" and Joan Baez's "Winds of the Old Days." all of which you can read here. It's a respectable list, but in case you had any doubts about Clinton's musical taste, let us never forget the time the then Governor Clinton blessed us with a saxophone rendition of "Heartbreak Hotel" on The Arsenio Hall Show.
13. George W. Bush (2001-2009)
According to a New York Times article from 2005 on George W. Bush's iPod—a truly magical time capsule, with references to "the iTunes online music store"—a standard Bush playlist included country favorites, including hits by Alan Jackson, George Jones and Kenny Chesney, as well as classics like Van Morrison's "Brown-Eyed Girl" and John Fogerty's "Centerfield" (Bush would play the latter at Texas Rangers games when he owned the franchise, but possibly due to his non-combat position during Vietnam, Fogerty's "Fortunate Son" is notably absent from the playlist). The article states that the playlists were "aimed at getting the presidential heart rate up to a chest-pounding 170 beats per minute" while the president exercised. Considering his veep, in comparison, ceased having a heartbeat at all in 2010, mission accomplished? It's tough to find a video of W. singing, so enjoy this clip of Fogerty performing "Centerfield" from the Paste archives instead.
14. Barack Obama (2009-2017):
In case you needed a potent reminder of how distinctly better the state of national politics was a mere two years ago, look no further than Barack Obama's curated White House playlists. Obama began a tradition of releasing playlists—available to stream on Spotify here contain eclectic (and genuinely cool) selections of his favorite songs. His list from 2017 featured Kendrick Lamar, SZA, The National, Sharon Jones and the Dap-Kings and Frank Ocean, further contributing to your mental fantasy of Joe and Barack cruising in the motorcade to channel ORANGE. Beyonce performed for his first dance as president, Aretha moved him to tears and Al Green even admitted Obama "nailed it" during his performance "Let's Stay Together" at the Apollo Theater. Pour one out.
15. Donald Trump (2017-present)
In an interview with Rolling Stone, Donald Trump expressed his preference for classic rock acts like Jon Bon Jovi, Paul McCartney, Aerosmith (here's him air-drumming to "Dream On"—you're welcome), and Elton John, calling them "terrific." Given that the list of musicians who have asked Trump to stop using their music at campaign rallies (including Neil Young, Brian May, The Rolling Stones, R.E.M., and Adele) is even longer, it's unlikely that the adoration is reciprocated. The most surprising musical choice from the current POTUS? In 2014. Trump declared Peggy Lee's nihilistic contemplation of suicide and disillusionment "Is That All There Is?" as his favorite song. "I've had these tremendous successes and then I'm off to the next one. Because, it's like, "Oh, is that all there is?'" says Trump. "That's a great song actually, that's a very interesting song, especially sung by her, because she had such a troubled life." Yeesh.