Listen to U2 Cover The Beatles' "Help!" in 1987
The band was just reaching peak arena-monster status on the Joshua Tree tour.
Photo: Getty Images
Music
Features
U2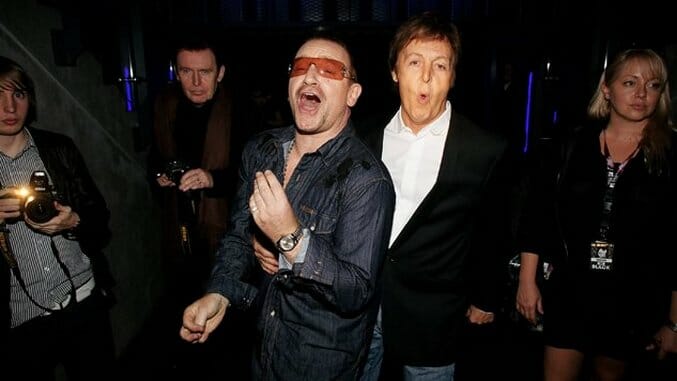 Did you know that Paste owns the world's largest collection of live music recordings? It's true! And what's even crazier, it's all free—hundreds of thousands of exclusive songs, concerts and videos that you can listen to and watch right here at Paste.com, from Louis Armstrong to The Who to U2 to Wilco. Every day, we'll dig through the archive to find the coolest recording we have from that date in history. Search and enjoy!
Cover songs are great. We rank the bestcoversongs annually as part of our year-end coverage, and have been doing so for years. Normally, though, a newer band chooses an older band like U2 or The Beatles as their cover song, and it serves as a great way to modernize and reintroduce the canon of rock music.
Not often do we stumble on classic bands covering other classic bands. In 1987, U2 hadn't exactly attained pantheon status yet, but with their seminal Joshua Tree album pushing them into stadium territory, they were certainly getting there. At this concert 30 years ago on this date at Madison Square Garden, U2 offered this melancholic version of The Beatles' "Help!"
Bono hits John Lennon's high notes squarely in the chorus's plea for help, allowing the crowd to sing the echoing "help me, help me" back at him. Later, he boldly changes the lyrics from "Every now and then I feel so insecure / I know that I just need you like I've never done before" to "That's when I know I need New York like I've never done before." It's a fitting way to localize an already universal song. This performance was among those filmed for the Rattle and Hum movie of 1988.
Check out the exclusive recording of U2 covering The Beatles' "Help!" from this date in 1987.